How did you like our list of the top 10 must-read DevOps blogs? This time, we welcome you to our definitive guide on the top ping monitoring tools you should consider for 2023!
Guide content: 
What is ping monitoring?

What are the benefits of ping monitoring?

What to look for in a ping monitoring tool?

9 best ping monitoring tools for 2023
But first, let's examine the basics of ping monitoring for those who might be new to the concept.
Ping monitoring is the practice of

checking the availability and response time of networked devices

, usually through ICMP (Internet Control Message Protocol).

It's a vital tool for identifying network issues, be they related to

latency, packet loss, or outages

.

Ideal for both

small and large-scale networks

, helping you keep everything from a single website to a complex corporate infrastructure online and healthy.

Real-time alerts and tracking can be life-savers,

informing you of issues before they escalate

into bigger problems.
What is Ping Monitoring?
Ping monitoring involves sending a series of 'pings' or packets to a specific IP address or domain name to check for response times and availability.
You can think of it like knocking on someone's door to see if they're home. 
If the host is active, it replies, and you'll receive data on how long that interaction took. If there's no answer, or if the answer takes too long, then you know something is wrong, and it's time to investigate.
What Are the Main Benefits of Ping Monitoring?
✅Spot Issues Related to Network Latency or Packet Loss
One of the primary benefits of ping monitoring is its ability to promptly identify issues related to network latency or packet loss.
Constantly sending ping requests to various nodes in your network allows you to gauge the health of your connections.
If packet loss(1) or high latency(2) is detected, you can take immediate action to resolve the issue, ensuring that your network operates smoothly.
✅Detect Outages, Reducing Downtime
Ping monitoring is invaluable for its ability to quickly detect network outages. The sooner you know about a problem, the faster you can fix it, thereby minimizing downtime and the associated costs.
Whether it's a server going offline or an entire section of your network becoming unreachable, timely alerts from your ping monitoring tool can save both time and money.
✅Monitor the Performance of Both Internal and External Services
Whether you are looking at the performance of internal resources like your local servers or external services such as a cloud-based application, ping monitoring provides a comprehensive overview of your network.
Keeping an eye on both internal and external services helps you maintain smooth business operations and meet customer expectations.
✅Streamline IT Troubleshooting Processes
Ping monitoring also offers a systematic approach to IT troubleshooting. With detailed logs and real-time alerts, IT teams can diagnose and rectify issues more efficiently. The gathered data can be analyzed to spot patterns or recurrent issues.
Next, let's look at some key factors you'll want to think about when choosing the right ping monitoring tool for your needs.
What to Look for When Choosing a Ping Monitoring Tool
When selecting a ping monitoring tool, here are some key factors to consider:
Ease of use:

Look for an intuitive interface that doesn't require a steep learning curve.

Real-time monitoring and alerts:

Immediate notifications can help you act swiftly, averting potential disasters.

Customization:

The ability to set specific conditions for alerts and reports can make your ping monitoring tool more effective.

Scalability:

Make sure the tool can grow with your network, allowing you to add more devices or functionalities as needed.

Price:

Compare costs, including initial setup and monthly or annual fees, against the features provided.
We've already done some of the legwork for you, narrowing down the top 10 ping monitoring tools for 2023. Let's get into it and get you informed about the best tools on the market.
1. UptimeRobot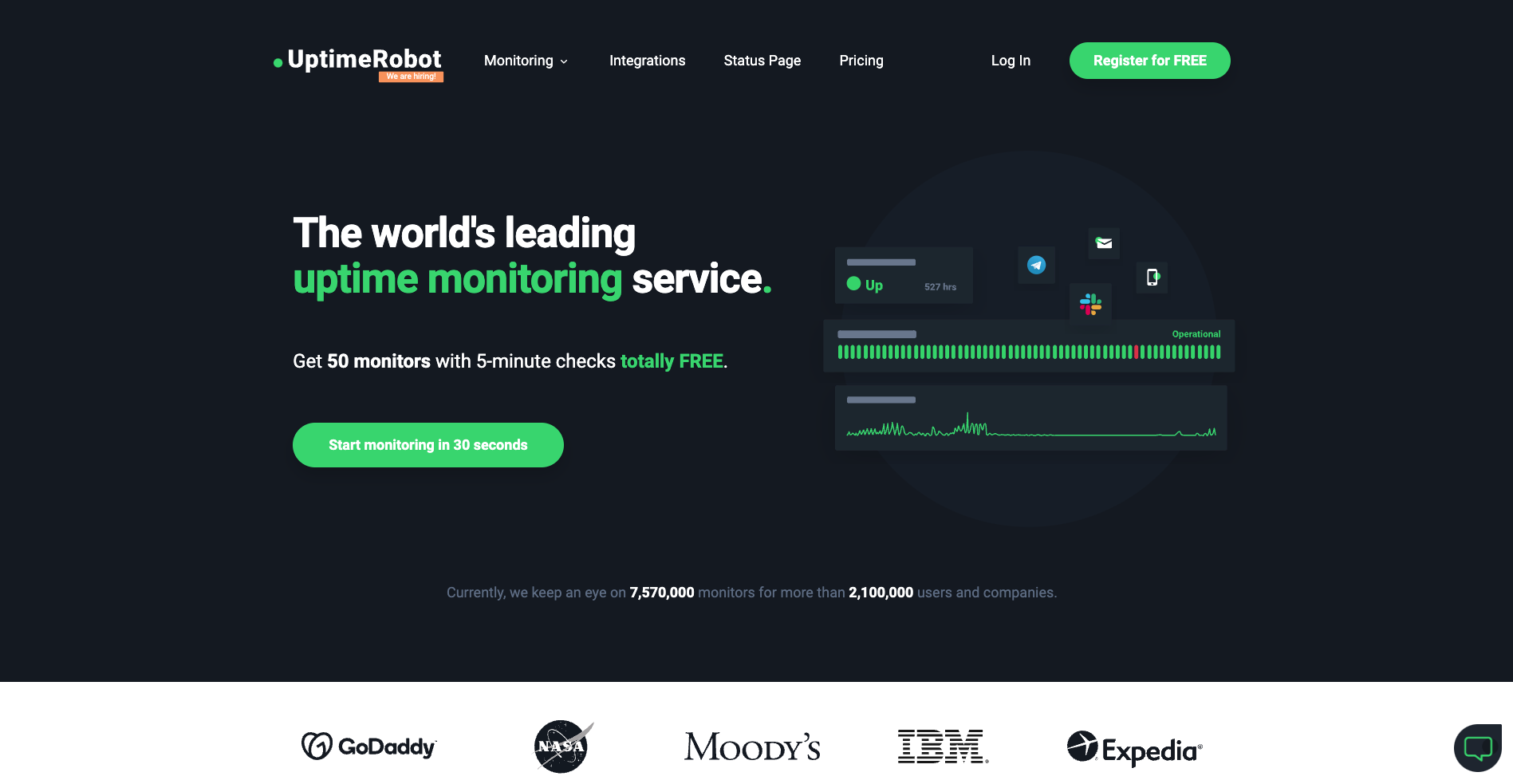 When it comes to striking a balance between robust features, ease of use, and affordability, UptimeRobot is often the top choice for many professionals and organizations.
Why is UptimeRobot the Top Choice?
There's a reason UptimeRobot consistently ranks high for ping monitoring. Here are some of the standout features that make it a top pick:
User-friendly interface:

You don't have to be a tech genius to navigate through UptimeRobot's intuitive dashboard.

Real-time monitoring: Get immediate notifications through 5 personal notification channels and 11 3rd party integrations when there's any hiccup in your network, allowing you to address issues promptly.
Customizable alerts:

Tailor alerts to specific needs, defining what response time is considered as downtime.

50 free monitors:

Especially useful for small businesses or personal use, UptimeRobot offers 50 free monitors to get you started without any upfront investment.

Scalability:

As your monitoring needs grow, UptimeRobot has the capabilities to grow with you, making it a long-term solution for businesses of all sizes.
But don't just take our word for it, UptimeRobot boasts an respectable TrustPilot score of 4.6, affirming its reliability and user satisfaction.
Key Features
When it comes to a well-rounded monitoring solution, UptimeRobot truly stands out for its cost-effectiveness and versatility. It's designed to serve both novice users and seasoned professionals.
Variety of monitoring options
In addition to the ping monitoring, UptimeRobot also offers standard HTTPS, keyword, port, SSL, and domain checks, including cron jobs monitoring. 
Frequent check intervals
Offering intervals as brief as 1 minute (or 30 seconds in the Enterprise plan), the service provides nearly real-time data on your site's status and performance.
Multiple alert channels
You can get instant alerts via email, text messages, voice calls, Email2SMS, or even through third-party apps such as Slack, Telegram, Discord, MS Teams, Google Chat, Zapier, Splunk On-Call, PagerDuty, Pushbullet, and webhooks.
Status pages for transparency
Build public or private, customizable status pages to keep your team and your audience in the loop about your website's uptime. 
Share updates and announcements with details about incidents or upcoming maintenance. You can also allow your visitors to subscribe to updates via email.
Multiple users access
Cooperate with your team and let your team access all monitors with login or notify-only access.
While users with login access can create and edit your monitors with alerts contacts, notify-only users can add their email address and phone number.
Pricing
Compared to other tools on the market, UptimeRobot is a steal.
The lifetime free plan with 50 monitors include 5-minute intervals, HTTPS, keyword, port, and ping monitoring.
UptimeRobot offers three other plans called SOLO, TEAM, and ENTERPRISE. These include different features, integrations, number of status pages, and login or notify-only access.
The price for UptimeRobot starts at $7 / per month for 10 monitors and $15 / per month for 50 monitors.
Check out our pricing and see all the details – we'll be happy to answer any questions you have, just let us know!
| | |
| --- | --- |
| Pros | Cons |
| ✅Pricing | ❌Outdated interface |
| ✅Modern mobile app | |
| ✅Free ping monitoring | |
2. Site24x7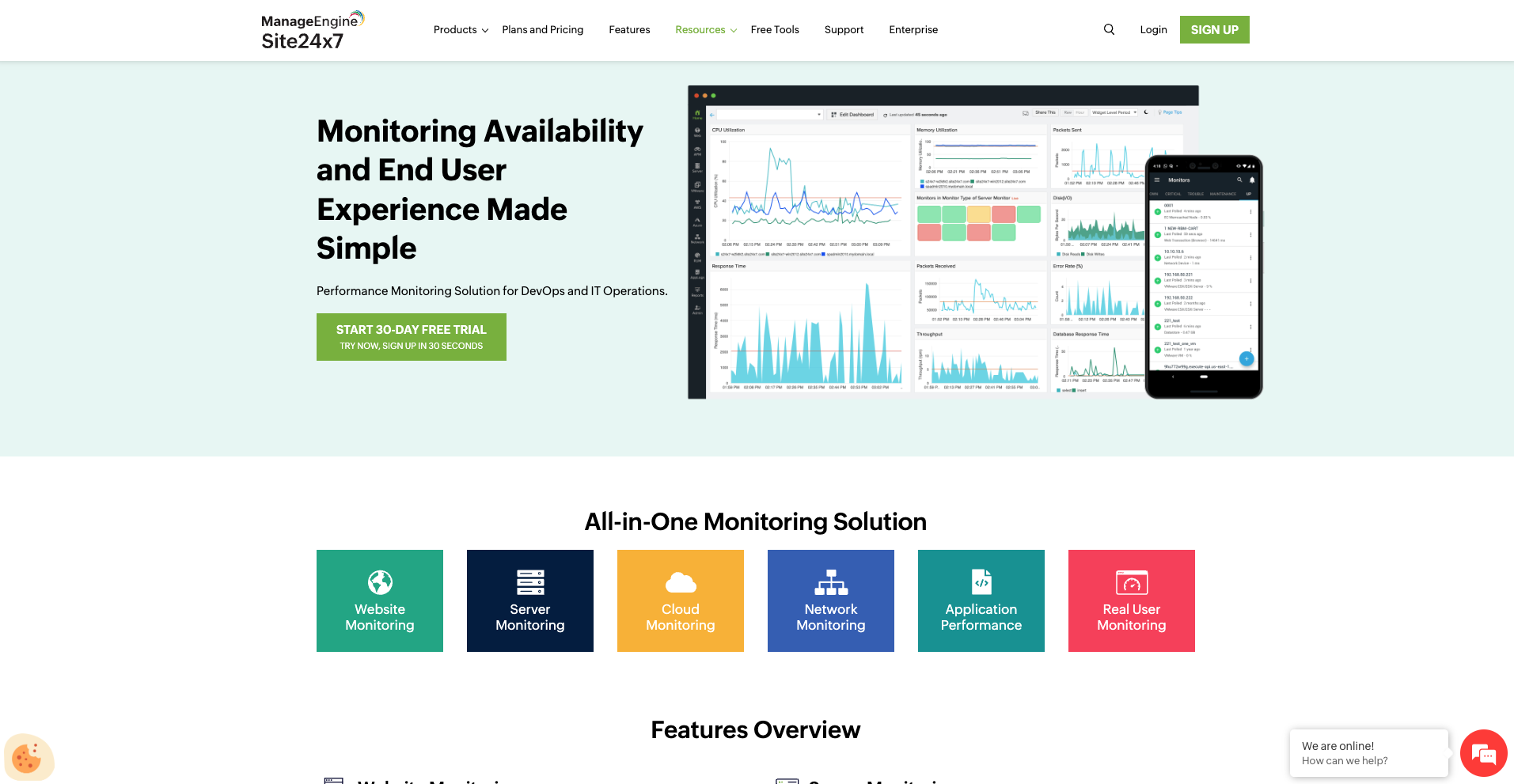 Site24x7 is an old player in the ping monitoring scene, however, many find it to be very complex – maybe too complex for some, considering the price.
Even though Site24x7 includes a lot of different features that you might not need, it's also up to 3x more expensive than UptimeRobot, and lacks a free plan. 
TIP: Check out our detailed UptimeRobot vs. Site24x7 comparison page to learn more. 
Key Features
Besides ping monitoring, Site24x7 offers other types of monitoring as well, giving the service a fairly comprehensive overview of network health.
Despite this, Site24x7 lacks some key components that UptimeRobot has, such as live support chat for free users, free status page, a mobile app, and many integration possibilities, including Discord, Google Chat, and Pushover.
Their complex portfolio includes:
Website monitoring

Server monitoring

Cloud monitoring

Network monitoring

Real user monitoring

Application performance
Pricing
The pricing model can be confusing at first glance, but the good news is that Site24x7 has a 30 day free trial, so you can give it a test run before purchasing.
There is a free plan, but the check intervals are quite long, standing at 10 minutes. If you want shorter intervals, then you'll have to shell out some cash.
In the €9 / per month starter plan, you can get…
25 basic ping monitors

500 MB logs

50 SMS/voice credits per month

email and community support only
If you'd like to monitor more, you'll have to pay up to 3x more compared to UptimeRobot, e.g. $89 / per month for 100 monitors from Site24x7, instead of $29 / per month for 100 monitors from UptimeRobot.
| | |
| --- | --- |
| Pros | Cons |
| ✅Comprehensive monitoring options | ❌May be overwhelming for newcomers |
| ✅Real user monitoring | ❌Customer Support |
| | ❌Pricing |
3. SolarWinds Pingdom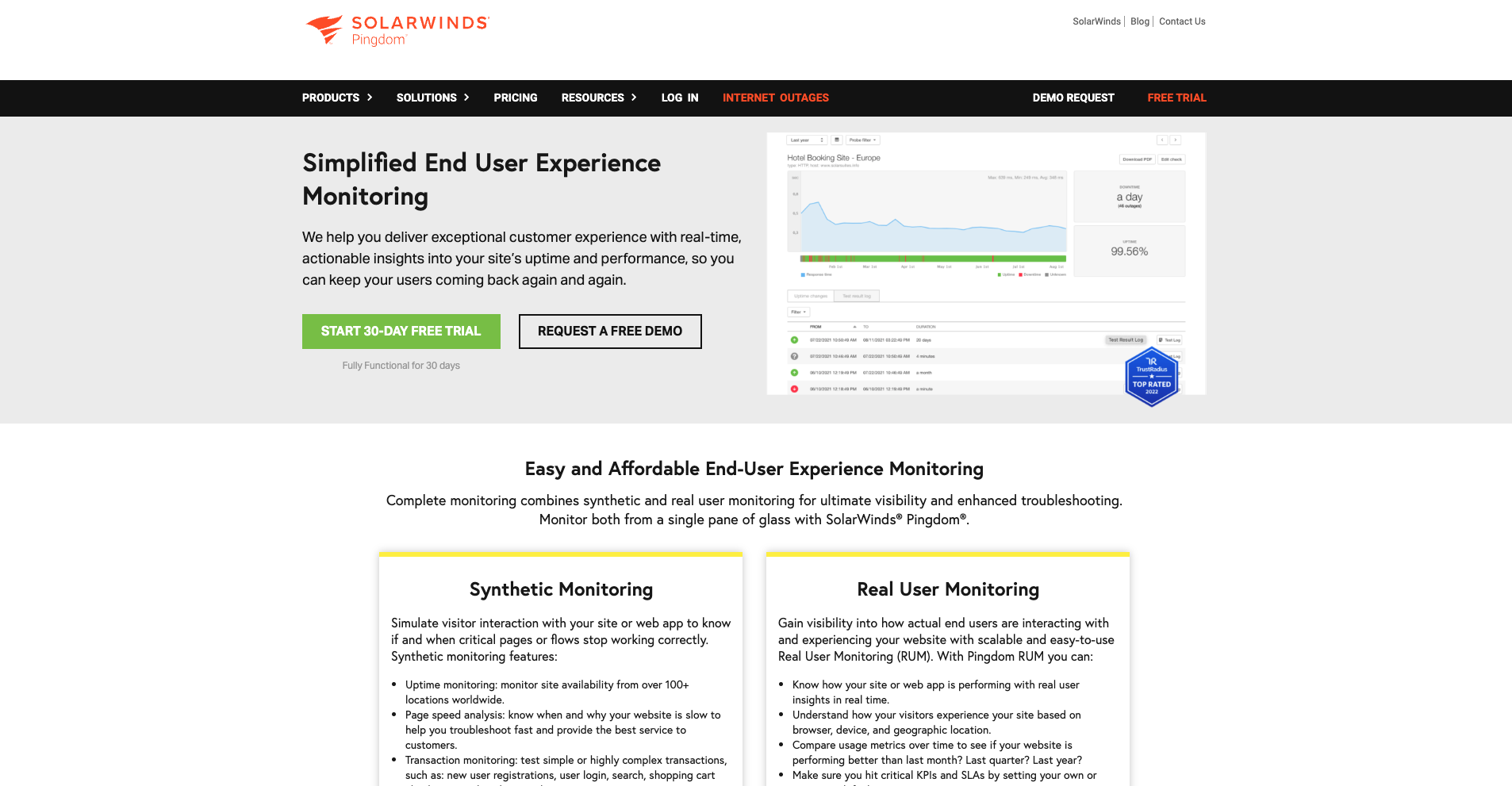 Similar to Site24x7, SolarWinds Pingdom has been in the game for some time already, and offers a robust solution with different features and platforms. 
This tool is part of a larger suite, but you can try it along with a few other monitoring tools during a free trial period.
Key Features
SolarWinds is a massive operation, providing monitoring of all types.
If you're looking for basic uptime ping monitoring, this is under the Network option included in Synthetics monitoring. This option includes:
TCP Port monitoring
Ping monitoring
DNS monitoring
UDP monitoring
Domain/IP monitoring
They also have a more complex solution for advanced network monitoring called the Engineer's Toolset. This hefty package has 60 network management system tools to help you get the most out of your operations. 
Diagnostic tools

Real-time alerting and monitoring

Network stress testing

Automated network discovery

Configuration and log management

IP address and DHCP scope monitoring
Pricing
As SolarWinds offers a vast array of services, they also have a lot of pricing options to match.
The price for basic uptime ping monitoring is also almost 3x higher than compared to UptimeRobot. For example, 100 monitors will cost you $77.5 / per month instead of $29 / per month from UptimeRobot.
For just the Engineer's Toolset, you can get a 14 day free trial. You can purchase the license outright for €1,409.
Additionally, if you have other toolsets you're interested in, you can add them to your quote to create a bundle.
| | |
| --- | --- |
| Pros | Cons |
| ✅Network Insights | ❌Pricing |
| ✅Customizable Dashboards | ❌Resource Intensive |
| | ❌Poor mobile app |
4. BetterStack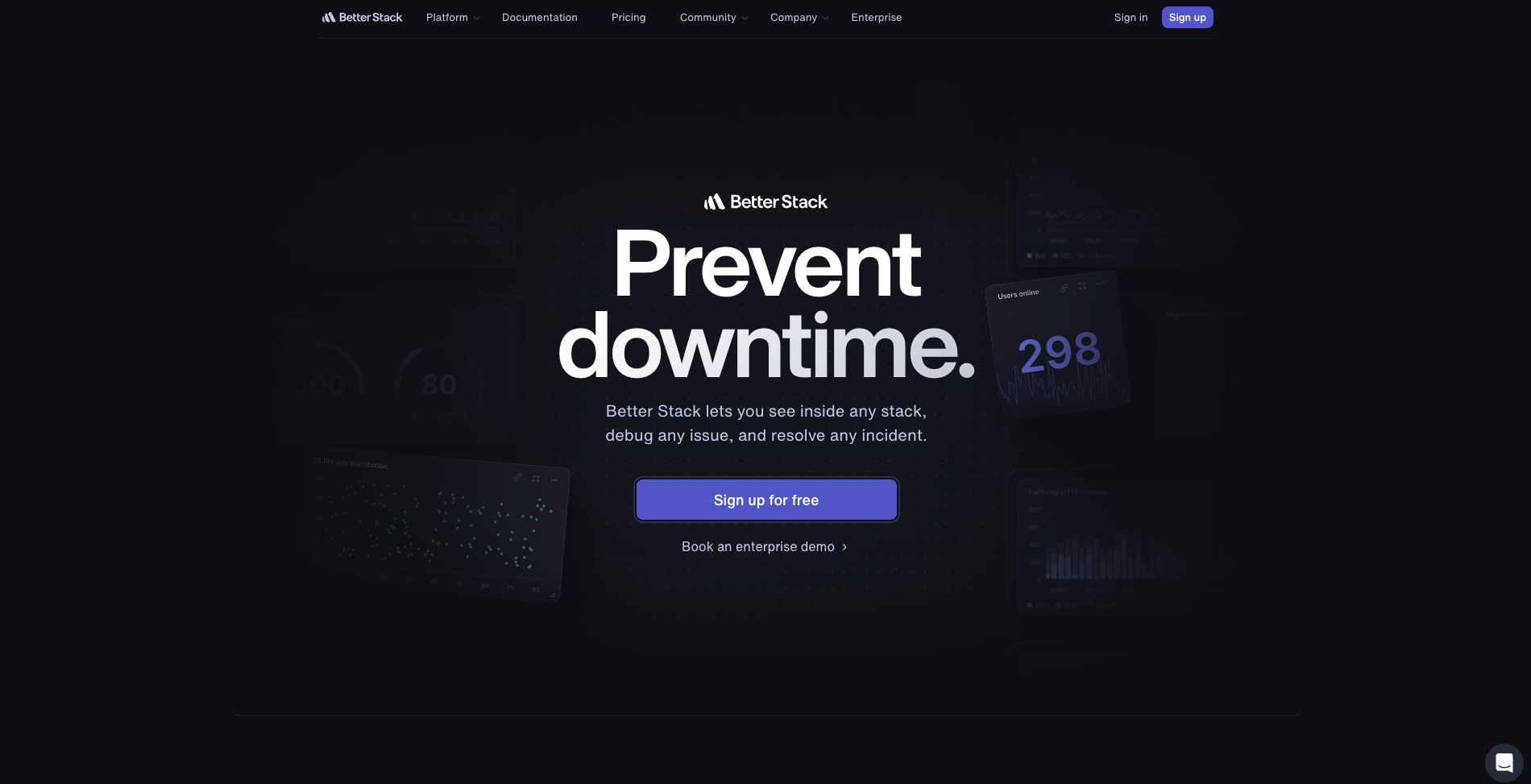 Next on our list is BetterStack, a comprehensive monitoring tool that keeps tabs on ping responses. 
When comparing BetterStack and UptimeRobot, you'll find that the price of BetterStack is a whopping 3x more!
Their ping monitoring is also not included in the free plan anymore, as it's still available with UptimeRobot.
Key Features
BetterStack offers both uptime monitoring and log packages. Their uptime monitoring package has a lot included, and is a great choice for a full suite of tools.
Unlimited voice call alerting

Ping monitoring

Incident audit timelines
Pricing
Taking a step up to their Freelancer plan will run you $25/month, and you'll get 50 monitors with 30 second checks, 5 status pages.
For larger ventures, they also have 2 more price models – Small Teams for $85/month, and Business for $170/month. Their pricing is based on the number of team members, so depending on that, it can cost you more. 
| | |
| --- | --- |
| Pros | Cons |
| ✅Versatile | ❌Complicated team pricing |
| ✅Multi-platform Alerts | ❌Push notifications not available for free |
| | ❌Less customizable status pages |
5. Datadog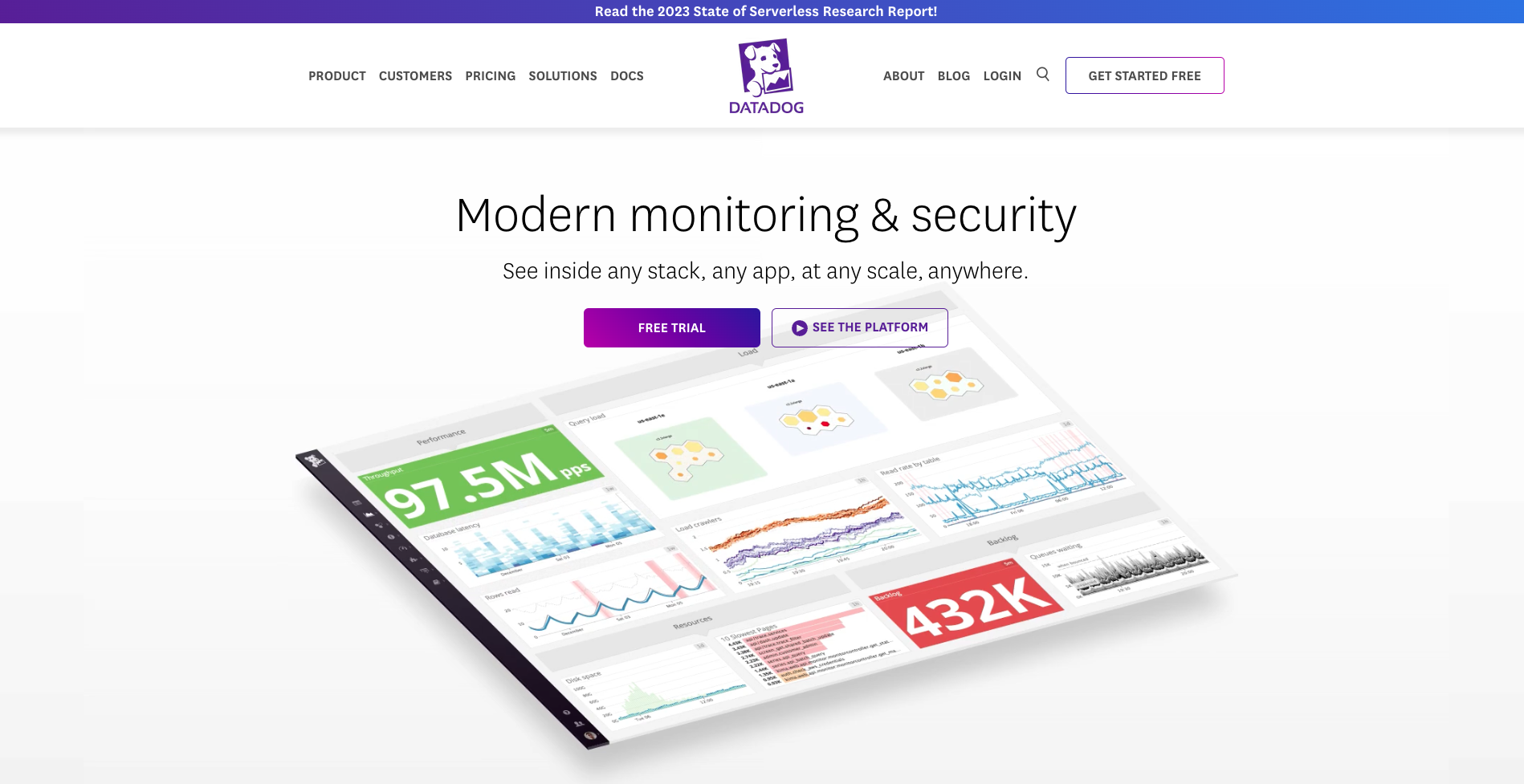 Using Datadog requires installing an agent, even on your workstation, which makes it a less accessible option for ping monitoring. For example, solutions like UptimeRobot are entirely cloud-based and can be set up in just 30 seconds.
While not exclusively a ping monitoring tool, it does offer this capability as part of its larger suite.
Key Features
Datadog offers a wide variety of packages, from infrastructure monitoring to user behavior, and everything in between (like logs, applications, and more).
Because Datadog's capabilities are vast, let's have a look at just the Network Performance Monitoring package.
Full and complete network visibility

Real-time network insights

Detailed view into cloud networking costs

Robust DNS observation capabilities

Track key network metrics (TCP transmits, latency, connection churn)
Pricing
Ping monitoring is included in Datadog's Network Performance Monitoring package, and has a few ways to buy based on what your needs are.
Firstly, when purchasing the entire service, you will pay $15 / per host/ per month, which adds up very quickly.
These advanced features are beneficial, though not necessary if you need just basic ping monitoring.
Specifically for the Network Performance Monitoring package, you'll be paying $5 / per host / per month, which may be more cost effective than the entire plan, but it is still rather hefty for those who have many hosts.
| | |
| --- | --- |
| Pros | Cons |
| ✅Complex solution | ❌Requires installation |
| ✅Extensive Integrations | ❌Confusing pricing |
6. Dotcom-monitor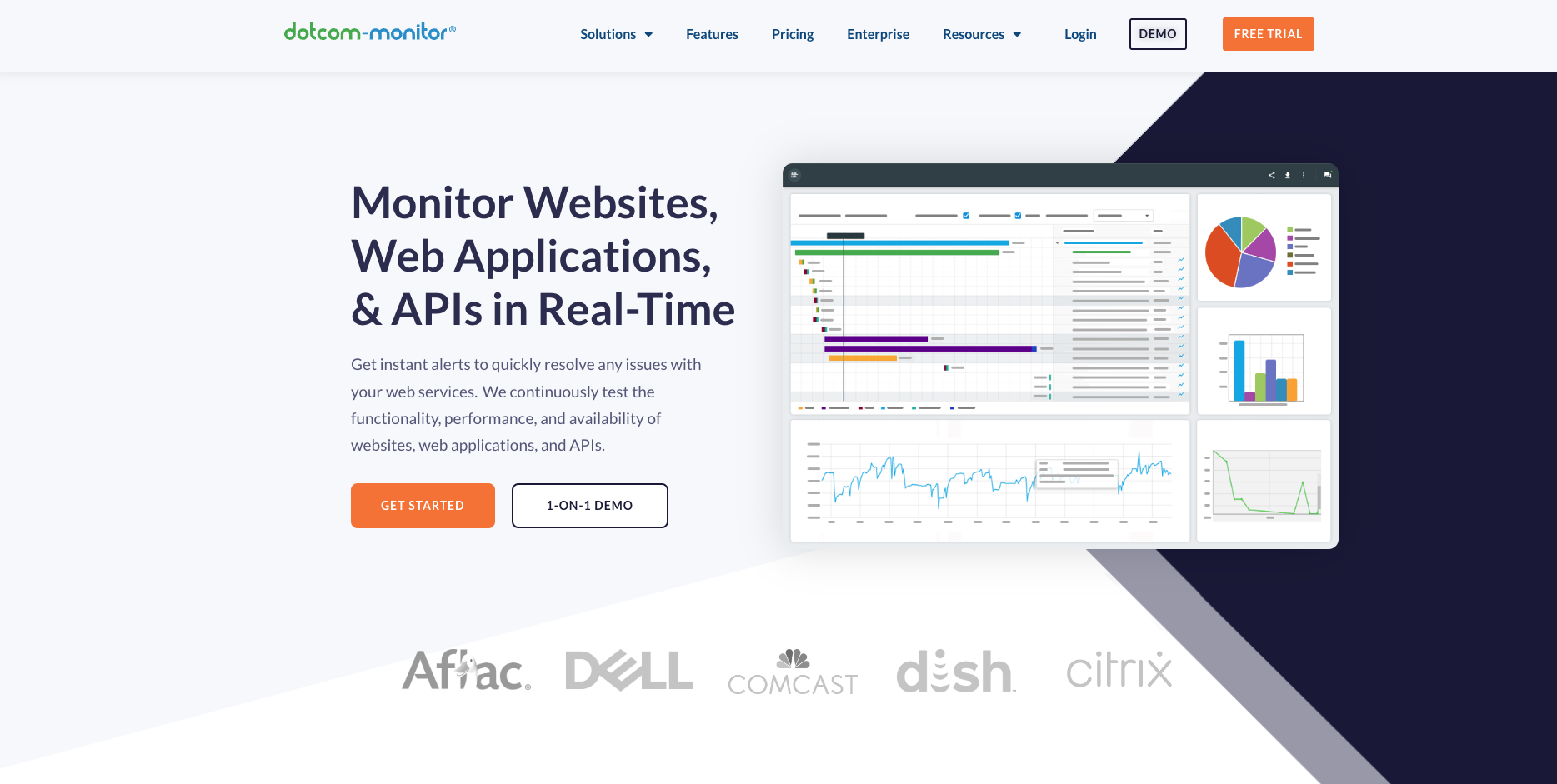 Dotcom-monitor focuses primarily on website and web application monitoring but does offer ping monitoring as part of its package. 
Its features are tailored mainly towards web developers and businesses with a strong web presence.
Key Features
Like most other providers on this list, Dotcom-monitor offers several ways to keep your infrastructure healthy and well kept.
Dotcom-monitoring is mainly used for multi-location checks, but the dashboard seems kinda outdated.
In the Web Services Monitoring package you'll find ICMP/ping monitoring, as well as a host of other capabilities.
TCP, SOAP, and GET/POST monitoring

SSL certificate monitoring

Instant alerting

WebSocket monitoring

30 monitoring locations worldwide

Web API
Pricing
For $19.95 a month, you can have the Web Services package, including a 30 day free trial to see if it's the right fit for you.
Dotcom-monitoring also specifies that volume discounts may apply.
| | |
| --- | --- |
| Pros | Cons |
| ✅Monitoring Variety | ❌More focused on web monitoring |
| ✅Multiple monitoring locations | ❌Outdated interface |
7. Uptime Kuma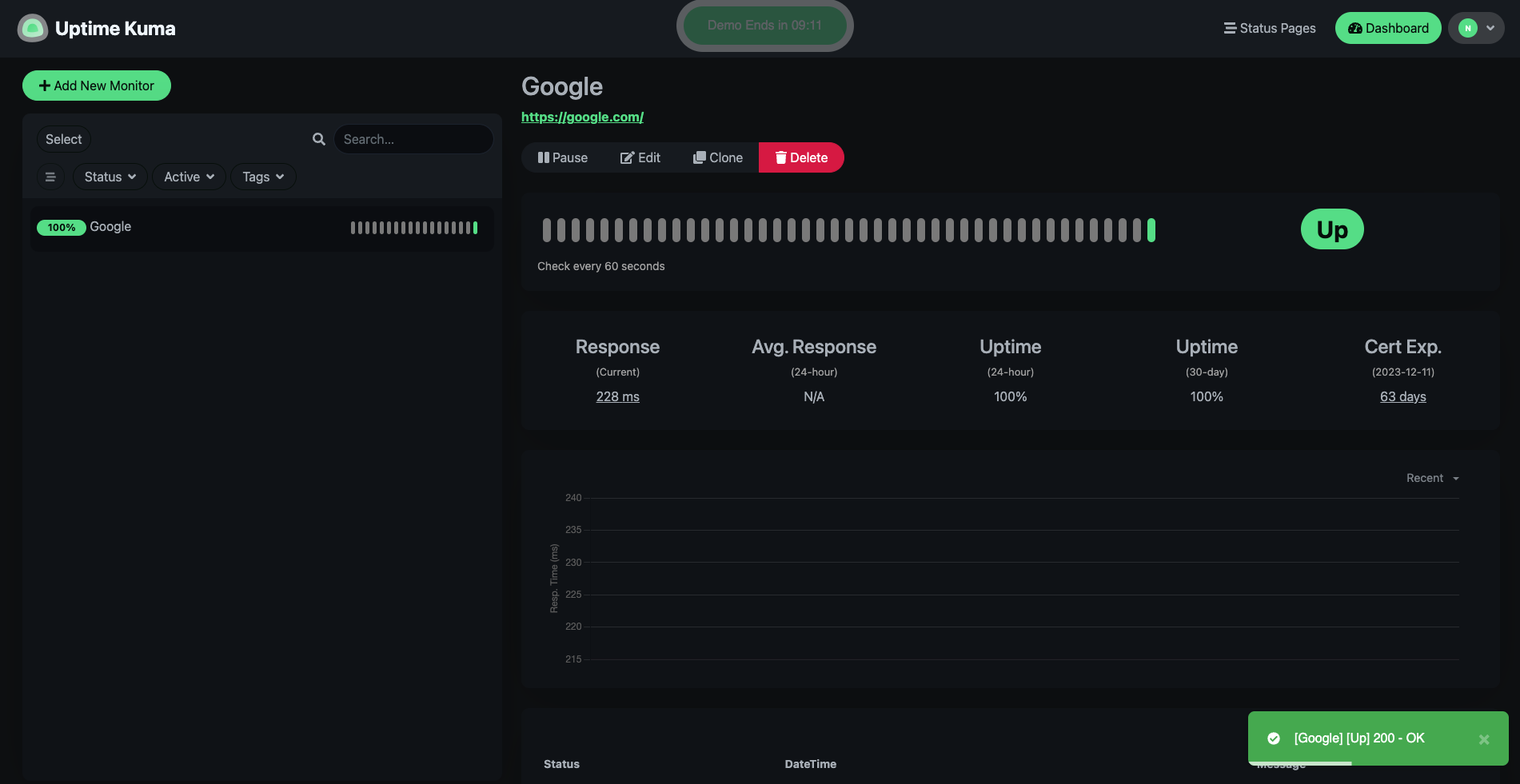 Last but certainly not least on our list is open source monitoring Uptime Kuma.
Uptime Kuma is a free, self-hosted monitoring tool that will require some upkeep on your part.
So, while Uptime Kuma may be free, you'll be paying the costs for your own servers, and be in charge of your own server maintenance monitoring.
Key Features
No fuss, no frills is what you'll find with Uptime Kuma, making it a good choice for those who already have their server infrastructure intact and just need some basic monitoring that won't put a dent in their budget.
HTTP/S, TCP, DNS uptime monitoring

Monitoring history overviews

Database optimization

Over 90 integrations for notifications

Customizable appearance
Pricing
As stated previously, Uptime Kuma is completely free, but you're responsible for costs associated with server maintenance and upkeep.
| | |
| --- | --- |
| Pros | Cons |
| ✅Open source | ❌Requires technical expertise |
| ✅Monitoring options | ❌Self-hosted |
| ✅Integrations | ❌Limited community support |
8. BONUS – Paessler PRTG Network Monitoring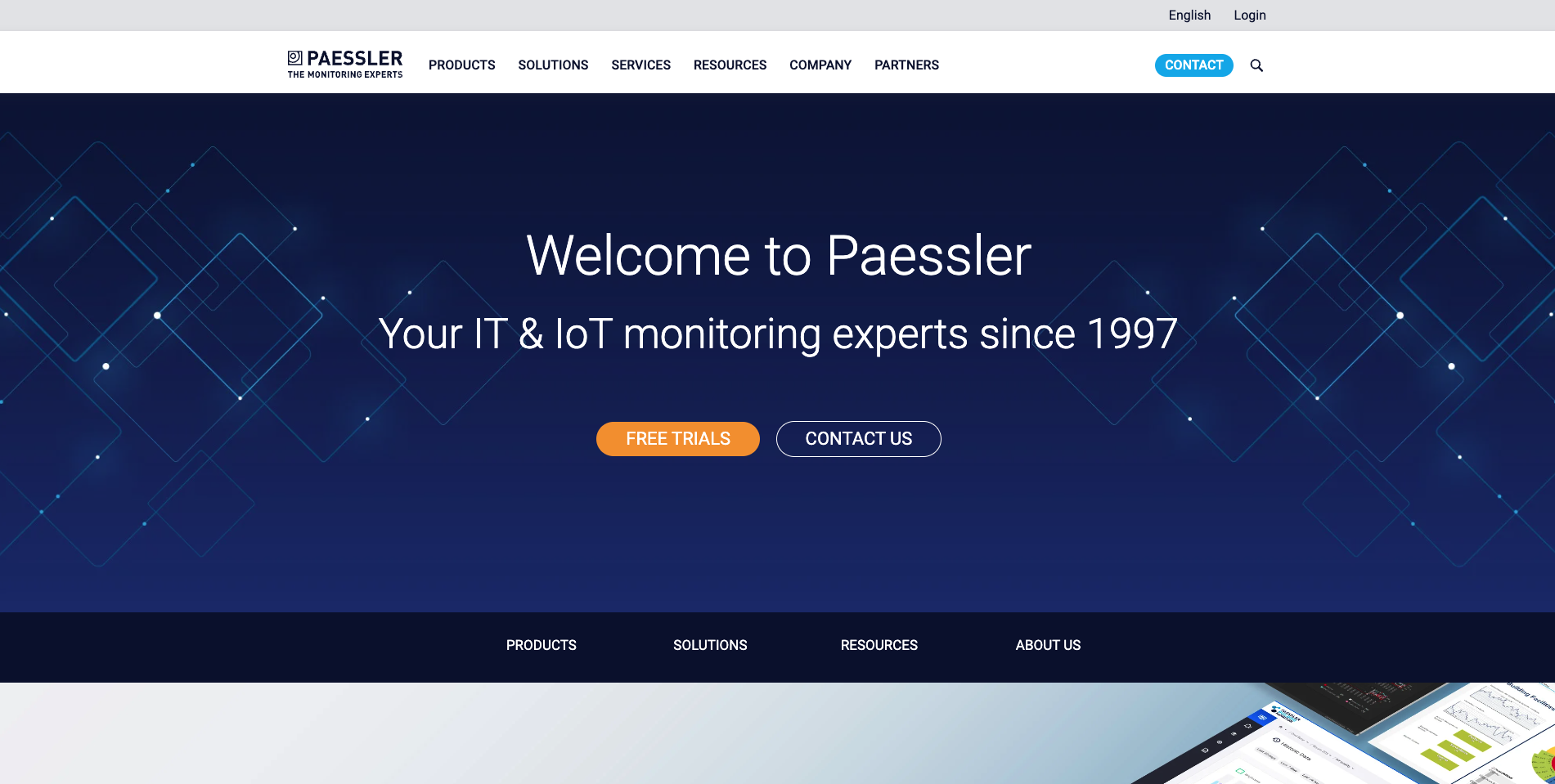 It's hard to compare PRTG Network Monitoring to other tools mentioned here, but it's a good start if you're looking for a complex network monitoring solution.
PRTG Network Monitoring falls under Paessler and provides a wide range of monitoring options, including ping monitoring. 
Key Features
PRTG is a complex network monitoring solution that provides far more than ping monitoring. When you sign up with PRTG, you'll also get monitoring for the health and performance of…
Network devices (servers, switches, routers, etc)

Virtual environments

Services and websites

Operating systems and data centers

Network traffic

Resource consumption

And more!
Pricing
There's good news and bad news when it comes to PRTG's pricing.
The good news is that they sell perpetual licenses, making it a life-long investment, and you get a ton of bang for your buck. The bad news is that it will cost you.
The most basic plan, PRTG 500, will run you $1,449 / per server license, and the most senior plan sits at $13,799 / per server license.
There is, however, a 30 free trial, after which your trial converts to the freeware edition.
| | |
| --- | --- |
| Pros | Cons |
| ✅Complex network monitoring solution | ❌Pricing Model |
| ✅Flexible Alerting | ❌Limited Free Version |
| ✅Flow Monitoring | |
The Best Ping Monitoring Tools: A Complete Comparison
Free plan
Price for 100 monitors
Mobile app
UptimeRobot
✅Lifetime – 50 monitors
✅$29 / month
✅Included for free
Site24x7

❌Not available

❌$89 / month

❌Poor

Pingdom

❌Not available

❌$77.50 / month

❌Not available

BetterStack
✅Available

❌$85 / month

😐Only for push notifications

DataDog

😐Up to 5 hosts

❌$150 / month

✅Available
Dotcom-monitoring

😐Planned

❌

$139.99 / month
✅Available
Uptime Kuma

👍Open source

👍Free

❌Not available
Conclusion
Deciding on the right ping monitoring tool depends on your specific needs, whether you're looking for basic ping monitoring, server checks, or more complex features like API support and custom dashboards.
While all these tools offer solid performance and reliability, UptimeRobot stands out for its affordability and unique features like Maintenance Windows and Public Status Pages.
Frequently asked questions
How do you ping multiple devices at once?
Pinging multiple devices simultaneously usually requires specialized software. Many ping monitoring tools, like UptimeRobot, offer this feature out of the box. You can set up multiple devices within the platform and monitor them all at the same time.
How can you monitor network stability?
Monitoring network stability goes beyond just pinging devices. You'll need to consider packet loss, latency, and response times as well. Tools like Site24x7, SolarWinds, and UptimeRobot offer comprehensive metrics to monitor network stability effectively.
How do you set up ping monitoring with UptimeRobot?
Setting up ping monitoring with UptimeRobot is straightforward. After logging in, go to your dashboard and choose to create a new monitor. Select the "Ping" monitor type, enter the IP address or domain you want to monitor, set your monitoring interval, and you're good to go.
We hope this guide provides a good starting point for selecting the ping monitoring tool that best fits your needs. Keep in mind that the right tool for you will ultimately depend on your specific requirements, whether you're a small business, an individual, or a large enterprise!
Sources
https://www.techtarget.com/searchnetworking/definition/packet-loss
https://www.cloudflare.com/learning/performance/glossary/what-is-latency/