In this blog you will learn:
What is "Keyword monitoring" and why it isn't related to SEO

How can you benefit from using it for your website and personal use

How to use UptimeRobot's FREE Keyword monitoring tool
Keyword monitoring, or simply put, the practice of checking if a specific word is still present on a website, has many uses beyond just monitoring your uptime and errors.
Keyword monitoring allows you to receive alerts about updates to content, or checking the content of a JSON file based on the words or phrases you're interested in.
What Is UptimeRobot's Keyword Monitoring
In our context, 'keyword monitoring' is best described as 'HTML string monitoring,' or 'content changes monitoring'. 
Our tool scans for your chosen word or phrase in the website's HTML code. It is important to note that if the text is rendered through JavaScript, we will not be able to detect it.
Beyond the usual applications like improving your website's overall uptime and safeguarding it from unauthorized content changes and hackers, this tool can serve a variety of other interesting purposes.
So, before we show you how to use our free keyword monitoring tool, what are the potential ways you can benefit from it?
1. Protect Against Unauthorized Content Changes & Hackers
UptimeRobot checks the HTML of your website to see if a specific word or phrase is still present. This is especially useful in the context of safeguarding against unauthorized content changes and potential hacking attempts.
If someone alters your website's content while the site itself remains accessible, UptimeRobot will still alert you.
2. Prevent Downtime Caused by Faulty Plugins
Another helpful way to use keyword monitoring is the detection of downtime issues, particularly those caused by potential issues with WordPress plugins.
Sometimes, conflicts between plugins or updates can cause your website to display just a blank page, making it unavailable for users despite appearing to be online in basic checks.
UptimeRobot can alert you in such cases, allowing you to quickly identify and resolve the issue, preventing downtime and keeping bounce rates low.
3. Monitoring Out-of-Stock Items
Using keyword monitoring tools like UptimeRobot allows you to keep an eye on products that are currently out of stock.
You can easily set up alerts for phrases such as 'in stock now' on your chosen webpage, and strike while the iron is hot.
So if you're anticipating the release of a popular new game or the hottest console on the market, check out our guide on how to set up back-in-stock notifications.
NOTE: Please, keep in mind that this works only with certain shops that include the keyword in HTML code. 
4. Tracking Prices of Stocks and Cryptocurrency
Financial enthusiasts can benefit greatly from keyword-tracking tools for monitoring changes in stock or cryptocurrency prices.
By configuring keyword alerts on financial news sites or stock market platforms, you can be notified as soon as relevant keywords like 'price drop' or 'new high' appear.
This is a comprehensive way to monitor rankings and fluctuations in financial markets. Given how fast the crypto world moves, you're sure to benefit from a little extra help.
5. Job Hunting
When it comes to job hunting, keyword monitoring can offer an edge in keeping up with the latest opportunities.
If you're in the market for a new job, set up keywords on job-hunting sites for job titles, position requirements, and even company names.
This tactic goes beyond merely browsing through search engine results pages and allows for a more tailored keyword tracking strategy aimed at your career goals, saving you precious time in the search for your next big break.
6. Government Announcements
The utility of keyword monitoring software isn't just for commercial or personal uses, it's equally as useful for staying informed about government actions.
Monitoring local or federal government websites with a keyword-tracking tool lets you track policy changes, public notices, or emergency alerts.
Unlike standard search queries, this proactive approach helps you monitor rankings of essential announcements, ensuring you don't miss out on important information.
7. News Monitoring
Whether you're into content marketing or simply a news junkie, you can follow the latest news headlines with keyword monitoring.
Keep track of current events by setting up alerts for breaking news or articles containing relevant keywords.
This turns you into an active monitor of the news, from the sources you trust most, far beyond what social media channels alone can offer.
8. Real Estate Monitoring
It's no secret that the housing market is, well, less than stellar at the time of writing.
Using a keyword rank tracker makes monitoring real estate both simpler and more effective.
Alerts for new properties matching specific area codes or price brackets can be set up, offering a more organized approach than simple web browsing.
This allows for the collection of extensive keyword data relevant to your property search, and can help you get into your dream home in a highly competitive/low inventory market!
9. Monitoring Online Marketplaces
Love shopping from the comfort of your couch for the best deals? Keyword monitoring can turn you into a savvy consumer.
Tracking auctions or marketplace listings through keyword monitoring allows you to receive alerts for new items you'd like to buy.
So don't waste time scouring your favorite pages, let your keyword monitor do the work for you.
10. Academic Research
For scholars and researchers, monitoring academic journals can be just as crucial as businesses monitoring keywords for SEO efforts.
Utilizing keyword monitoring allows you to set alerts for new publications containing your research keywords in academic databases.
This way, you stay ahead of the curve in your field, gaining immediate access to new studies or articles relevant to your research.
It not only keeps you informed but also provides you with valuable resources that can aid in your own academic work.
TIP: Try using FREE AI tools like Perplexity for your research. 
11. Competitor Analysis
For those invested in business, competitor analysis is vital for keeping ahead. Keyword monitoring tools allow you to track keywords your competitors are targeting.
Alerts can be set up for mentions of competitor names, product releases, or any relevant keywords that would indicate a shift in search engine competition.
This information is helpful for refining your own business (or SEO) strategy and understanding key metrics that impact your market positioning.
12. Health and Wellness Information
If you're interested in health trends or medical advancements, keyword tracking tools can keep you informed.
Configure alerts for specific keywords related to a medical condition, wellness tips, or breakthrough research.
This method is more effective than combing through social media channels or relying on search engine results, as it provides timely alerts that are directly related to the topics you're interested in.
13. Entertainment and Media
Whether it's a movie release, a new album drop, or a trending TV series, keyword monitoring can keep you in the loop.
Set up keyword tracking for names of artists, shows, or specific genres, and receive alerts as soon as new information becomes available.
This adds a layer of specificity beyond social media monitoring tools, letting you capture even the most niche news in the entertainment world, and keep up with the Kardashians like never before 😉
14. Monitoring Product Reviews and Customer Feedback
Understanding how customers feel is critical for both businesses and content marketers.
With keyword monitoring tools, real-time alerts about brand-associated reviews or specific terms become accessible very quickly after they're posted.
Such a strategy provides a deeper level of insight than what typical brand monitoring offers, enabling adjustments to products based on the most recent customer opinions.
15. Tracking Legal and Regulatory Changes
In some industries, new regulations and legislation come out that affect day-to-day operations or future plans.
With keyword monitoring, you can track changes in legal requirements or guidelines relevant to your industry.
Setting alerts for specific terms like 'new regulation' or 'amendment,' you can stay ahead of the curve and adjust your operations accordingly.
How to Use UptimeRobot's Keyword Monitoring
So what's it all about? Basically, keyword monitoring/search term tracking can be described as setting up alerts for target phrases or words that you want to follow across multiple web pages or JSON files.
How to Set Up a Keyword Monitoring
Step 1: Create an Account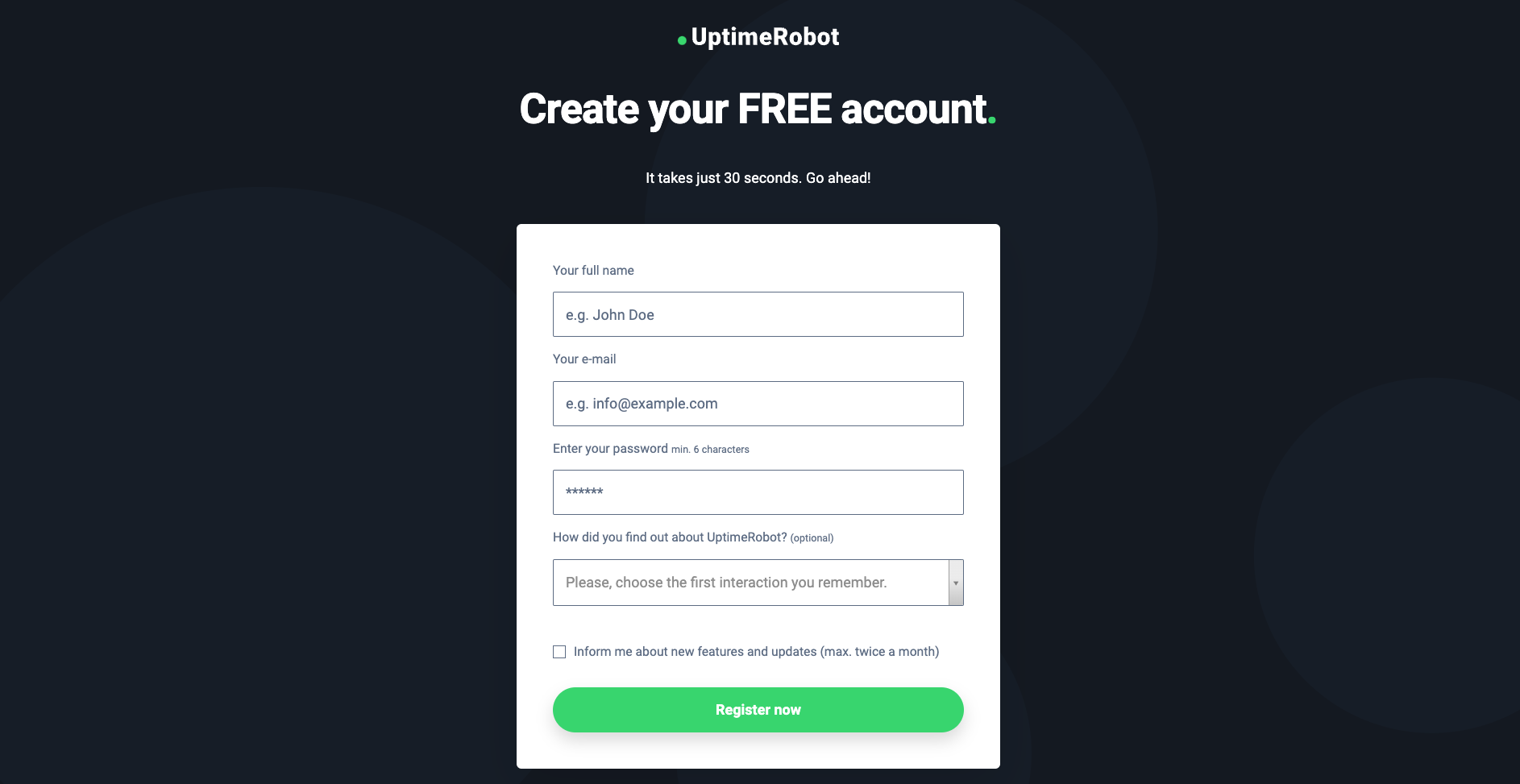 Step 2: Navigate to Keyword Monitoring
After logging in, navigate to the dashboard and click the green button on the left side called 'Add new monitor'.

Then in the monitor type drop-down menu, choose 'Keyword'.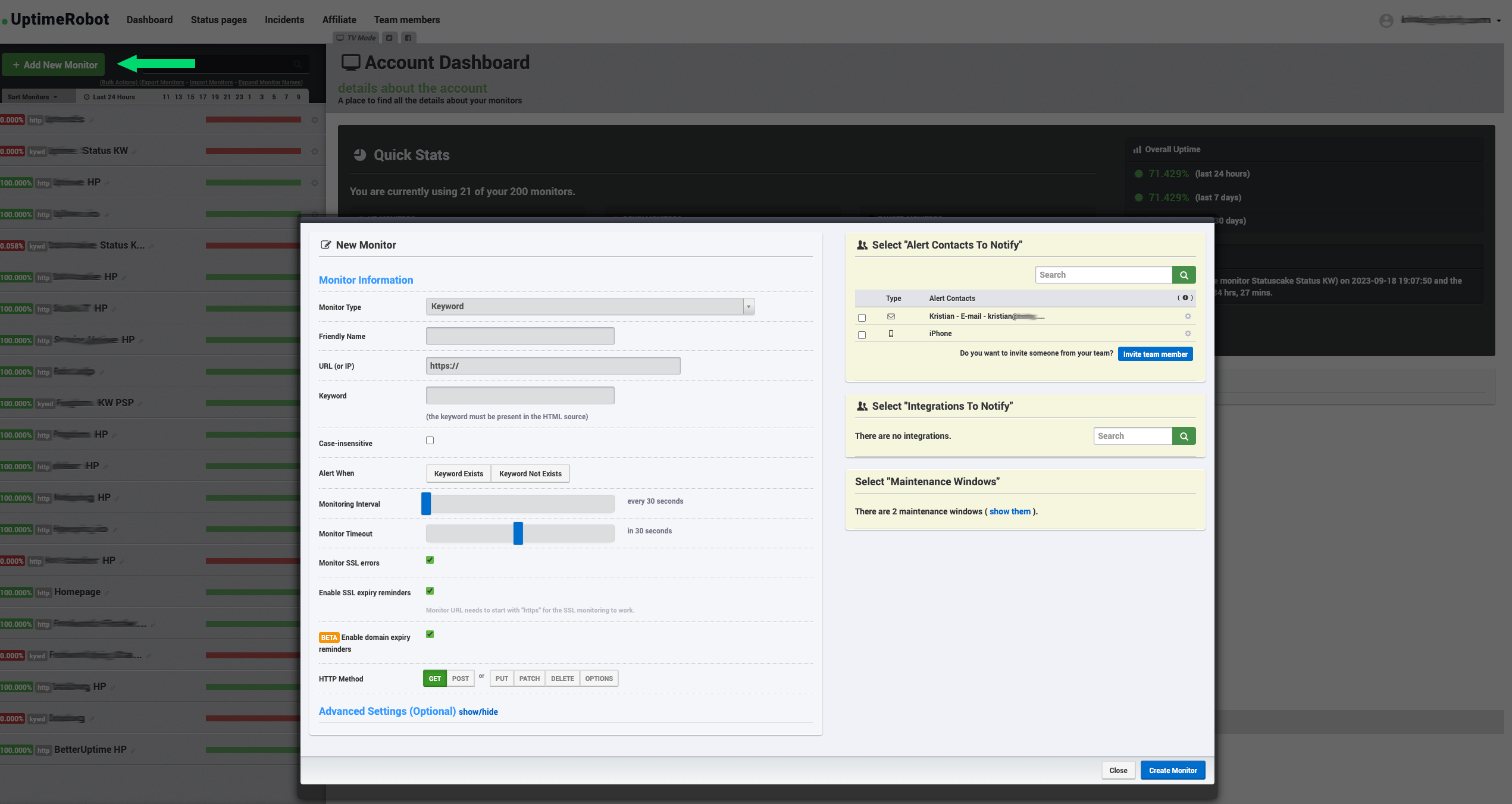 Step 3: Choose Web Pages for Monitoring
Here, you'll input the web page where you want to monitor keywords. You can monitor anything from social media platforms to academic journals.

Put the website, XML, JSON, etc. you'd like to monitor in the URL field.
Step 4: Select Your Target Keywords
Enter the target word or phrase you'd like to track in the 'keyword' field.

Note that the keyword must be present in the HTML source – right-click on the website -> View Page Source. 
TIP: Read our more detailed blog about how to set up back-in-stock monitoring.
Step 5: Set Up Alerts
Customize how you'd like to be notified when your target keywords appear or disappear.

Options include personal notification channels – Email, SMS, Voice call, push notification, or notifications via social media and DevOps channels like Slack, Discord, MS Teams, Google Chat, Pushover, Pushbullet, Zapier, and others.
Step 6: Monitor and Analyze
After setting up, UptimeRobot will monitor these pages for you. All you have to do is act when the time is right!
Keyword Monitoring: Your Key to Digital Savviness
The applications of keyword monitoring are as varied as they are invaluable, impacting numerous facets of our daily lives and professional endeavors.
With UptimeRobot's easy-to-use keyword monitoring feature, you can not only improve your digital acumen and save time but also stay updated on a host of subjects that matter to you, from breaking news and job openings, to competitor analysis and customer feedback.
Whether you're a job seeker or someone who just loves staying in the know, keyword monitoring can be your window to the information that matters most to you.
How will you use keyword monitoring? Let us know in the comments or sign up today!