It's here! The long-awaited refresh of the UptimeRobot app for iOS and Android is finally here. After introducing our new branding and design, the time has finally come for the new mobile app. So what's new?
Last updated on 17th February 2021.
A completely redesigned user interface with a focus on UX

Added powerful filter, timeframe and sorting options

Prepared for multi-language support (more languages coming soon)

Greatly improved app stability & performance
(iOS 2.1.6+) support for "critical alerts" to get notified even in "do not disturb" mode
(iOS 2.1.6+) updated app privacy report
New home screen – an overall monitoring status at a glance
Alongside new features in the new app, we focused on a much cleaner and well-arranged interface. 
The main goal of the new home screen was to see at a glance whether you have any monitor down. When the big pulsing dot is red, you know something is wrong, so you can take immediate action.
TIP: Tap the red dot – it will take you right to the down monitor or the monitor list with filtered down monitors if there are more of them. 
With the event feed below, you can see the details about recent outages on your monitors easily.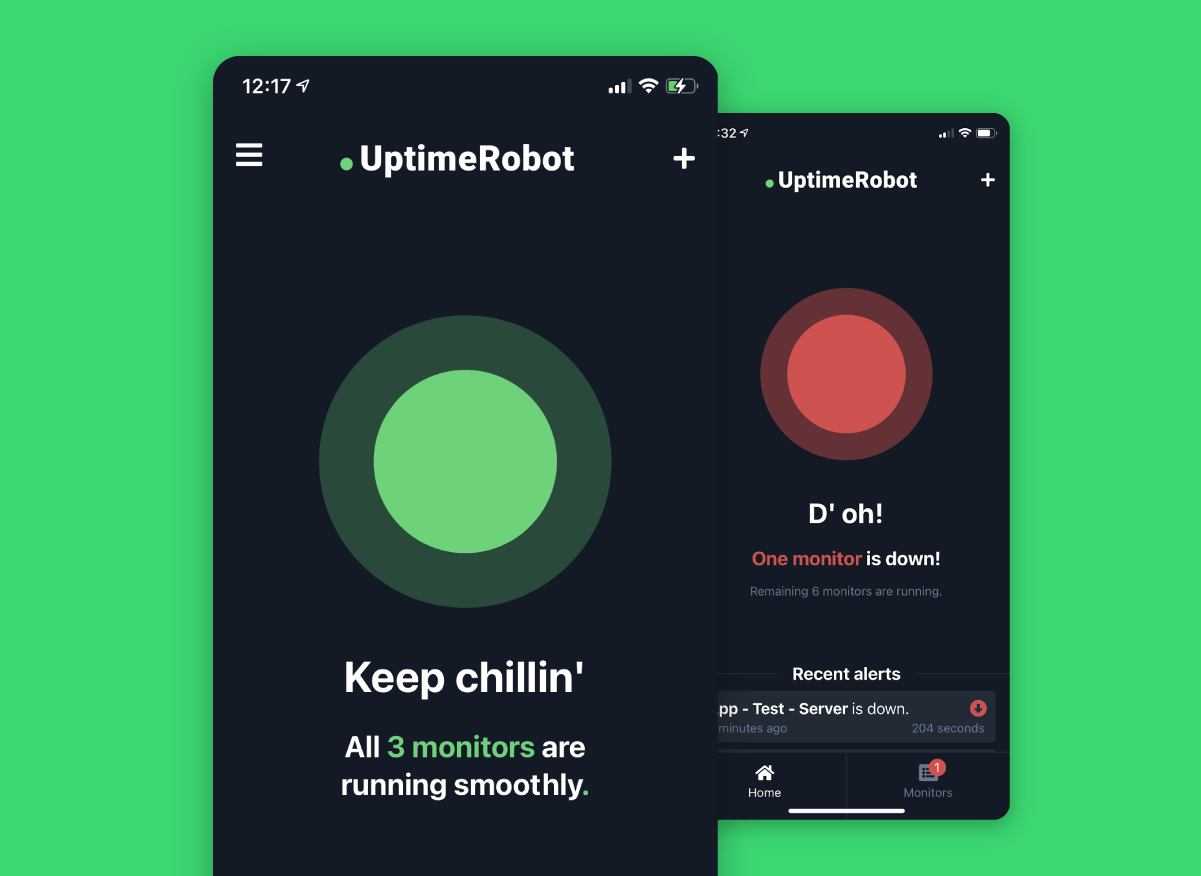 Data-rich monitor overview
We have completely redesigned the old screens so you can inspect and manage your monitors a lot easier.  
All your monitors are sorted by status on the monitor screen. The down monitors will be at the top for immediate access.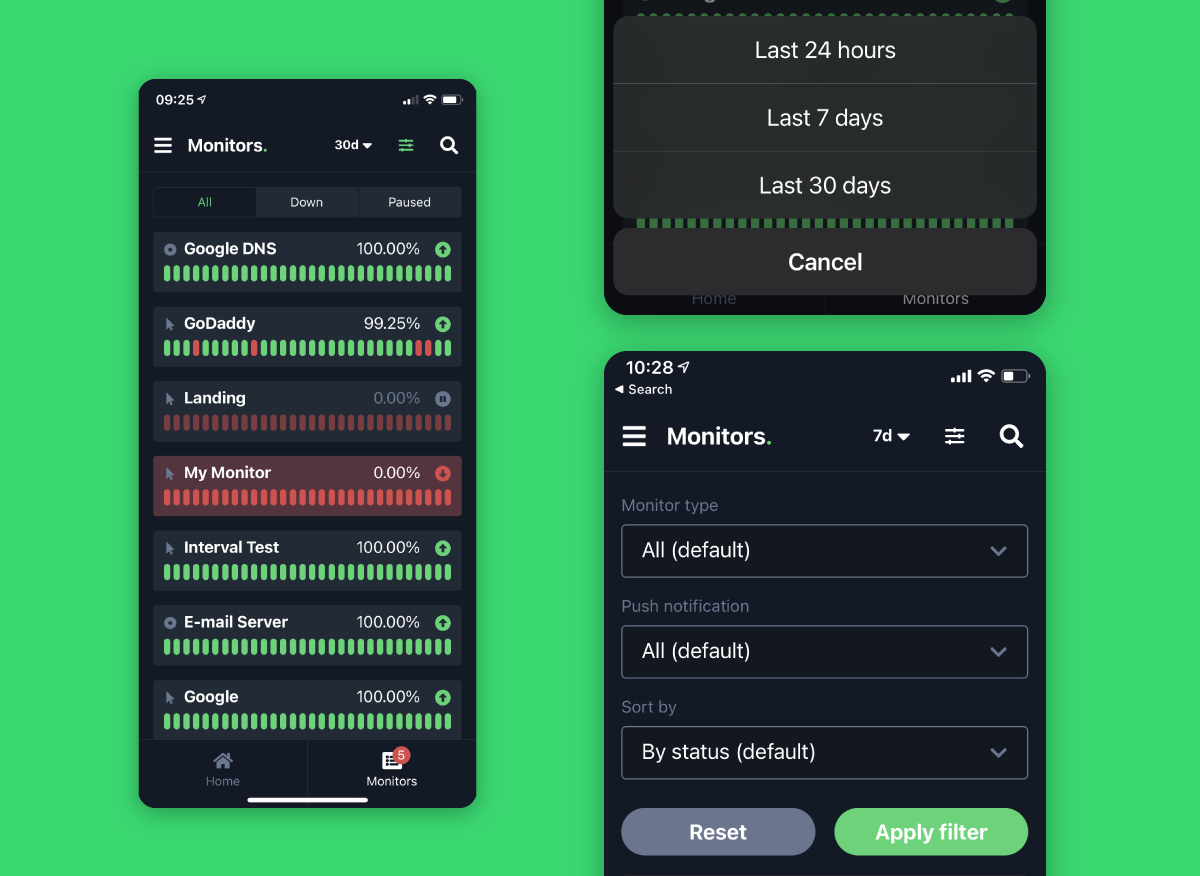 We've added a powerful filter where you can filter your monitors based on the type or active/disabled notifications. You can sort your monitor by status (default), Name A-Z, Name Z-A, by newest or by oldest.
What's more, we've developed a couple of additional handy features for better management such as sorting, advanced filtering, timeframe picker, and search by name.
You can also access monitor-specific actions like edit/pause and others with the long-press on the specific monitor.
Precise monitor details page
The brand new look of the monitor detail screen gives you a straightforward overview of your monitors.
Detailed charts come with handy tooltips so you can have a closer look at your uptime and response time data in that specific time-range on a quick tap.
Set a timeframe to last 7 days, 30 days, or even the last 24 hours to see the progress, peaks, and more granular data for your monitor.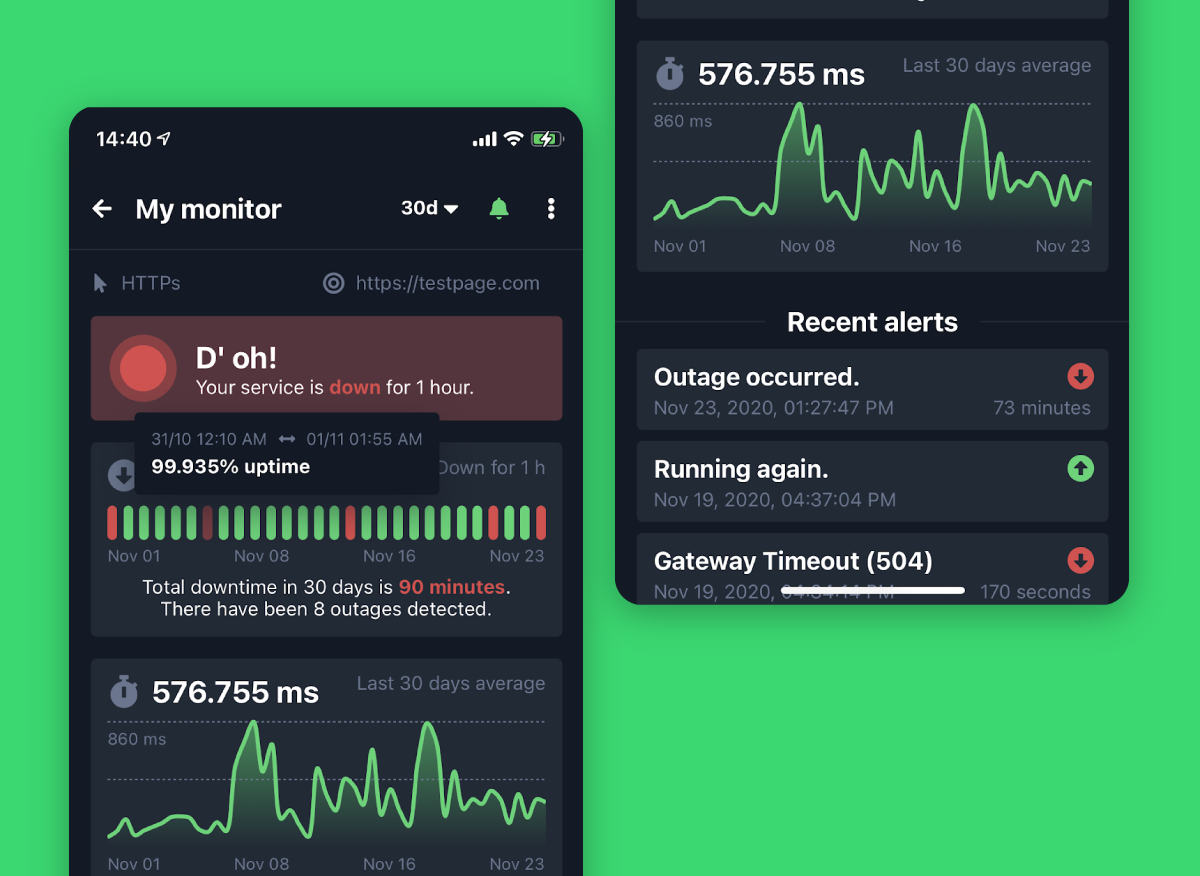 The most important part of the monitoring – alerting – now you can set it up with one tap on a bell in the upper right part of the screen.
On the redesigned monitor detail screen you can: 
Copy

or

open

the URL of the monitor in the web browser by tapping on it

Rename the monitor

Pause / Start, Delete and Edit the monitor

Create a similar monitor by "Duplicating" the current one

Manage detailed alert setting for each monitor
To make the event log as much detailed as possible, we've made the event title display a specific HTTP error (e.g. 504).
TIP: On events, you can toggle the date format from relative to full timestamp format by tapping on that date.
Creating a new monitor
Adding a new monitor is super easy! Select the monitor type (HTTP/S, Ping, Port, or Keyword), enter the details, set interval, and choose if you wish to get SSL expiration (PRO user feature) and up/down push notifications.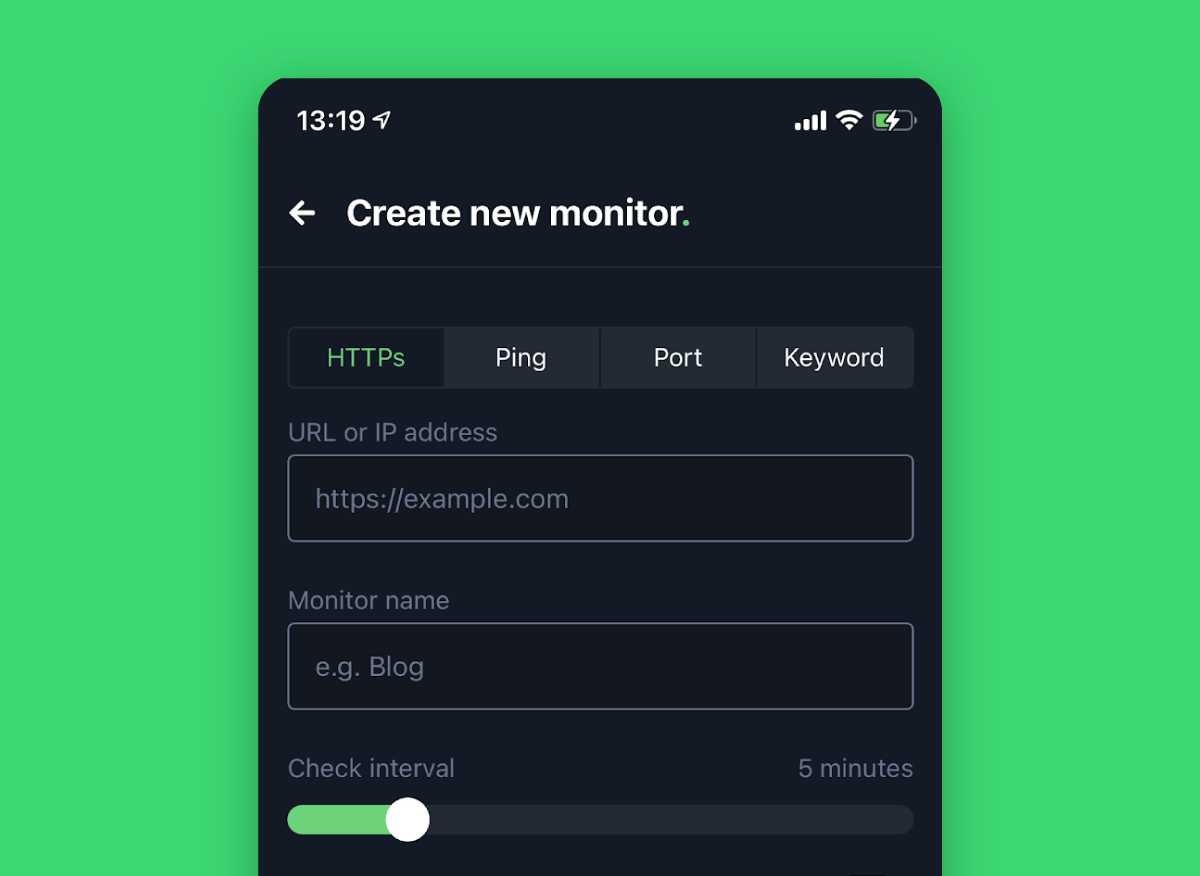 Push notifications and SMS/Call/Email alert contacts management
Notifications & alerts are critical for monitoring. Now you can manage them with a few taps. 
TIP: As a PRO user, you can use advanced notification settings to be notified "every X minutes" and if the monitor is down "for Y minutes".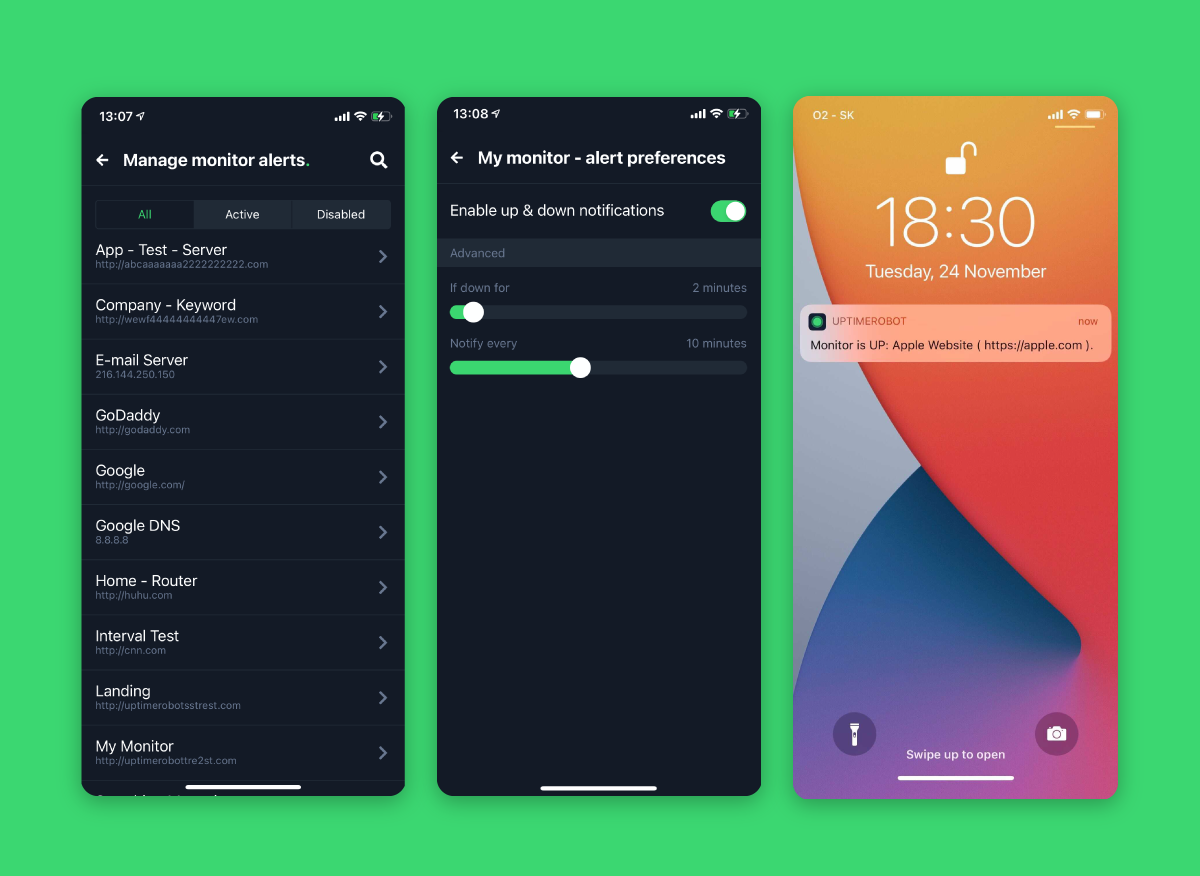 Create new SMS/Call/Email alert contacts (Android app v. 2.1.5+ and iOS app v. 2.1.6+) and edit them in the Alerts & contacts menu. You can add a new alert contact by clicking on the "plus" icon in the upper-right corner.
(iOS Devices app v. 2.1.6+) You can also enable Critical alerts here to get notified even in "do not disturb" mode.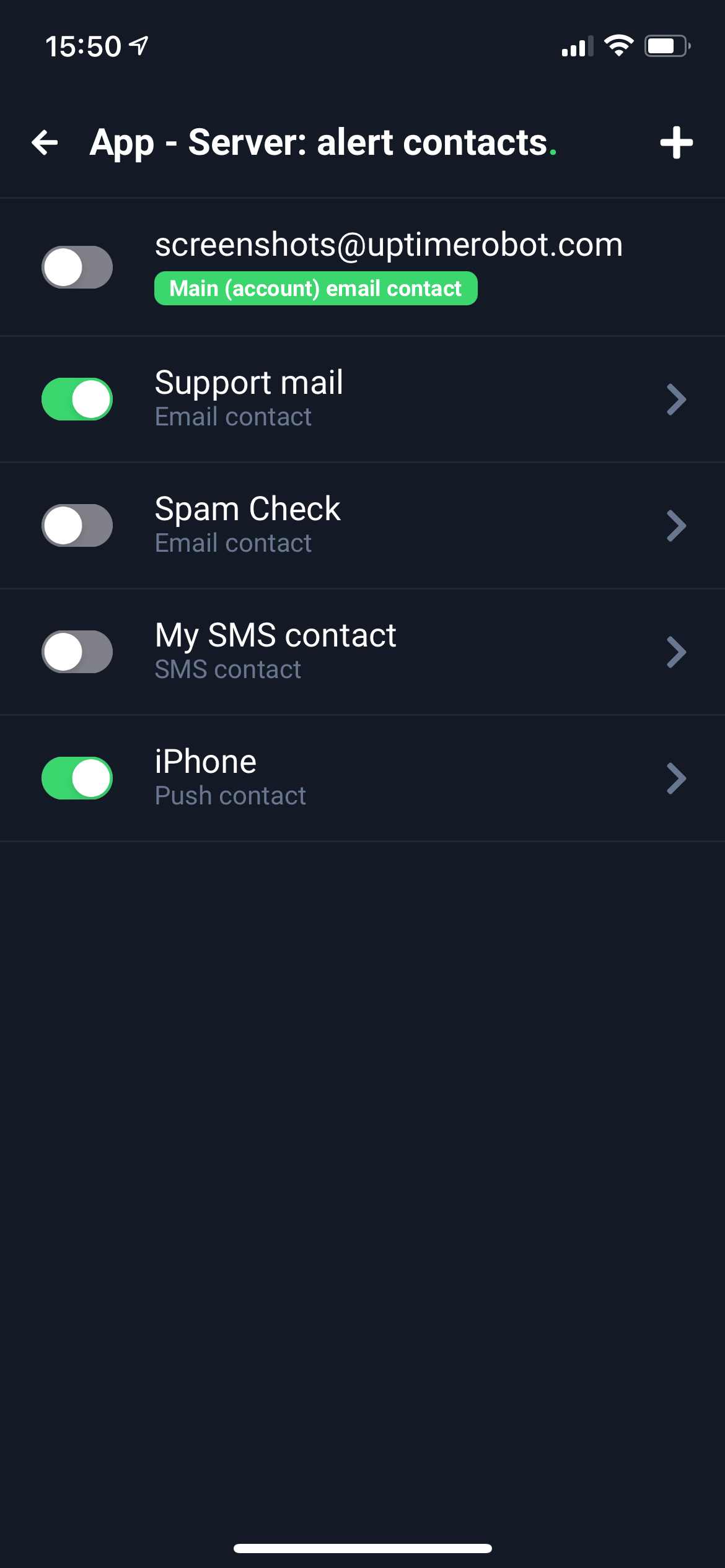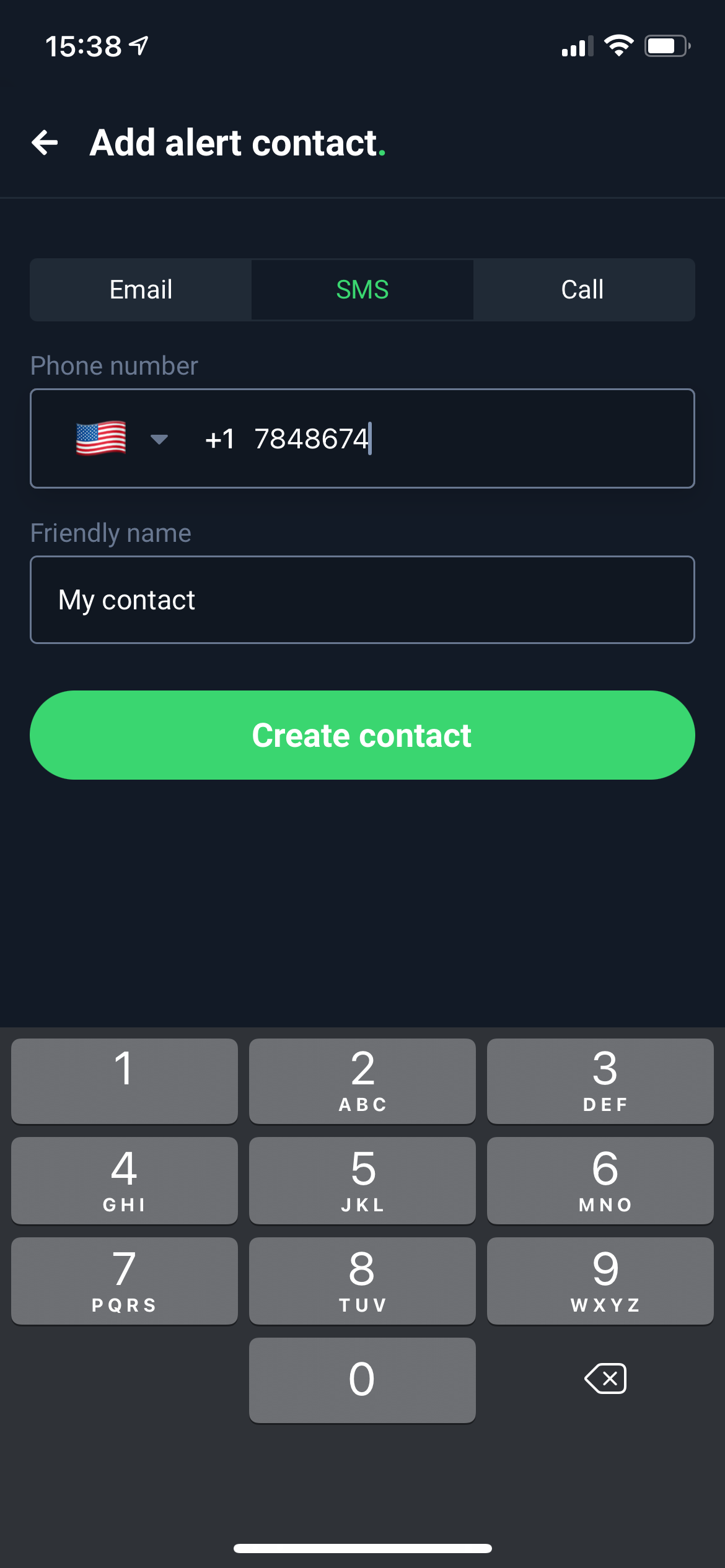 TIP: Don't forget to activate your alert contacts by clicking on the "toggle" button (green = activated).
IMPORTANT: You may run into some issues with notifications on some Android devices, mostly Huawei and Honor, due to battery optimization settings. Please, refer to this article for further help.
For those using the old app, you can import all your notification settings from the previous version with a few taps.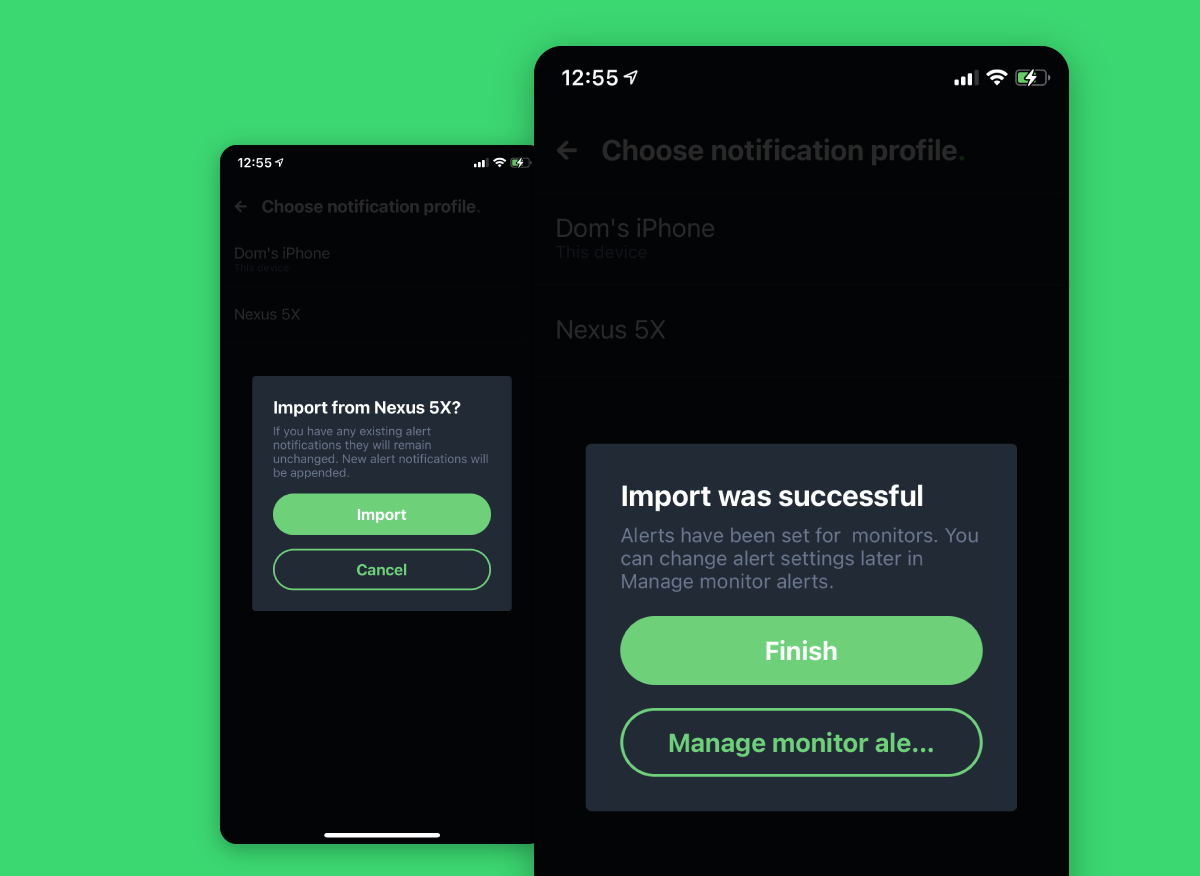 Upgrade your Plan and buy SMS/Calls from the app
You don't have to visit the Web App to upgrade your Plan anymore. Just go to the main menu and click on "Upgrade to Pro" (Android app v. 2.1.5+ and iOS app v. 2.1.6+) where you'll be able to choose your Plan and payment period and pay through your App Store or Google Play account.
You can also buy SMS/Call alerts here (or from Main Menu > Alerts & contacts > Buy SMS / Call credits).
Improved accessibility: Color-blind mode
We don't forget about better accessibility. We've added extra arrow icons and patterns in this mode. Hopefully, this will help some of you. The color-blind mode is available in the app settings.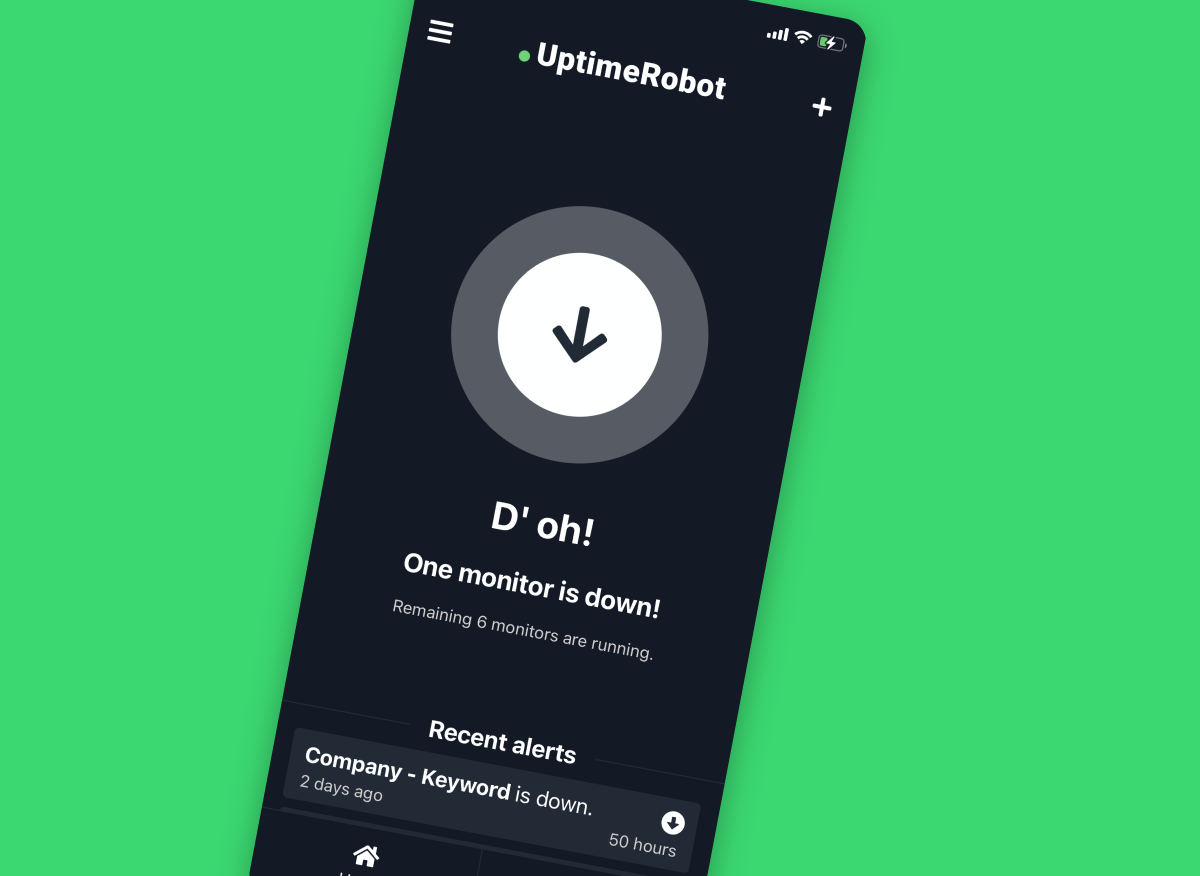 Sound settings
Don't forget to set a different sound for your UP and DOWN notifications! We have added the familiar sounds from the previous app. However, you can also use the system notification sound.
What's next? 
Even though the new app is a huge step forward compared to the previous version, we are not done yet! We plan to add more new features in the near future:
handy widgets for always accessible monitoring status

integrated root causes (i.e. the specific HTML or traceroute logs)

more languages for a localized app experience

global push notification switcher for quick on/off switching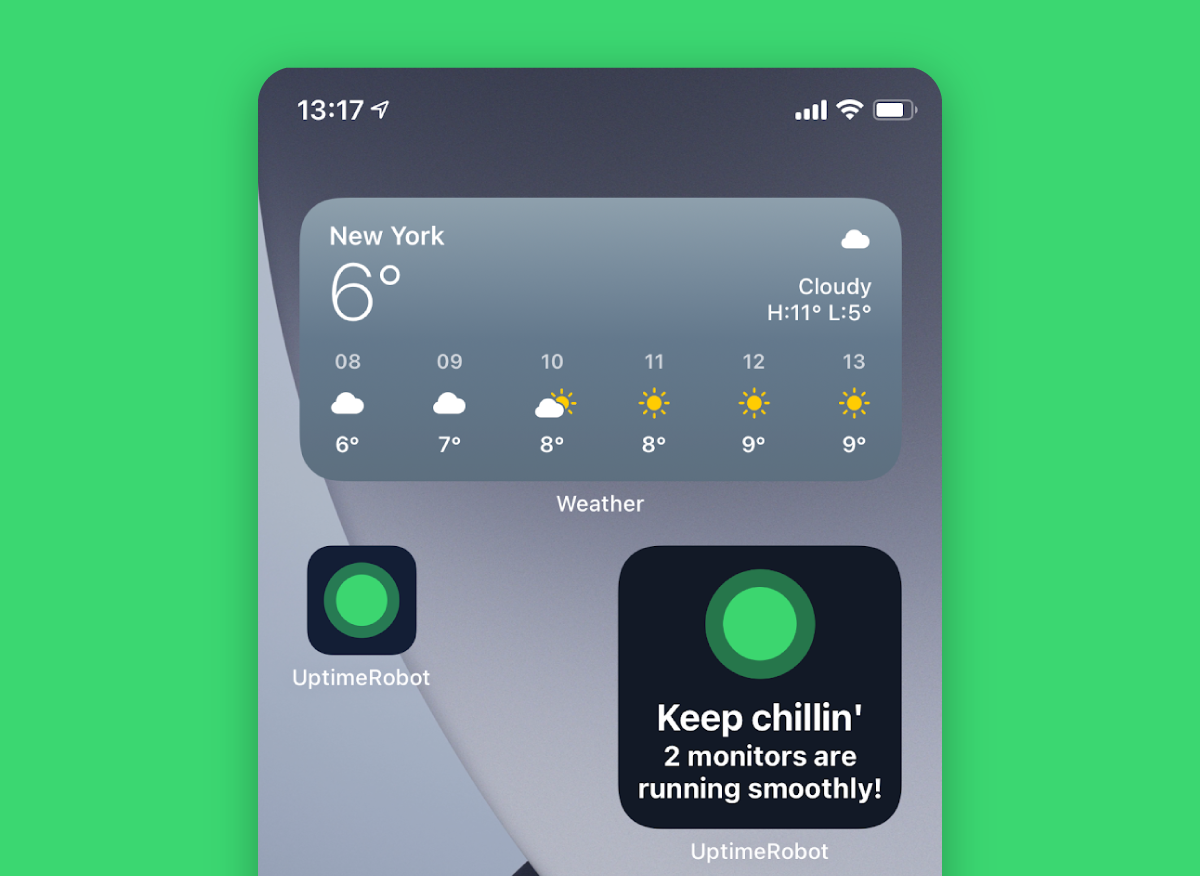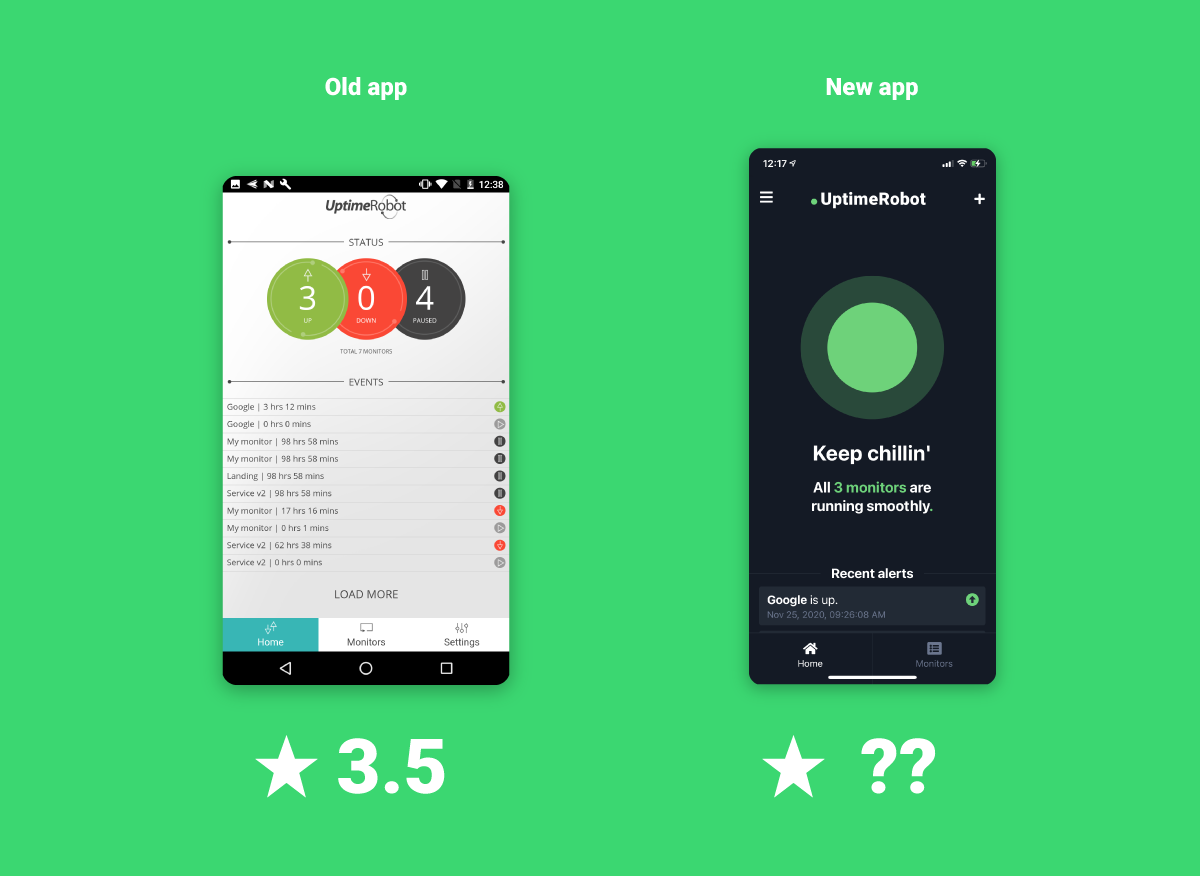 Leave us your feedback! 
Don't forget to share the app with your friends and leave us a comment on Facebook, Twitter, or a review in the App Store and Google Play. We appreciate your feedback! 
If you have any questions, please, contact our support. We'll be happy to help.