👋 Hello everyone,
Peter here, nice to e-meet you. Let me briefly introduce myself and share some insights about what has been going on with UptimeRobot lately and what the future plans are.
I am one of the founders of itrinity, a Czech/Slovak company, which acquired UptimeRobot in late 2019.
We are not your "typical" investors in expensive suits, but rather very passionate entrepreneurs and "indie-hackers" who are behind some globally recognized services like Mangools (popular SEO toolset including KWFinder) or Aukro (an #1 online marketplace in central Europe), and many more. We run these businesses and then use the generated profits to expand our portfolio.
We work in relatively small, dedicated, and distributed teams with the direct involvement of us (the founders) in product development. No VC money, no outside push for high margins, and no looking for a quick exit. We are in this for a long time 👍.
Alright, enough about us. Let's talk about UptimeRobot!
What is happening a.k.a. recent problems
First of all, we would like to apologize for any issues you may face when using our services during these times 🙏. These issues mostly include various slowdowns and errors when visiting our website, dashboard, and status pages. So why is this happening?
We have to deal with an increased amount of DDoS (distributed denial-of-service) attacks.
The number of actively running monitors grew by more than 1,000,000 in the last 6 months. That's actually good as we want to offer our service to more customers. On the other hand, we have to scale our systems to handle such numbers and to prevent performance problems if there's any big domain outage or when one of our IPs gets blacklisted by some of the hosting providers.
There were many blacklistings by numerous hosting providers during the last months. In such cases, we have to rely on the reports from you, our customers, and proactively try to solve it directly with the provider.
Our networking provider had to deal with some outages as well, and that affected our services too.
How are we handling it
We are working night and day to upgrade, improve, and scale our infrastructure and its critical parts as soon as possible. We are upgrading to a new DB cluster, which in itself will be a big improvement to the whole situation. As a response to those nasty DDoS attacks, we are upgrading our protection layers to better cope with them.
We are also migrating our "inherited" Windows-based infrastructure to a newer Linux-based one, which will make it more stable, powerful, and easier to manage and monitor. During this migration, short outages might occur as some parts of the system will need to be restarted multiple times.
Also, we are actively considering a change of our main infrastructure provider, but given the nature of UptimeRobot and the fact that we rely strongly on whitelisting of our IPs, it would be a very painful migration.
Some exciting news
We understand that these "behind-the-scenes" infrastructure updates may not be very exciting for all of you, but after a decade of UptimeRobot existence, this is very much needed. We have hired multiple talented people!
There's a lot to do, and we need any skilled pair of hands available 🙂. Engineers, customer support agents, and marketers, all of them will bring a lot for UptimeRobot in the coming months.
BTW: We are still looking for high-skilled engineers and marketers! If you think you would be a good fit, contact us on info@uptimerobot.com.
📱Mobile app
The current mobile application for UptimeRobot is, for the lack of words, bad 😂. We are fully aware of that and we plan to redo it from the ground up, using a modern design language and technology stack (React Native) to provide an amazing UX.
We also plan to improve the capabilities of what you can do via the mobile app. Our goal is to make the new mobile app your first choice to check the status of your monitors wherever you are. We would like to launch it in the Q4 of 2020.
✅ New monitoring features
While sorting through the most common support tickets, we have identified several recurring problems/feature requests that would be a great addition to our monitoring service! These include:
Multiple accounts – Create sub-accounts to let your team members access and manage your monitors.
Email reports – Get regular summaries of your monitors and their uptime statistics.
Root causes of DOWN events – See a specific server response or even a screenshot of the page right from the Dashboard.
Status page subscriptions – Let your customers subscribe and get notifications when your status pages update.
Annotations – Keep a record of why a specific downtime happened.
Custom HTTP timeouts – Set a specific timeout value to mark your monitors as DOWN.
💅 UI facelift & new brand identity
A high-quality service has not only to work well, it should look great and provide an amazing user experience too. We are heavily focusing on this, starting by redesigning the brand identity (don't worry, we will keep the original UptimeRobot spirit), landing pages, and public status pages.
There will be many more improvements in the near future. We really hope you will like them! Most of them could be ready by the end of 2020.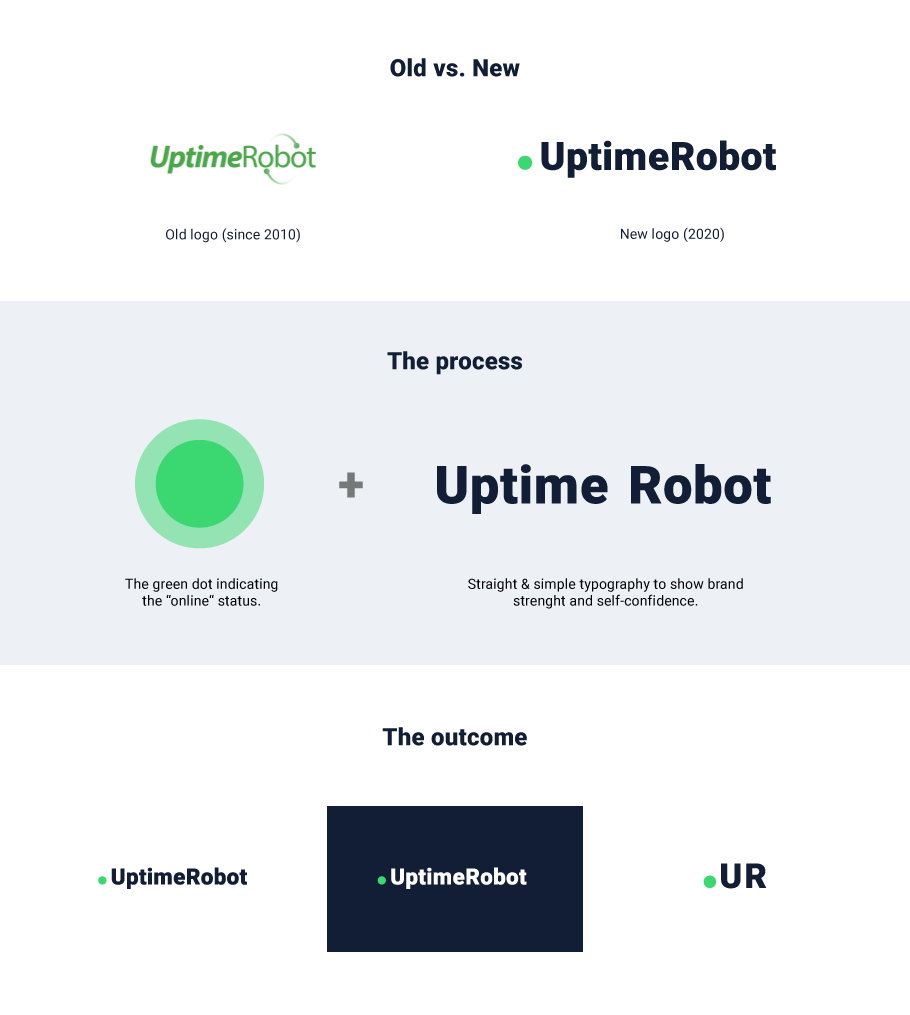 🎓 Community & education
We are very fortunate to have such a huge base of amazing, emphatic, and enthusiastic customers from all over the world! We plan to improve our communication towards you, increase our social media presence, and start with a regular posting on our blog. We would like to hire a dedicated community manager whose job will be to keep our amazing community happy and up to date.
Did you know? With the Pro Plan you can choose the HTTP method – we recommend HEAD when your file is bigger than 8 MB. Otherwise, you will hit the limit and the monitor will be DOWN. Other options are GET, POST, PUT, PATCH, and DELETE. 🤓

— UptimeRobot (@uptimerobot) May 25, 2020
Our aim is to provide the best support for all of you as well, are you happy with it? Share your feedback. https://t.co/PHpUsbNDSX

— UptimeRobot (@uptimerobot) May 13, 2020
A few last words
We understand you might have some concerns regarding the recent technical issues, but we assure you that we are doing everything we can to handle them. Our goal is to provide a monitoring service of the highest quality for you, our beloved community.
If you have any questions or feedback we will be happy to hear it! Reach out to us on Facebook, Twitter or via support@uptimerobot.com.
Have a great day
Peter