Reliable SSL monitoring is crucial to every website and online service. Without it, you can lose customers, profits, and even your position in search engine rankings. 
But which SSL certificate monitoring is the best? 
Why Is SSL Monitoring Important
SSL certificate monitoring is necessary to confirm that communication with your website is encrypted and safe.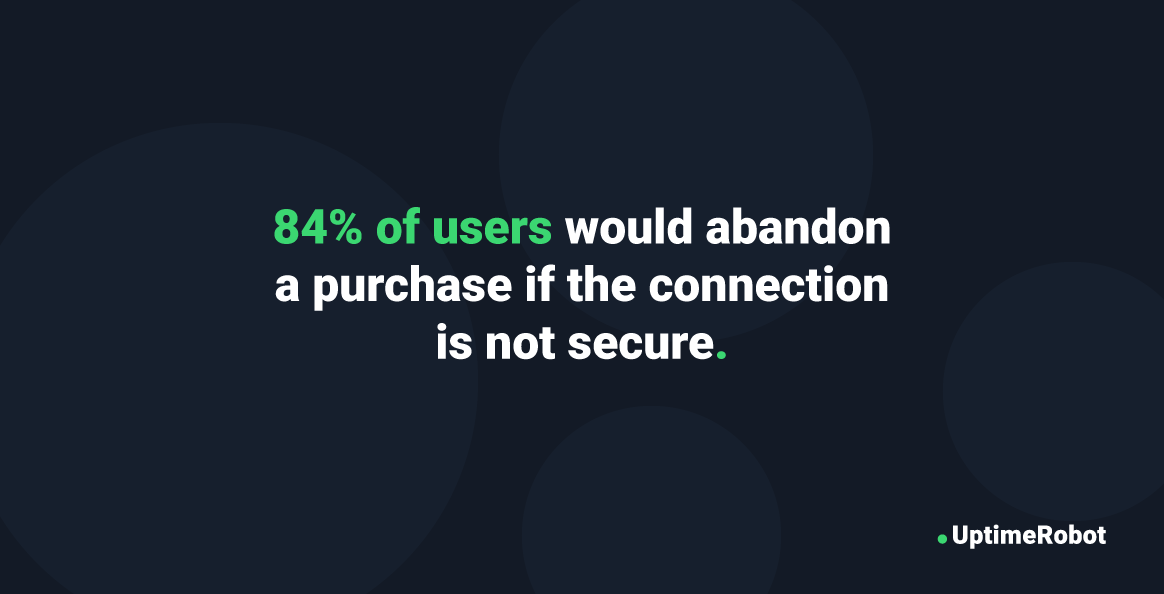 Source: GlobalSign.com 
What will happen if you miss an invalid SSL certificate?
❌ Your visitors will see a warning: 84% of users won't finish the purchase (source: GlobalSign.com).
❌ You'll lose trust and customers: 78% of users would stop engaging with the brand if there was a security breach (source: PingIdentity.com).
❌ You can't accept credit card payments: every bank and fintech company will deny your merchant account.
❌ Your website will be slower: owning an SSL certificate results in faster loading times, especially on mobile devices.
❌ It can impact your SEO ranking negatively: more than 95% of traffic across Google is secured with an SSL certificate (source: Google's Transparency Report).
Best SSL Monitoring Tools To Choose From
Every SSL monitoring tool has different prices, features, and a range of SSL updates it can catch. But these are not the only factors we've considered in our list.
1. UptimeRobot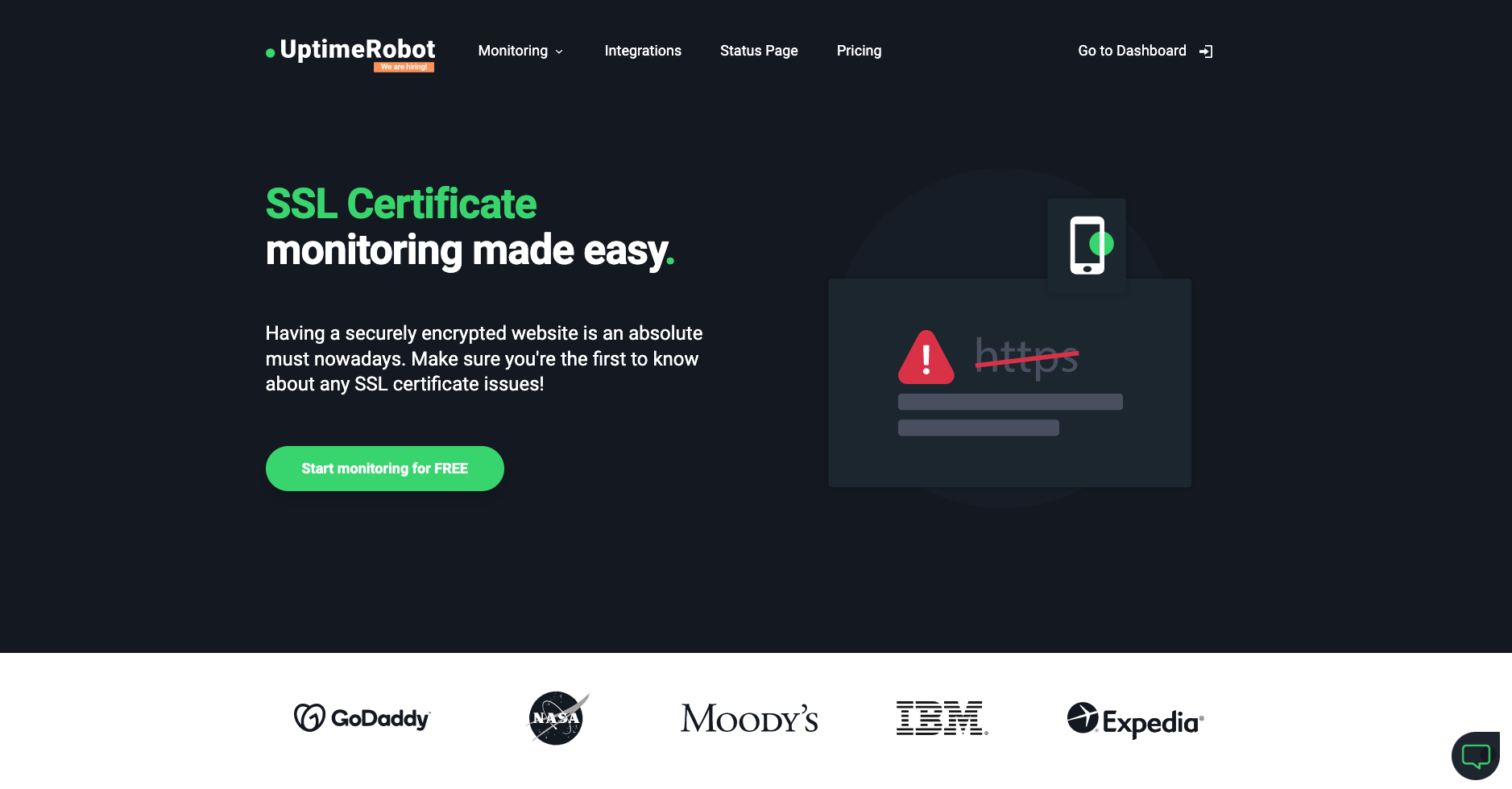 UptimeRobot is an advanced uptime monitoring tool that comes with many features. With UptimeRobot, you can choose from HTTP(S), keyword, ping, port, and cron job monitoring. 
While monitoring your SSL certificate, precise monitoring intervals will also let you know when your website is down, no matter the reason. 
UptimeRobot alerts you when there's any SSL error and 30/14/7 days before your SSL certificate expires. 
You'll also receive notifications via up to 12 different integrations whenever there's something wrong with your SSL certificate.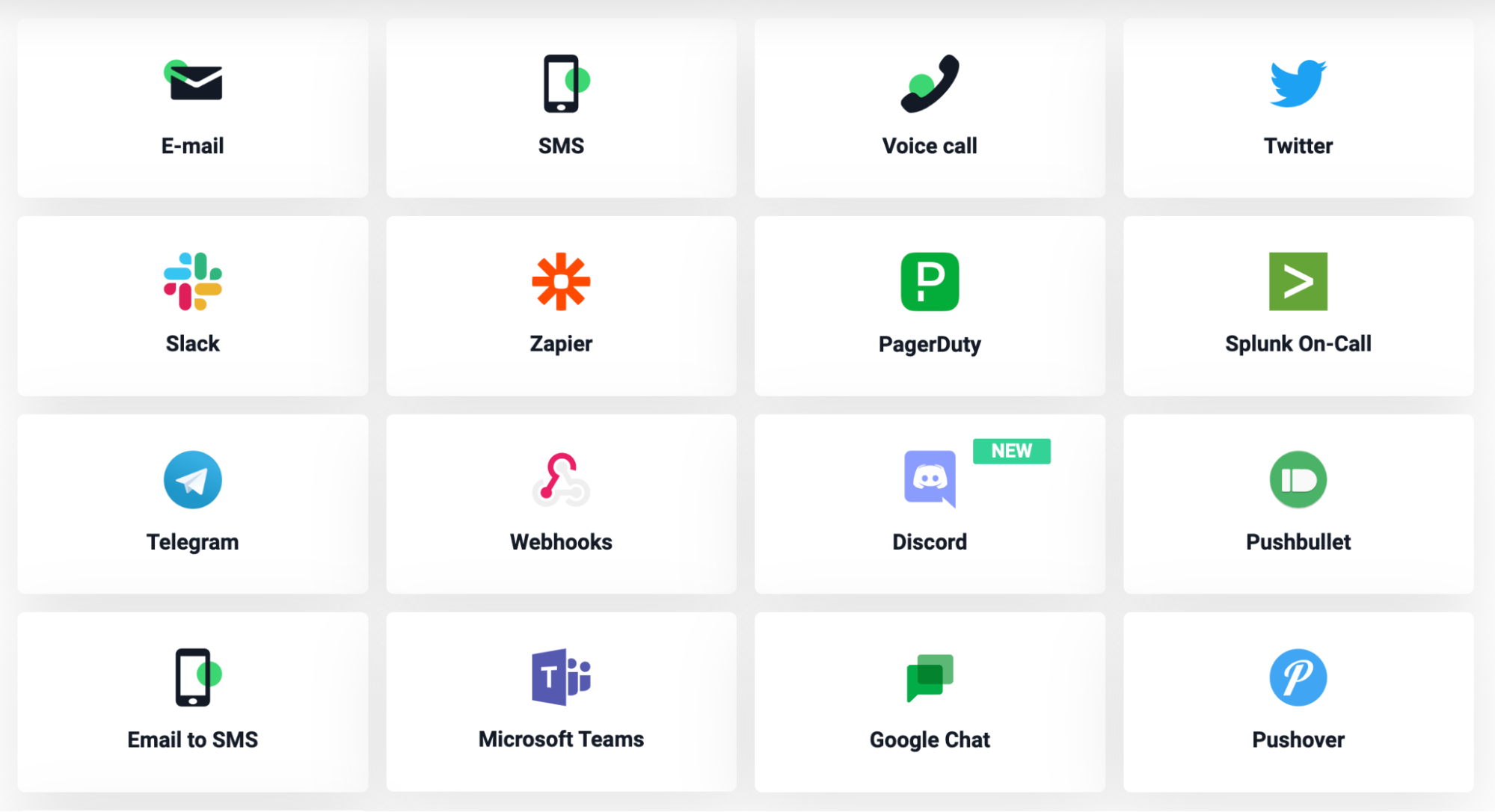 Another advantage of UptimeRobot is that you can simultaneously monitor other common website errors.  
UptimeRobot has modern and advanced mobile apps for iOS and Android, in addition to  aesthetically appealing status pages.
| | |
| --- | --- |
| Pros | Cons |
| ✅10 – 1000 or more domains | ❌Dashboard design is outdated |
| ✅Advanced monitoring | |
| ✅Different monitor types | |
| ✅12 notification options | |
| ✅Mobile app | |
| ✅No technical knowledge needed | |
You'll definitely get the most value for the best price – try a $7/month plan and see for yourself.
Get 10 SSL monitors for just $7
2. TrackSSL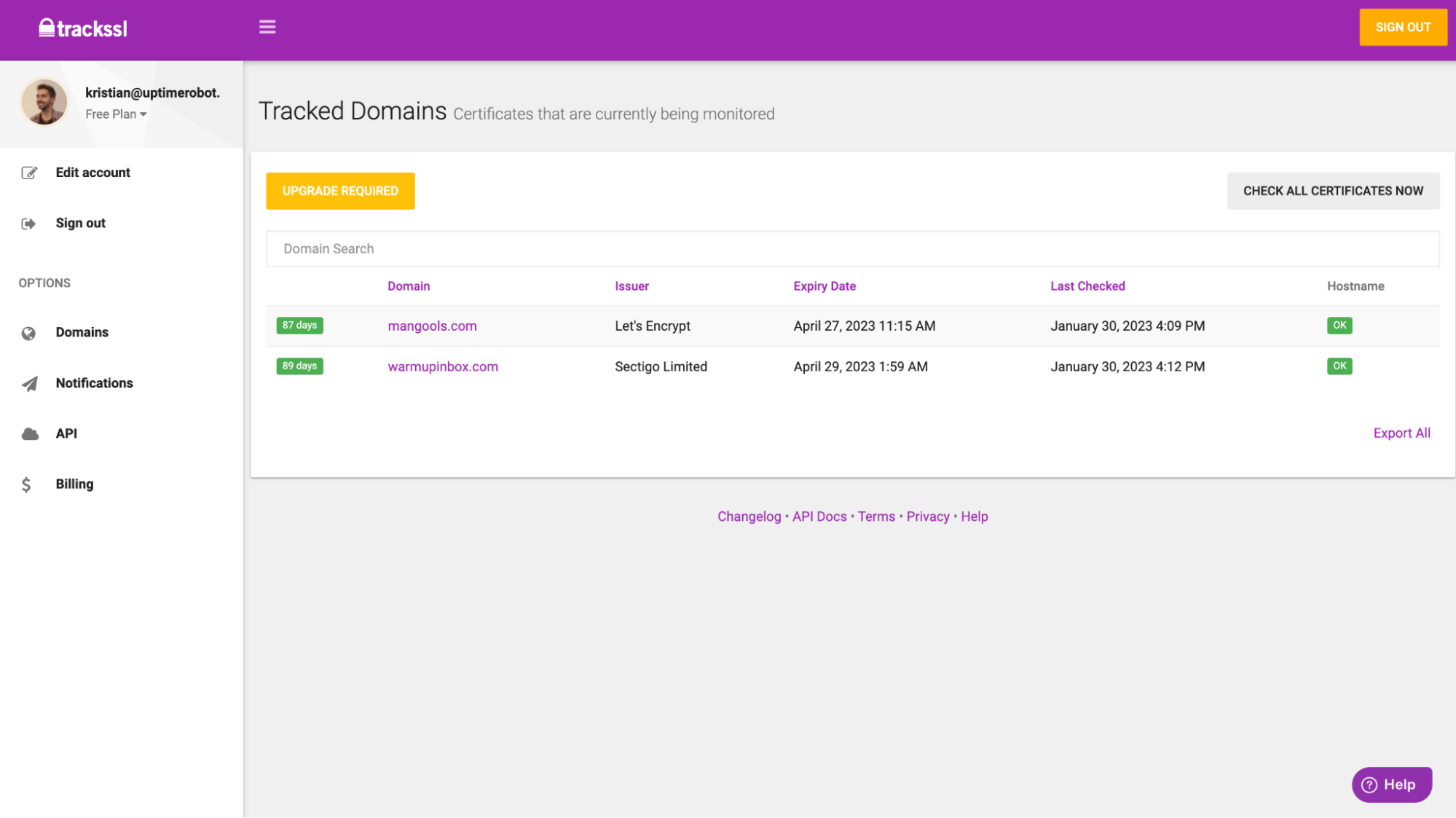 TrackSSL is a simple tool used mainly to monitor certificate expiration. It also checks for SSL changes, which include updates made to the certificate by your provider. Unfortunately, it doesn't mention any SSL errors.
When it comes to notifications, only e-mail, SMS, Slack and MS Teams are available – but in order to use MS Teams you'll have to upgrade to a paid plan. 
Considering the limits of this service, the monthly price is not very tempting. While the first two domains are free, monitoring 20 domains requires a $17 per month (paid annually) upgrade. To monitor 80 domains it's $35. 
| | |
| --- | --- |
| Pros | Cons |
| ✅Easy to use | ❌Price |
| ✅Nice design | ❌Only 4 integrations |
| | ❌Limited monitoring |
3. Sematext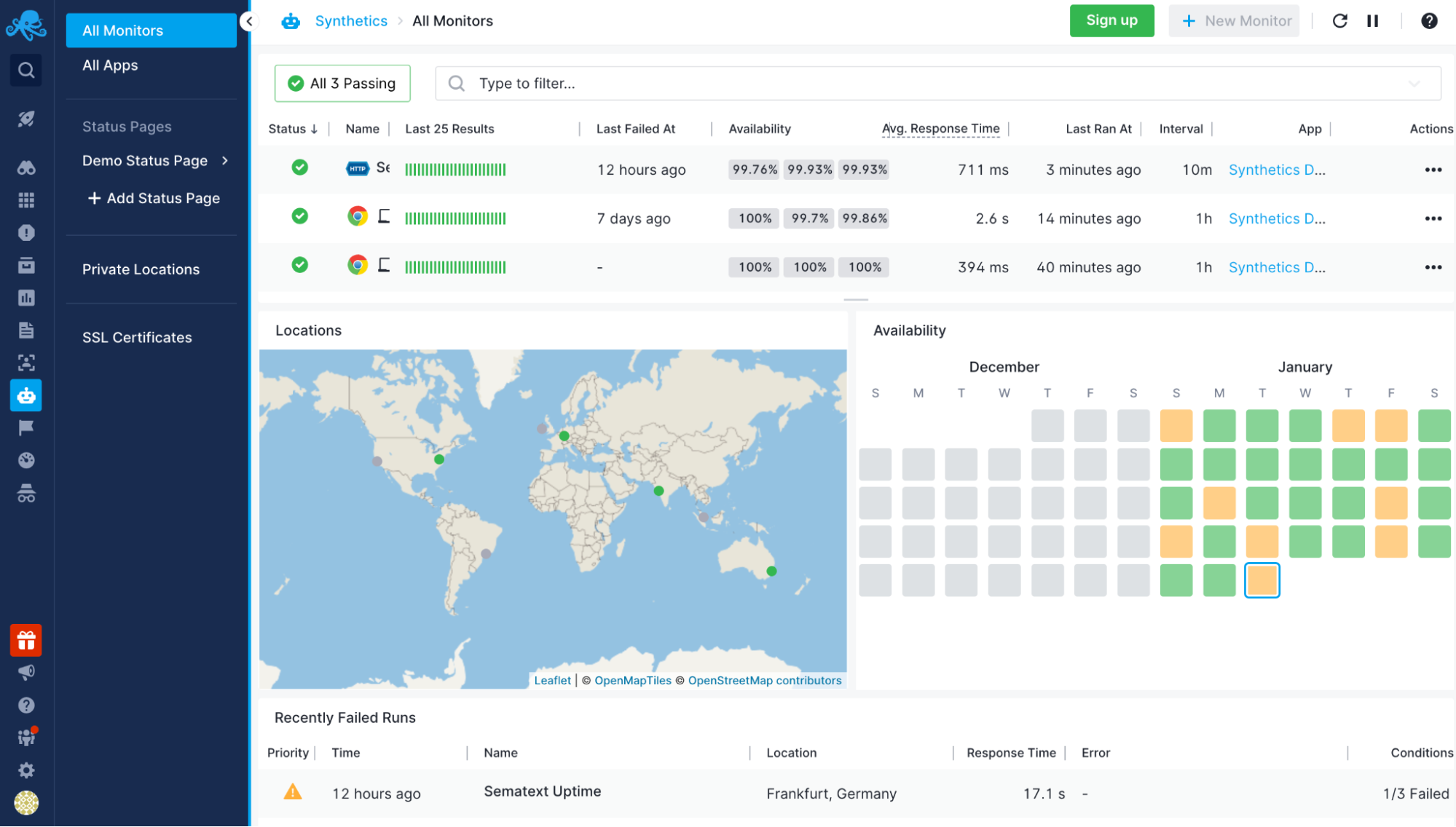 Sematext offers SSL monitoring under their Synthetics service. Therefore, it is more complicated and technical, and the price is high compared to other SSL certificate expiration monitoring options.
It's a better option when you're looking for more feature than just an SSL monitoring. The monthly price starts at $29 for 40 monitors.
Notifications are also limited. You need to upgrade to a higher plan for $99 per month to use webhooks or ChatOps integrations (that can send alerts to platforms like Slack and PagerDuty). 
Another downside of this SSL certificate monitoring service is that support is only available for paid plans. 
| | |
| --- | --- |
| Pros | Cons |
| ✅SSL errors monitoring | ❌Price |
| ✅Checks certificate authorities | ❌Limited integrations |
| | ❌Complicated interface |
| | ❌Limited support |
4. SSL Certificate Expiration Alerts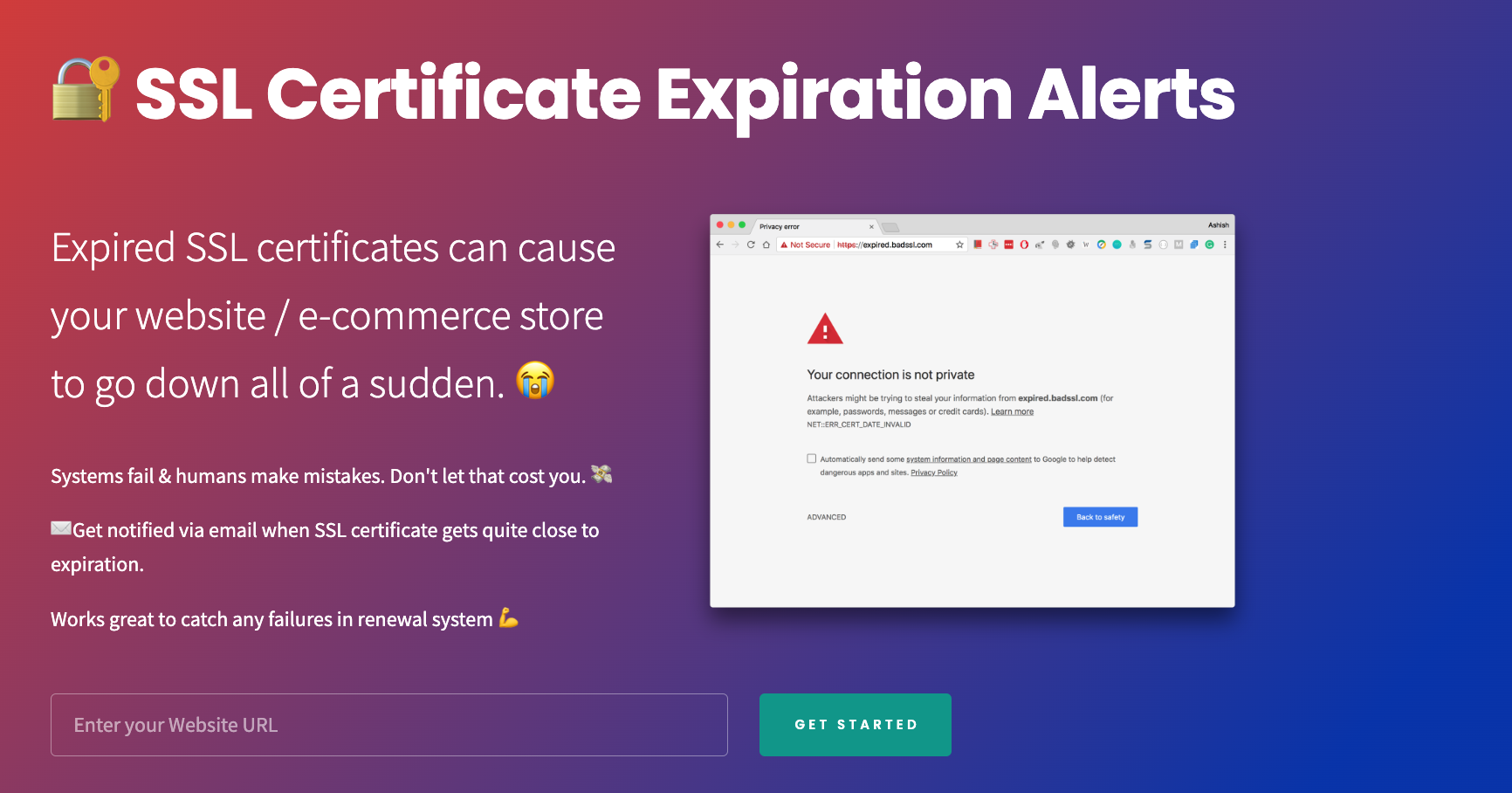 SSL Certificate Expiration Alerts is the most minimalistic solution available. 
You guessed it, SSL certificate expirations are the only alerts this tool can send you. You won't get any alerts regarding updates or issues to your certificate.
Additionally, it only offers e-mail notifications. However, it is completely free. 
On the other hand, this means that you can't manage and edit your alerts. The only way to remove them is through the e-mail alerts you'll receive. 
| | |
| --- | --- |
| Pros | Cons |
| ✅It's free | ❌Only expiration alerts |
| ✅Enough for hobby projects | ❌No dashboard and editing |
| | ❌Only e-mail alerts |
5. Datadog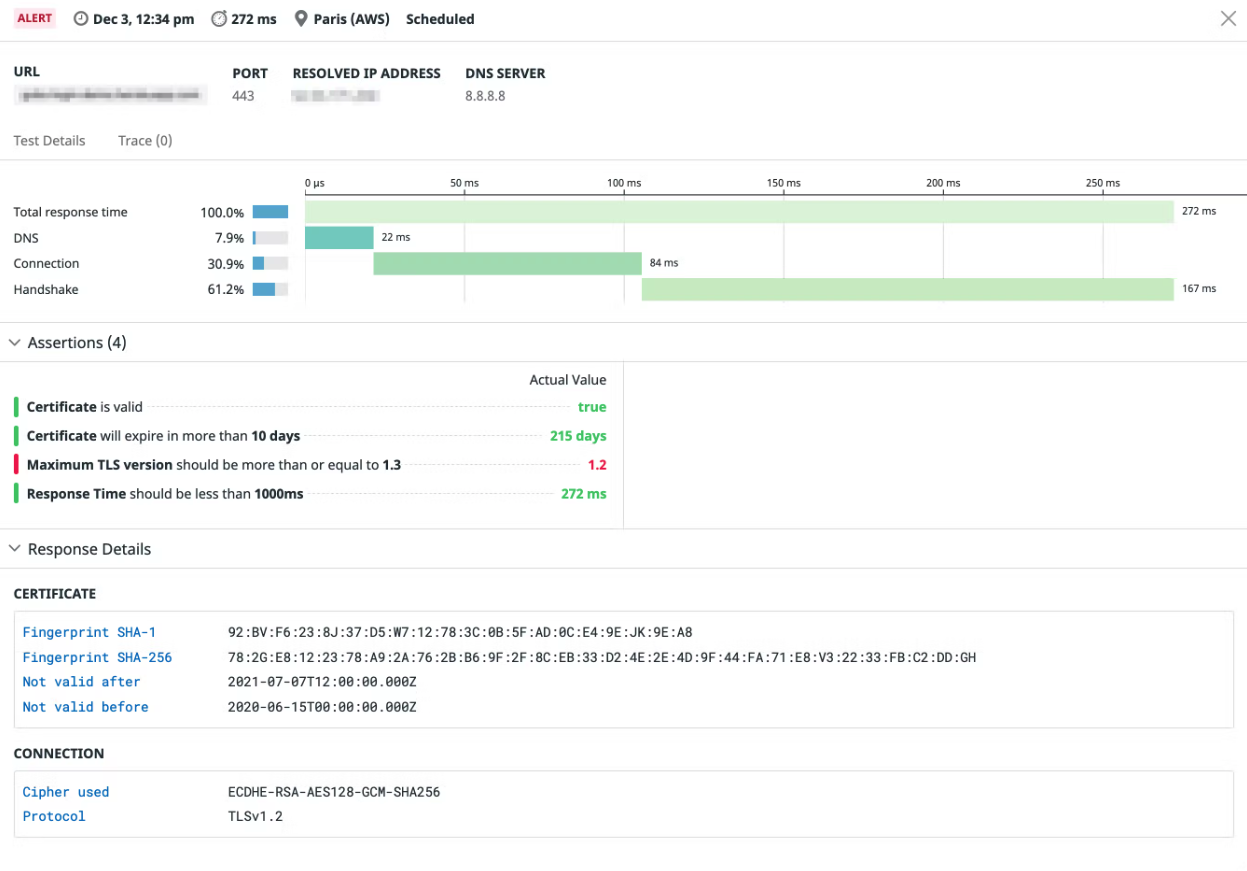 Datadog offers SSL monitoring as part of their complex and very technical monitoring service. 
Therefore, it's also not the best option to monitor SSL expiration if you're not interested in their other solutions. They have multiple pricing plans, which can get quite confusing for a newcomer. 
SSL certificate monitoring from Datadog starts from $5/month per 1 monitor.
One plus from Datadog is that they'll alert you about common SSL errors. Although the interface is one of the most complex and technical out there.
| | |
| --- | --- |
| Pros | Cons |
| ✅All SSL alerts | ❌Very complicated |
| ✅Detailed incident reports | ❌High price |
Honorable Mentions: Open-source SSL monitoring
If you enjoy preparing your own solution, here are some SSL certificate monitoring open-source solutions worth mentioning.
These two projects stand out, starting with Certificate Expiry Monitor which you can find on GitHub.
6. Certificate Expiry Monitor
Available on GitHub, Certificate Expiry Monitor is a simple project that exports the expiration dates of SSL certificates to Prometheus – an open-source project used for monitoring and alerting. 
7. SSL Certification Expiration Checker
SSL Certification Expiration Checker is simply a shell script you can run from a cron job. After it reports on expiring SSL certificates, an e-mail will be sent through Nagios to warn you. 
How to Choose the Right Tool? 
Consider these rules of thumb when choosing an SSL certificate monitoring tool.
✅ Don't rely on SSL expiration monitoring only. Your SSL monitoring tool should also cover updates and errors.
✅ Make sure you're paying a reasonable price for what you get. 
✅ Monitor SSL certificates that renew automatically, they could have issues too.
✅ Consider additional features and monitor types as a plus. Monitoring other errors associated with your URL adds great value to your SSL monitoring.
Conclusion
Don't settle for SSL expiration alerts only. Choose the best SSL certificate monitoring tool for the right price. 
Many tools only focus on the SSL expiration date, while UptimeRobot offers you much more for a better price. Starting from 10 monitors, you'll get up to 12 notification integrations along with many other features – including status pages and uptime monitoring.
Start monitoring your SSL certificates for just $7/month and see how simple yet effective it is.
Disclaimer: The information provided on this page is for informational purposes only. Our rankings and reviews are based on our own research and analysis, aimed at providing unbiased, objective, and reliable information to our readers. Despite our affiliation, we strive to maintain objectivity and factual accuracy in our content.
However, we cannot guarantee that all information presented is up-to-date or entirely accurate. We encourage you to conduct your own research and consult with professionals before making any decisions based on the information found on this page. If you detect any inaccuracies, please do not hesitate to inform us.