There is a new "alert contact type" in town: "Web Hooks".
In its simplest form, "Uptime Robot sends a request to a URL that you mention" with all parameters of the monitor.
After that, you can handle this request and use the information in it for many possible things like sending custom notifications to your clients, restarting servers, integrating Uptime Robot with 3rd party products/services, etc.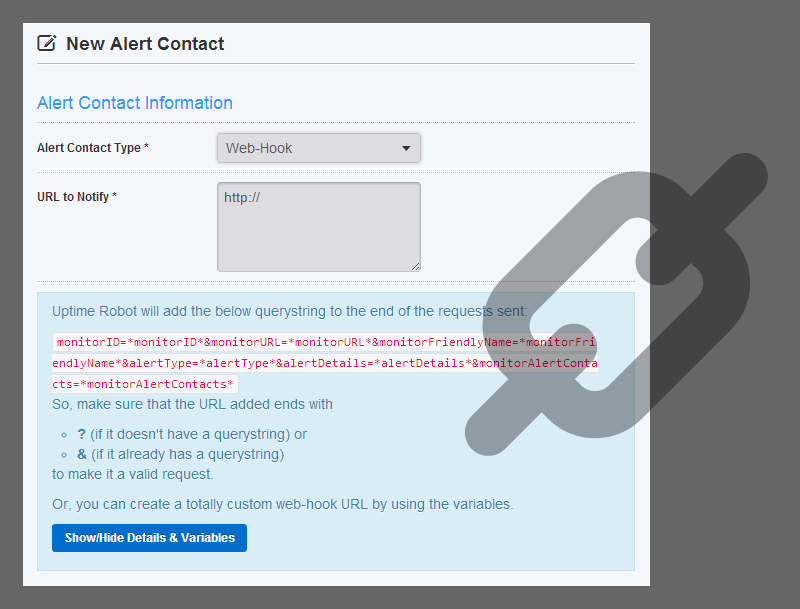 It can be used in 2 ways:
standard: a standard querystring is added to the end of the Web Hook alert contact
custom: a totally custom querystring structure can be created with the variables provided
As an example:
If a web-hook alert contact is http://www.domain.com/?, Uptime Robot will send a notification like http://www.domain.com/?monitorID=95987545252&monitorURL=http://test.com&monitorFriendlyName=Test Website&alertType=*0&alertDetails=Connection Timeout&monitorAlertContacts=457;2;john@doe.com.
Or, a custom Web Hook can be created like http://www.domain.com/?id=*monitorID*&type=*alertType* by simply using the variables wrapped inside ** characters.
These variables can be found in the "Create New Alert Contact" dialog in "My Settings page".
Hope that it can simplify any possible integrations.