A status page is the most effective way to stay in touch with your users and quickly inform them about any outages or ongoing maintenance. As explained in our previous article, status pages can offer many benefits such as cost savings and a reduced number of support tickets. 
Creating a status page can significantly improve your incident management and relationships with your customers. 
A well-designed status page should showcase the status of your services at first glance and show your users if everything is working correctly or if there's any unavailability. Status pages are an elegant solution to do just that. 
This article will show you how successful global companies benefit from using status pages.  
Why Are Status Pages Valuable And Necessary? 
Every SaaS business knows the importance of a status page. It's already an established standard that provides your users with important incident metrics and maintenance updates. 
Roughly 50% of users would stop doing business with a company after just one bad experience. Minimizing the unavailability of your service is therefore the main goal for many companies.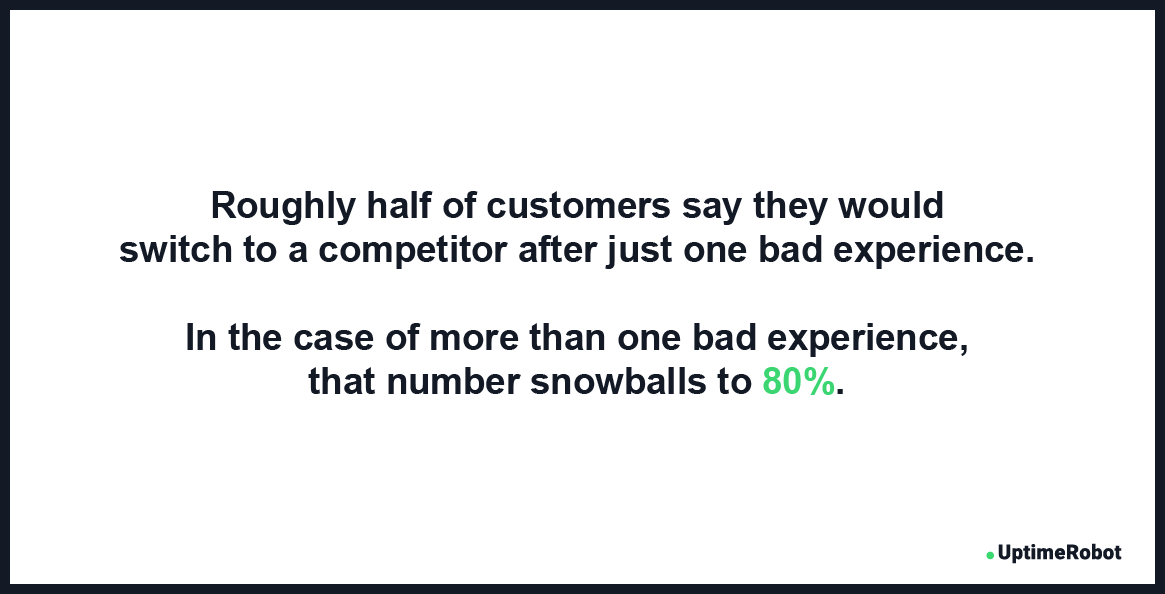 Source: Zendesk Customer Experience Trend Report
With the help of a status page your users will be aware of any upcoming maintenance and are far less likely to complain on social media. 
The  benefits of a status page include: 
Reduced number of support tickets during incidents

Improved trust and relationship with your users

Decreased frustration and bad reviews on social media

Improved and branded incident communication

Better team collaboration and cost savings

Improved customer satisfaction
To set up a status page, you don't have to worry about complicated technical stuff. The easiest and most effective way to start a status page is to use a pre-prepared one. In doing so, you'll just need to adjust it to your needs and branding. 
Many companies like Pingdom offer only 1 status page with an outdated design and limited functionality. 
With UptimeRobot you'll get multiple status pages that you can use for different teams or clients. These status pages are advanced, modern, and straightforward.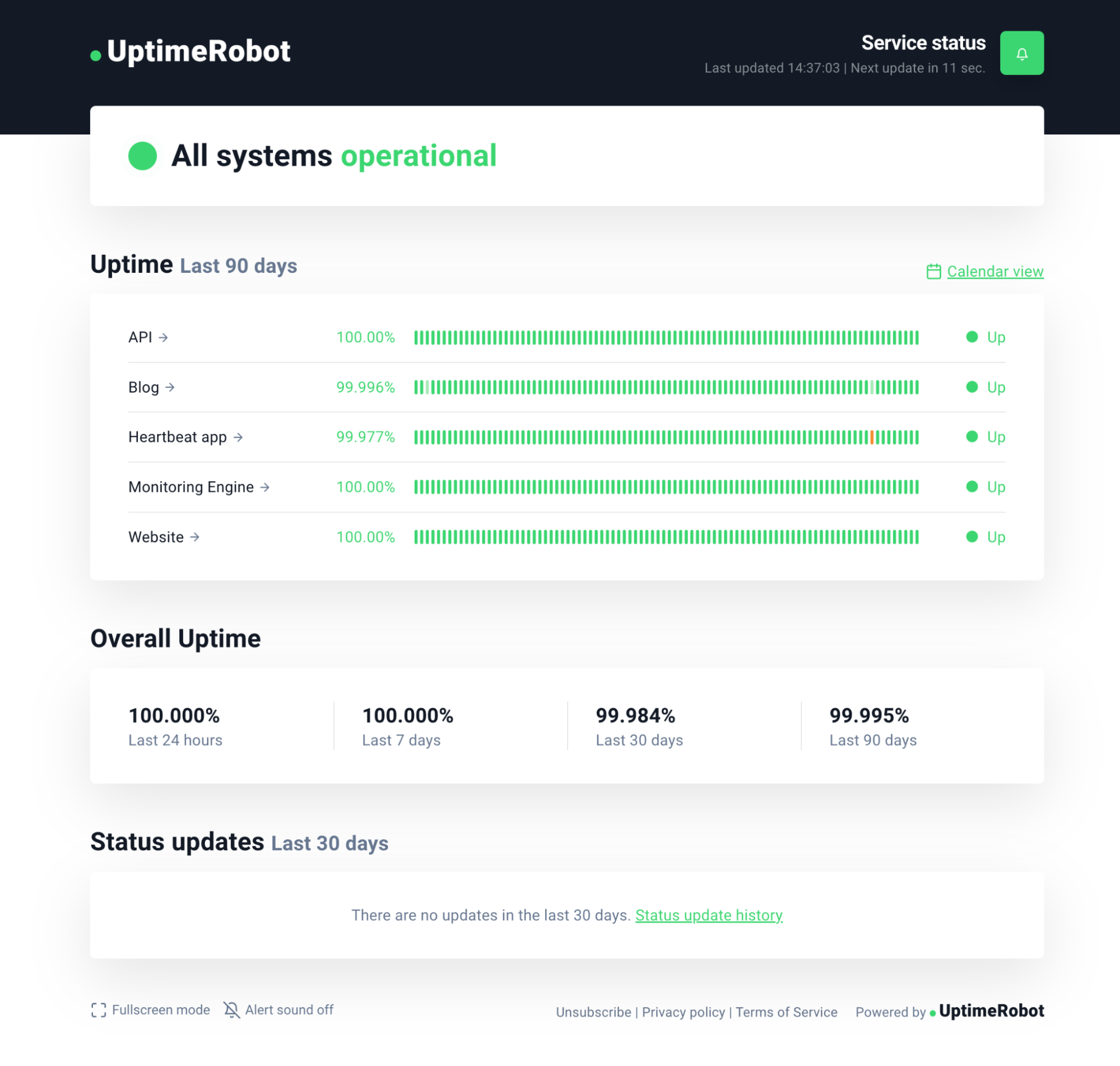 Status page of UptimeRobot.com
Best Practices And How They Help
As you will see in the real-world examples below, many well-known companies are using these steps to get the most out of their status pages. 
Focus on clean design
One of the biggest benefits of a status page is that your users will be able to quickly get the information they need. Whenever your service isn't working, your users should be able to check your status page before contacting your support team. 
Therefore, a simple but informative status page should be your first goal. Include necessary details only, like the status of your services, status bars, overall percentage, and short updates.
Get an easy-to-remember URL address
The majority of online businesses use a reachable and easy-to-remember domain name such as status.yourdomain.com. It's a widespread practice that many people are already familiar with, so usually, it's the first address they try when they need to check your status. 
We recommend you use this well-known formula to create your own custom domain name, which will not only make your status page easier to find but will also enhance your overall branding.
Customize your status page
Similar to having a custom URL address with your domain name, customizing your status page is a considerable part of your branding. You should be able to include your logo and favicon, preferably with custom colors and fonts. 
According to research, more than half of brand first impressions are visual.
Simply put, your users trust you more when they see your colors.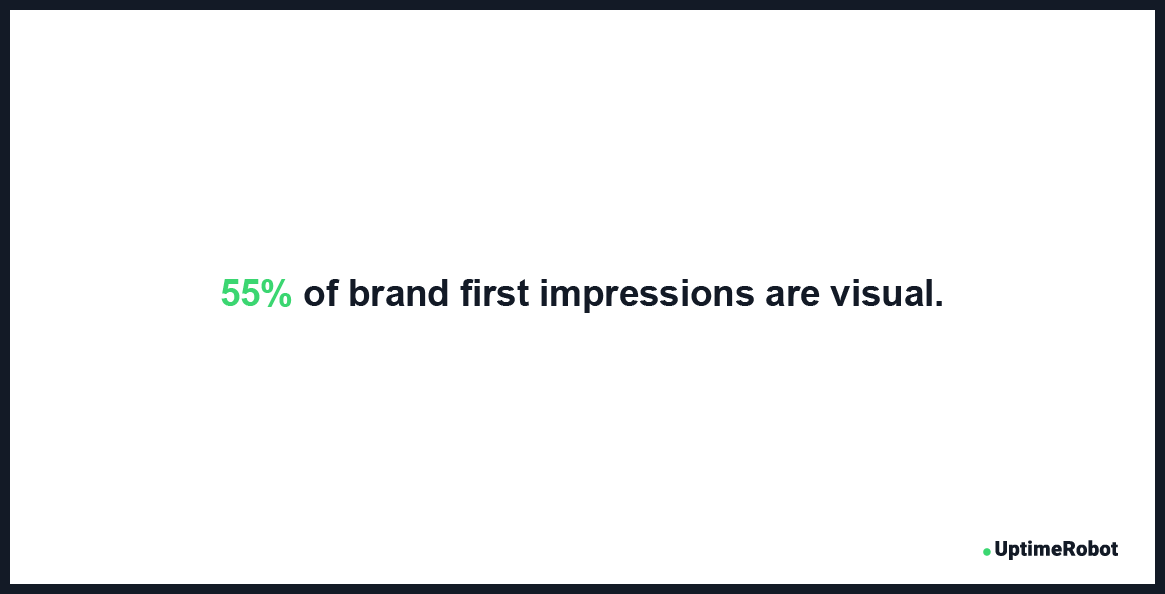 Source: US Chamber of Commerce
While the way your status page looks is important, you should also be able to adjust other details, like what's shown and how. 
Add a link to your website
Your status page should not only have a link leading to your website but it should ideally be accessed by clicking on your logo. 
Make sure you also add your status page URL address to your website, preferably in the footer or menu, on your contact and documentation pages, and to the auto-replies in the customer support chat. You can also include it in your e-mails. For example, add a line about your status page to the welcome message, or include a link to the footer of every e-mail. 
In doing so, your users will know where to find your status page and can save it. It's a good idea to consider sharing it on your social media profiles as well.
Use status updates
Status updates are an essential feature of any status page. You should be able to share updates on your status page to inform users about upcoming maintenance or details about past events. 
Some advanced status pages (you can grab one for free from UptimeRobot) allow your users to subscribe to updates, so they will receive e-mails about any unavailability or important updates.
Start building trust
Nearly every customer loves a transparent company. According to research, almost 94% of users are more likely to continue using your service when they see that you commit to transparency. 
Having a status page is one of the best ways to build relationships with your users.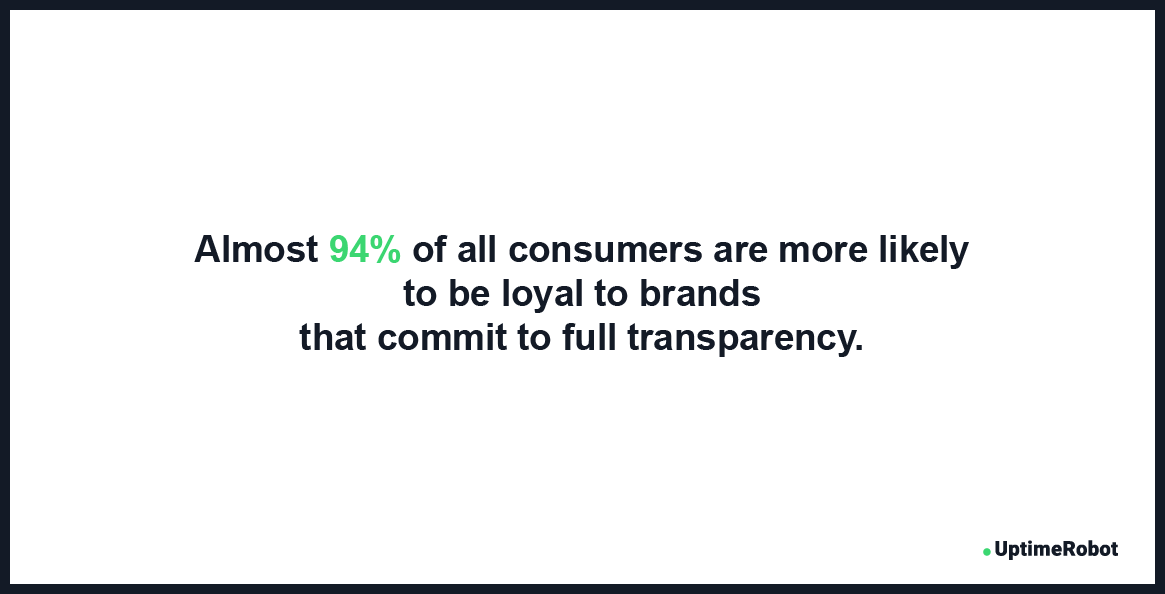 Source: Inc.com
Status Pages of Global Companies
Take a look at some of our favorite status pages from well-known companies.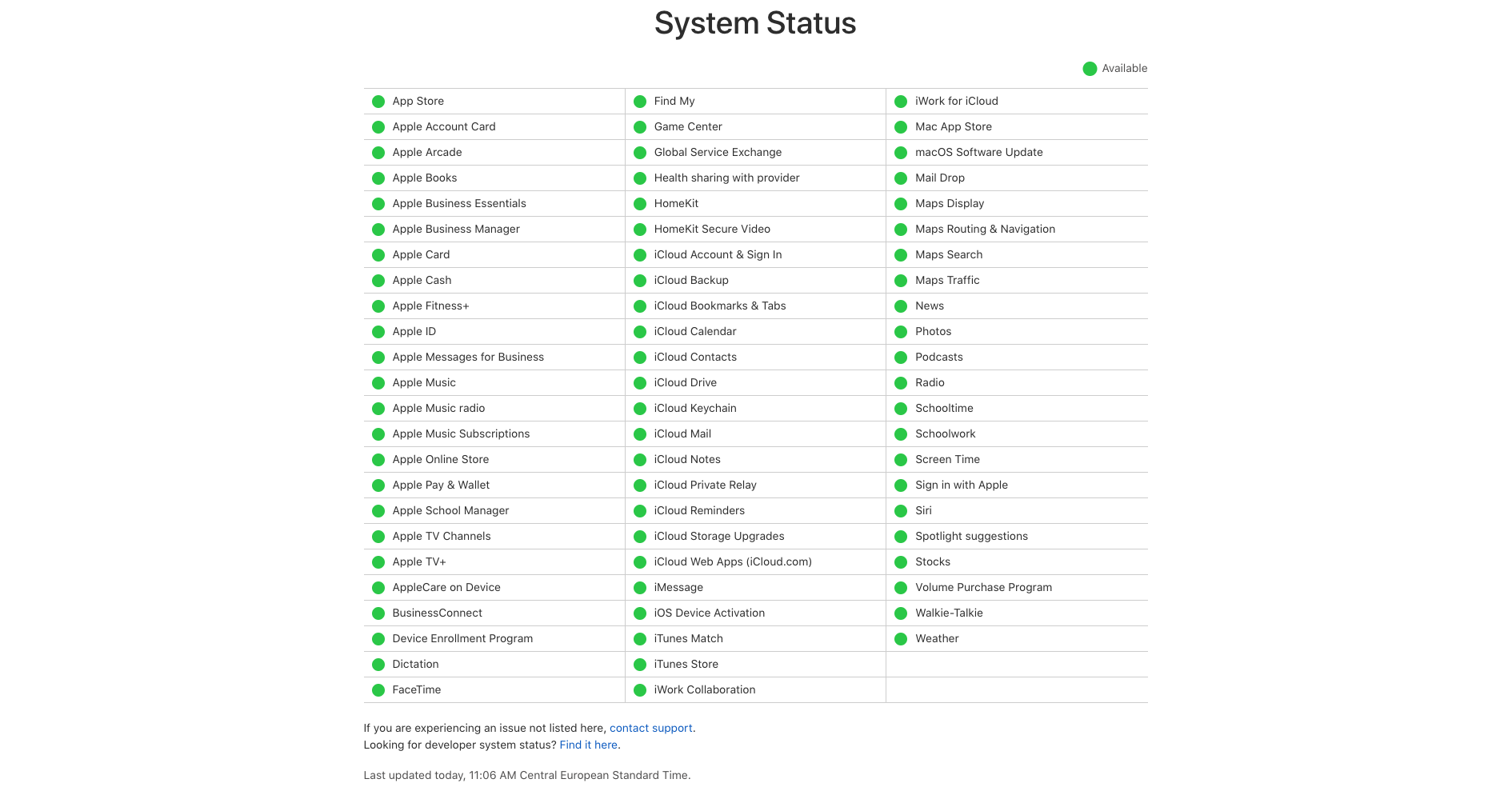 Of course, Apple needs no introduction, but why have we put them on our list? 
Even though the infrastructure of their service can get complicated, like the design of their products, Apple's status page is clean and sleek.
What we love
What we don't like
✅

Simple design

❌ Long URL address

✅

Informative overview

❌ Hard to find link

✅

Separated status page for devs

❌ No subscribe feature

❌ No uptime history and stats

❌ No updates and announcements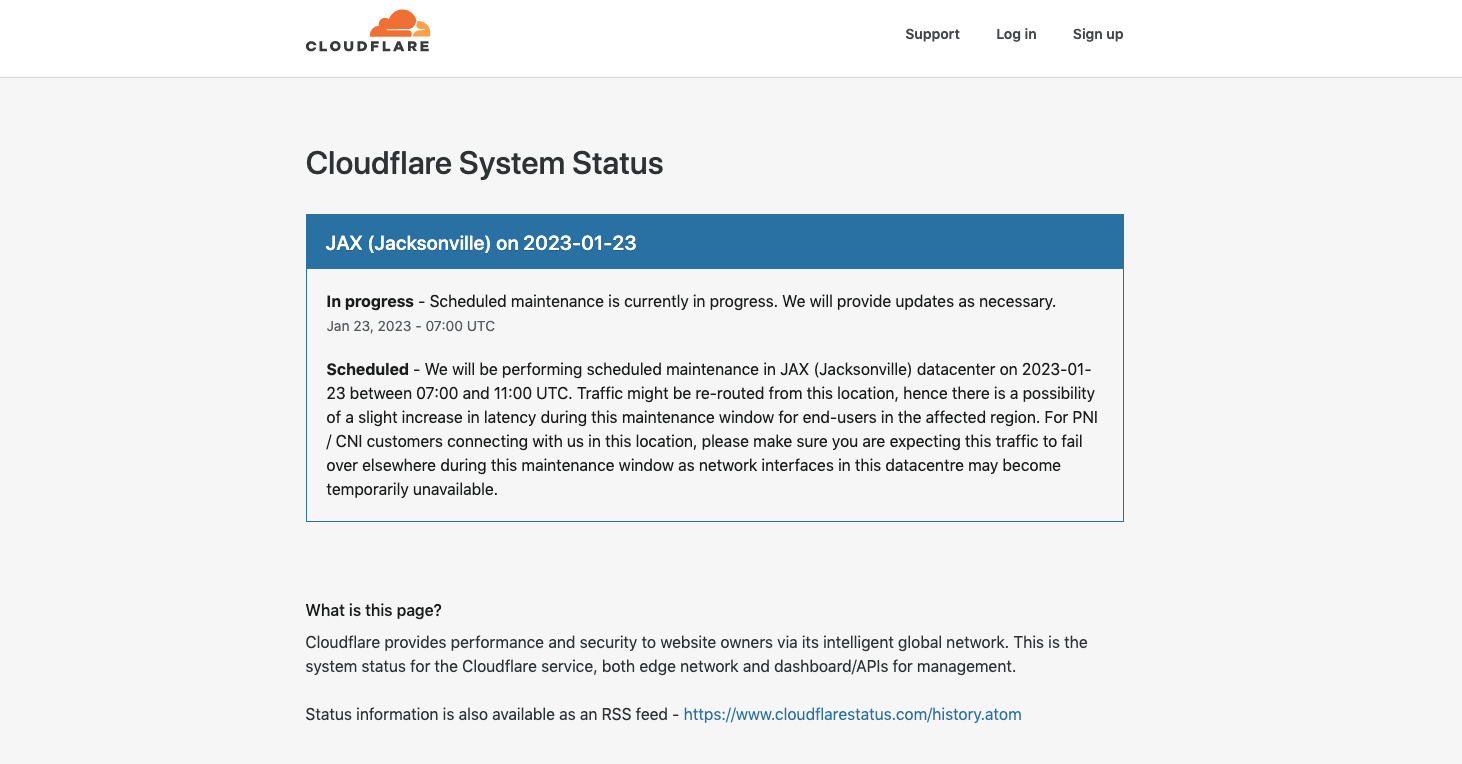 More than 20 million websites use Cloudflare, mostly for CDN, along with services like DDoS attacks protection. 
As their service is based on an intelligent global network of multiple servers, the status page is a significant part of their business.
What we love
What we don't like
✅

Announcements

❌ Too complicated

✅

Branded design

❌ Only RSS feed available

✅ Updates history

❌ No subscribe feature

❌ No uptime history and stats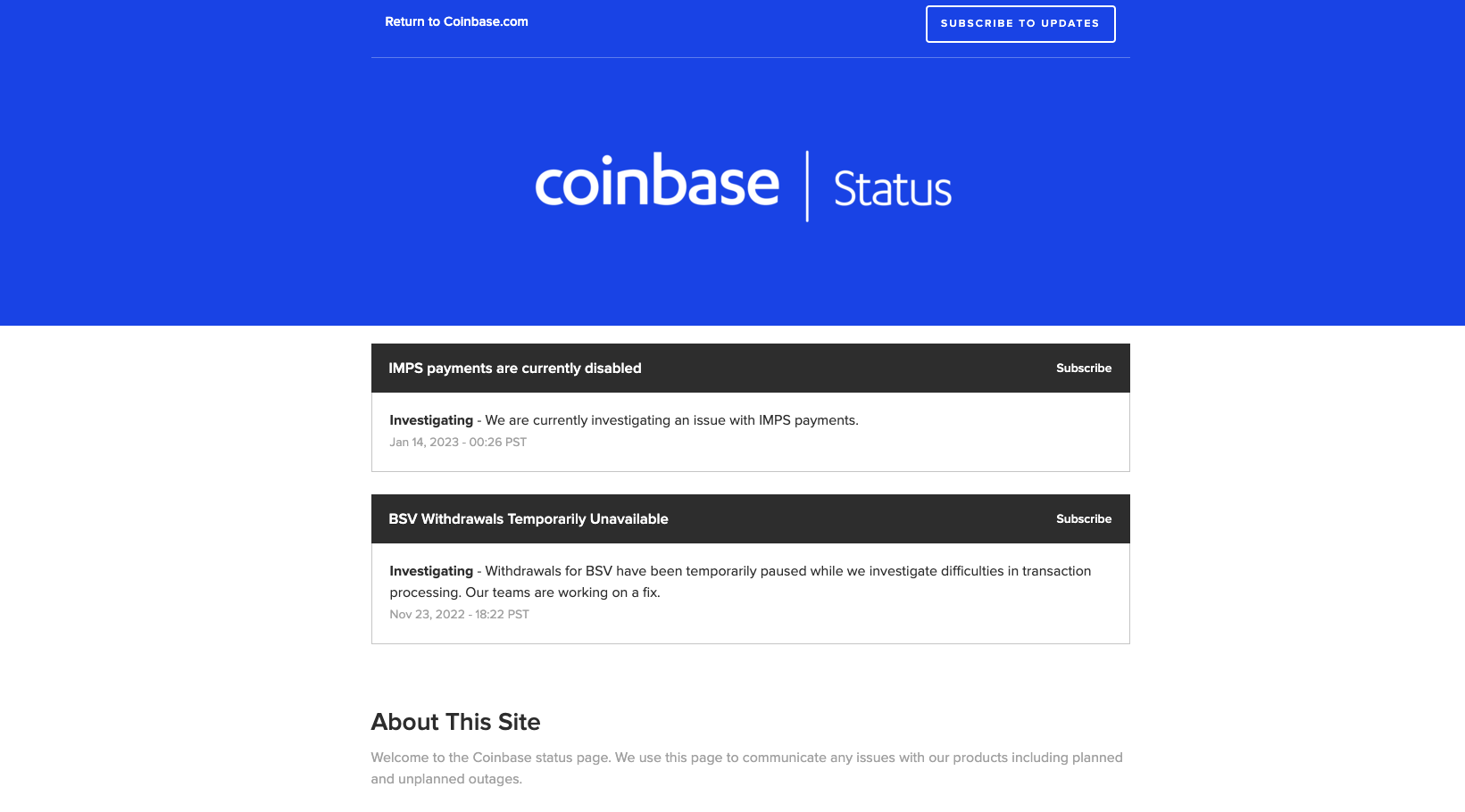 Coinbase is one of the biggest and most trusted cryptocurrency exchanges. It's the first regulated Bitcoin exchange in the United States.
| | |
| --- | --- |
| What we love | What we don't like |
| ✅ Subscribe to updates feature | ❌ Complicated design |
| | ❌ 3rd party URL address |
| | ❌ No branding – powered by 3rd party |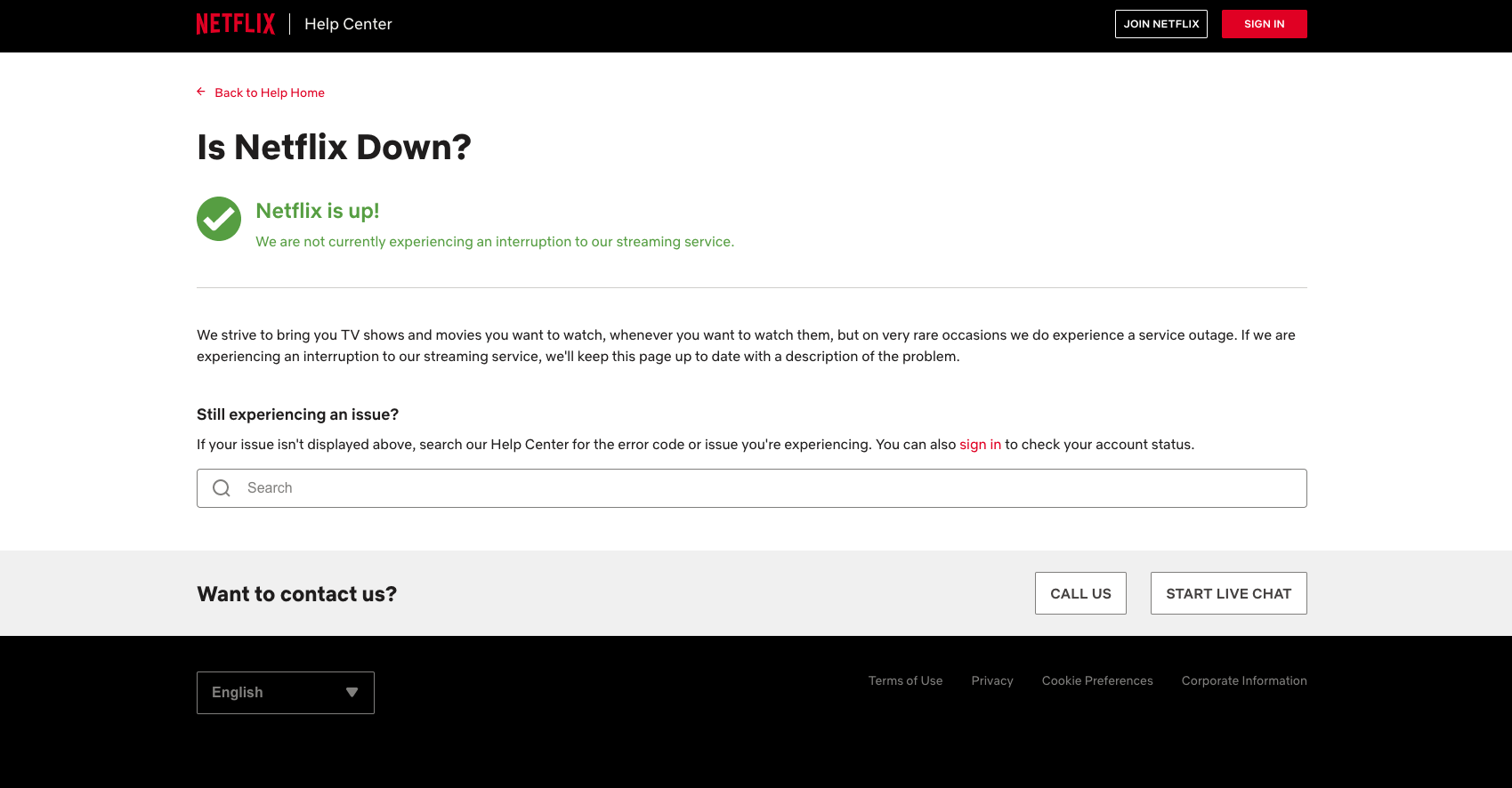 With nearly 231 million paid subscribers, Netflix is an example of a poor status page. The page is simple to a fault, making it difficult to know if it ever truly updates, which could affect the trust of users negatively.
| | |
| --- | --- |
| What we love | What we don't like |
| ✅ Customer support contact | ❌ No transparency |
| | ❌ No bars and history |
| | ❌ No subscribe feature |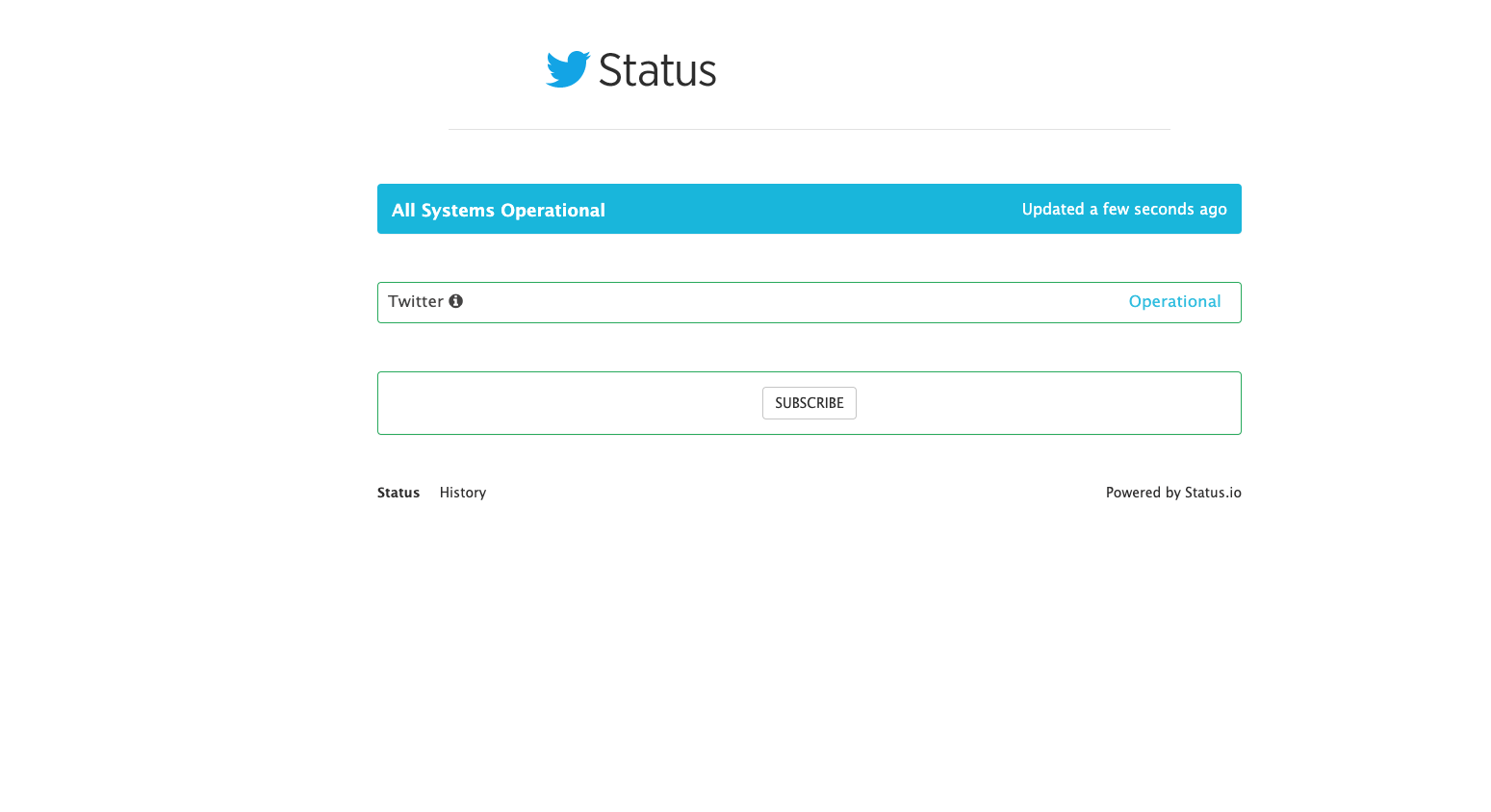 It's clear from first sight that Twitter doesn't put much care into its status communication. The status page is obviously provided by a 3rd party, there are no details and updates, and the URL address is complicated. 
This bare-bones status page fails to instill trust, and we probably wouldn't provide our e-mail to subscribe. Also, no incidents are reported for the last 6 months, which is simply not possible for such a huge app, especially considering that many downtime incidents have been reported by users during this time.
| | |
| --- | --- |
| What we love | What we don't like |
| | ❌ Overall design |
| | ❌ No transparency |
| | ❌ No updates and details |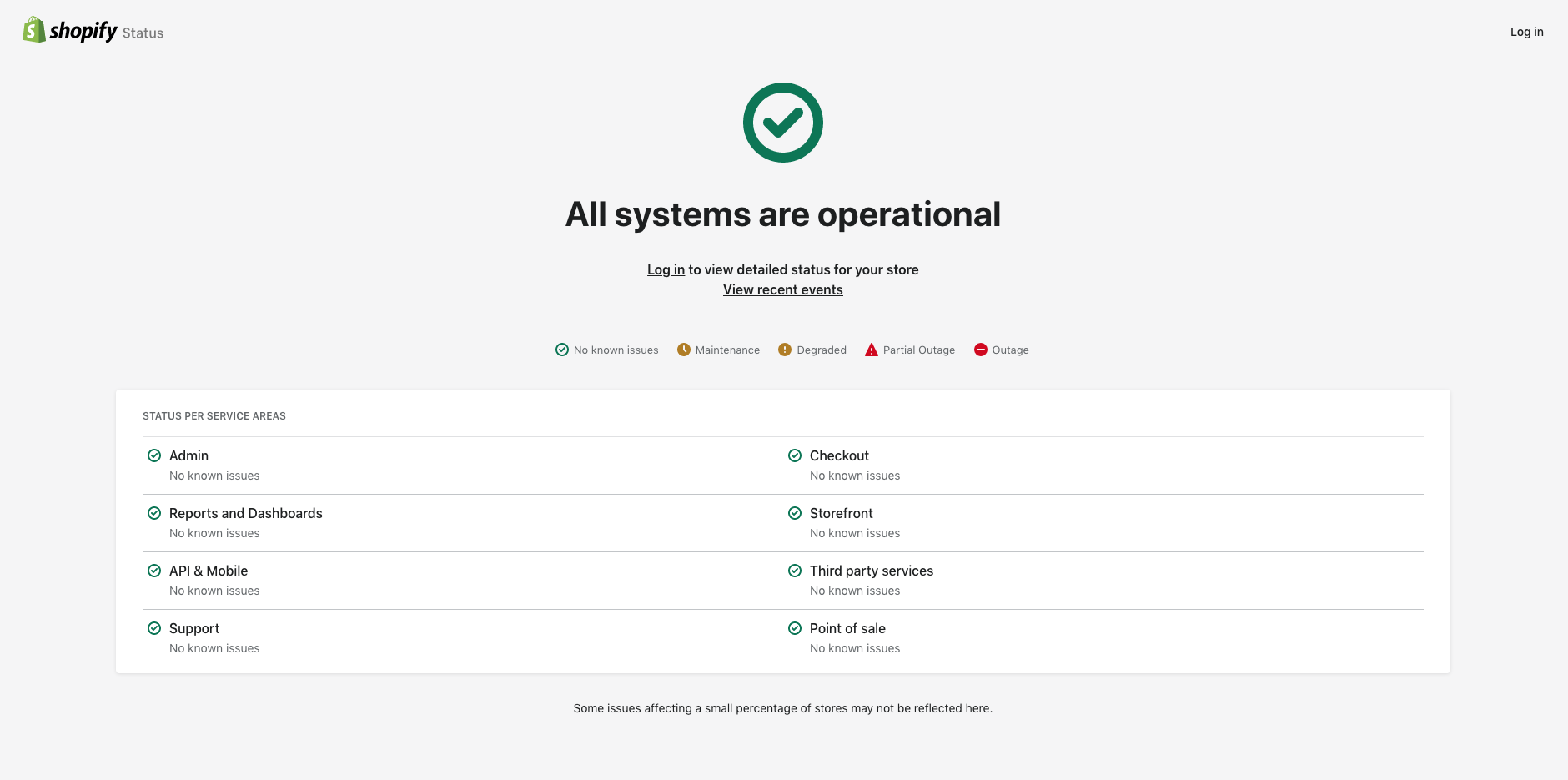 Shopify is an e-commerce platform used by over 4.4 million online businesses. Therefore, a detailed uptime status page should be a must but is lacking in this example. 
The biggest downside of this status page is that you must log in to view more details and updates. This process takes time and discourages many visitors.
| | |
| --- | --- |
| What we like | What's missing |
| ✅ Overall status for every service | ❌ No details |
| | ❌ You must log in to view updates |
| | ❌ No subscribe feature |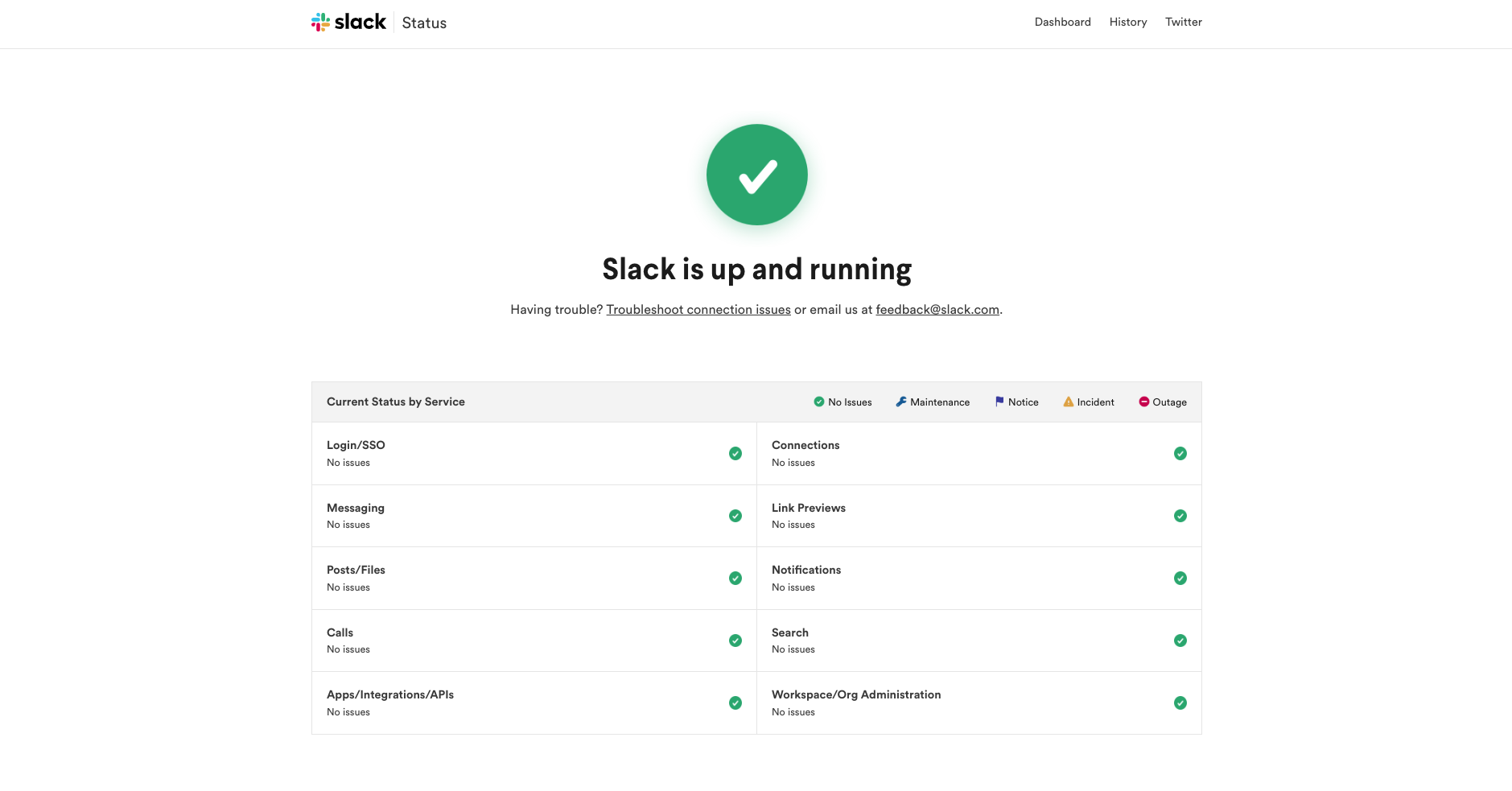 What they do: Slack is another favorite tool for online communication that is used by many companies.
What we love about their status page: Slack status page is also confirming the purpose of a clean design. You will immediately notice what's the status with an option to contact their support and troubleshoot connection issues yourself. You can even subscribe to updates, but only through RSS and Atom feeds.
What we don't like about their status page: There are no updates or details about upcoming maintenance and you can't subscribe to them via e-mail.
Salesforce is another large company that provides a CRM platform to other businesses like Spotify and Amazon Web Services. 
In this example, we see the other side of the spectrum, as the Salesforce status page is customized and detailed, but arguably to a fault. This surplus of details makes the page difficult to navigate, yet ironically, it's missing some basic features like the ability to subscribe to updates. 
| | |
| --- | --- |
| What we like | What we don't like |
| ✅ Custom and branded design | ❌ Too technical |
| | ❌ Hard to navigate |
| | ❌ No subscribe feature |
Conclusion
So what are the most important components that every status page should include? Let's summarize them:
Simple and branded design

Easy-to-remember URL address

Details about uptime

Updates and uptime history

Announcements and updates

Option to subscribe for updates
You will get all of these with a status page from UptimeRobot. It's modern and detailed and allows you to send updates about upcoming maintenance or recent incidents to your subscribed users, or protect the status page with a password. 
It only takes a few clicks.