A status page is a great way to provide a real-time overview of your services and their uptime. It can also include any planned maintenance or other important updates to your customers. 
Better yet, a status page can have a massive impact on your internal processes, save you significant time and money, highlight your credibility, and much more. 
In this article, you will learn:
 Let's take a look at the benefits of owning a status page.
What Is a Status Page and Why Use One
A status page, also known as a status dashboard, allows you to showcase your uptime and keep everyone updated. And as we all know – customers love to stay informed.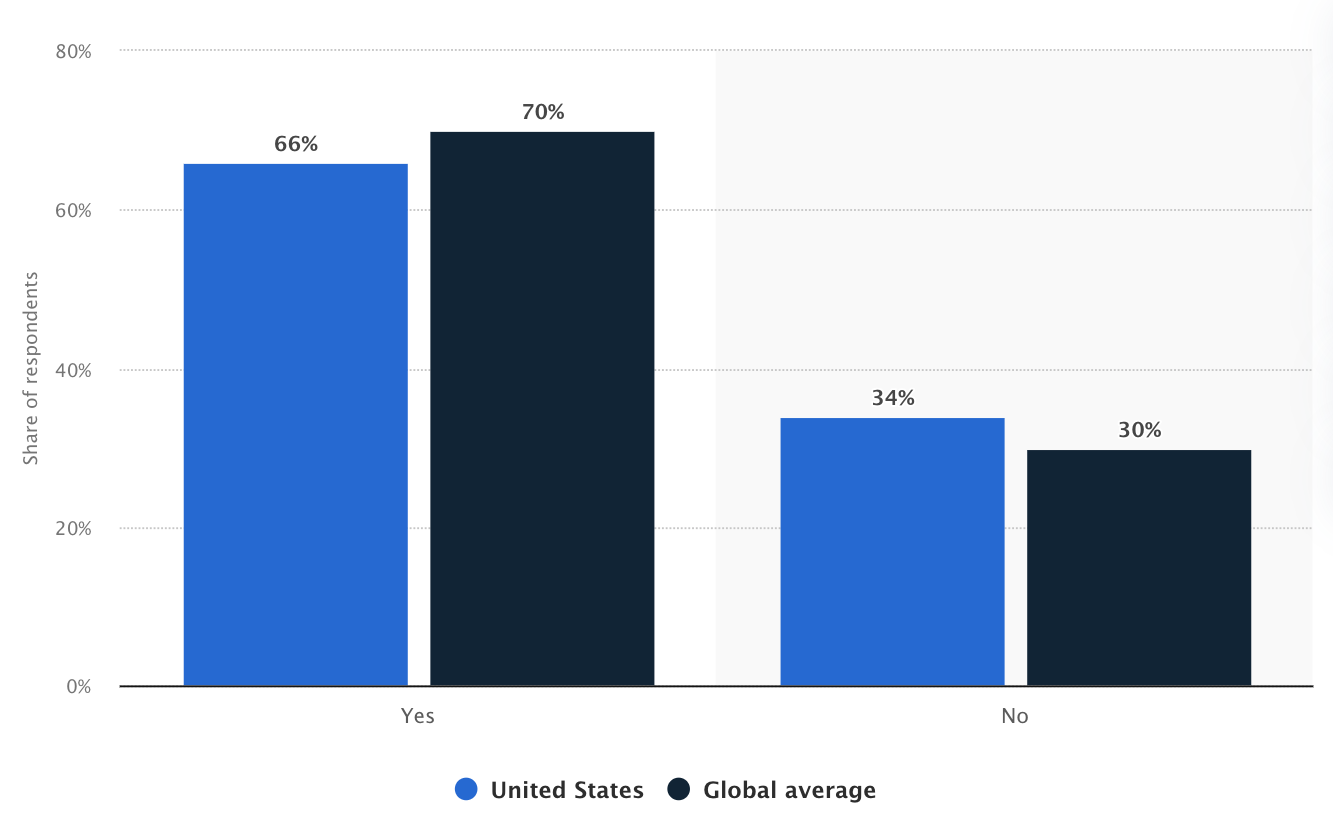 66 percent of respondents from around the world indicated that they have a more favorable view of brands that offer or contact you with proactive customer service notifications. Source: Statista.com.
This helps to build trust and display your reliability while simultaneously protecting your reputation. Customers can keep an eye on your status dashboard or you can send them email announcements if they subscribe to your status page. 
It does so via your own domain or an URL address from the status page provider.  
This can be especially useful for companies that offer online services. By providing regular updates on your status page you help your customers understand any disruption that may occur. And your customer support team will love it too, trust us.
You can also use status pages for internal purposes and back up your devs with another helpful tool. 
Such a status page can be public or protected with a password, meaning only your team can access it. This is another common use for a status dashboard saving companies a lot of trouble.
As you can see, owning a status dashboard has many benefits. What are they exactly?
6 Benefits of Having a Status Page
1. Fewer incoming support requests during incidents
During unexpected outages, support teams often get flooded with customer queries. But when your users are able to find the information they need on the status page, the number of received tickets is reduced significantly. This way they don't have to contact you directly, which increases the productivity of your support agents and also their motivation.
2. Build trust and reduce frustration
Every technology user knows that services can go down. By addressing issues as they arise, and sharing them on your status page, you're able to establish rapport with your users and build trust. Users will see that you're aware of the situation and are therefore less likely to contact you on other platforms. 
3. Protect your reputation
Without a status page on which to update to provide updates, your customers are far more likely to share their subjective experiences on social media. A status dashboard allows you to provide details and guard you against the negative effects of exaggerated rumors. 
4. Level up your communication
Status pages help to establish your brand as trustworthy. A status dashboard allows you to show reliability and credibility. It shows that you care about your customers and that you're open and honest when problems arise. 
5. Collaborate & save time
By sharing a status dashboard with your team, you'll be able to automate your communications and speed up internal processes when solving incidents. A status page will decrease your TTR (time to resolve) and minimize the frustration of users. According to research, improving the time taken to resolve queries can improve customer satisfaction by 40.5%.
Top factors that impact customer satisfaction. Source: Statista.com.
Including a status page in your processes will lead to significant time savings. A status dashboard will trigger immediate action across your company. 
6. Attract new customers
 Your historic uptime data will serve as proof of quality and may become the decisive argument to buy from you. Combine this with the trust mentioned above and you have some serious selling points that will attract more sales. And don't forget, customers love when you care. A status dashboard can also be used to demonstrate your service level agreements (SLAs).
How Do Companies Use Status Pages?
Big companies are aware that owning a status page showcases their transparency. Some even say it's a necessary part of running an online business, and we couldn't agree more. 
Status pages can be used as part of your incident communication strategy. And businesses can use them to inform users about upcoming events and to share details after an incident is solved. 
The best practice is to allow users to subscribe for updates. This way you can contact customers directly, without sending a message to everyone and possibly affecting your email reputation negatively. 
Examples of Status Pages
From Apple to Shopify, these days, many big names are using status pages for incident communication. Another one that may ring a bell is the status page for Arch Linux, that's hosted with UptimeRobot. Status monitoring is a valuable asset for any business or website. 
From free status pages to paid customized ones, there are many monitoring options. Large global companies tend to develop their own solutions. But the status dashboard available with your monitoring solution is usually more than enough. 
Let's take a look at how some SaaS businesses benefit from having a status page. 
1. VOICEMOD
VOICEMOD is a free real-time AI Voice Changer for platforms like Discord, ZOOM, Google Meet, Skype, and more. Their status page is a great example of basic monitoring of their website and APIs. Obviously, they prefer dark mode.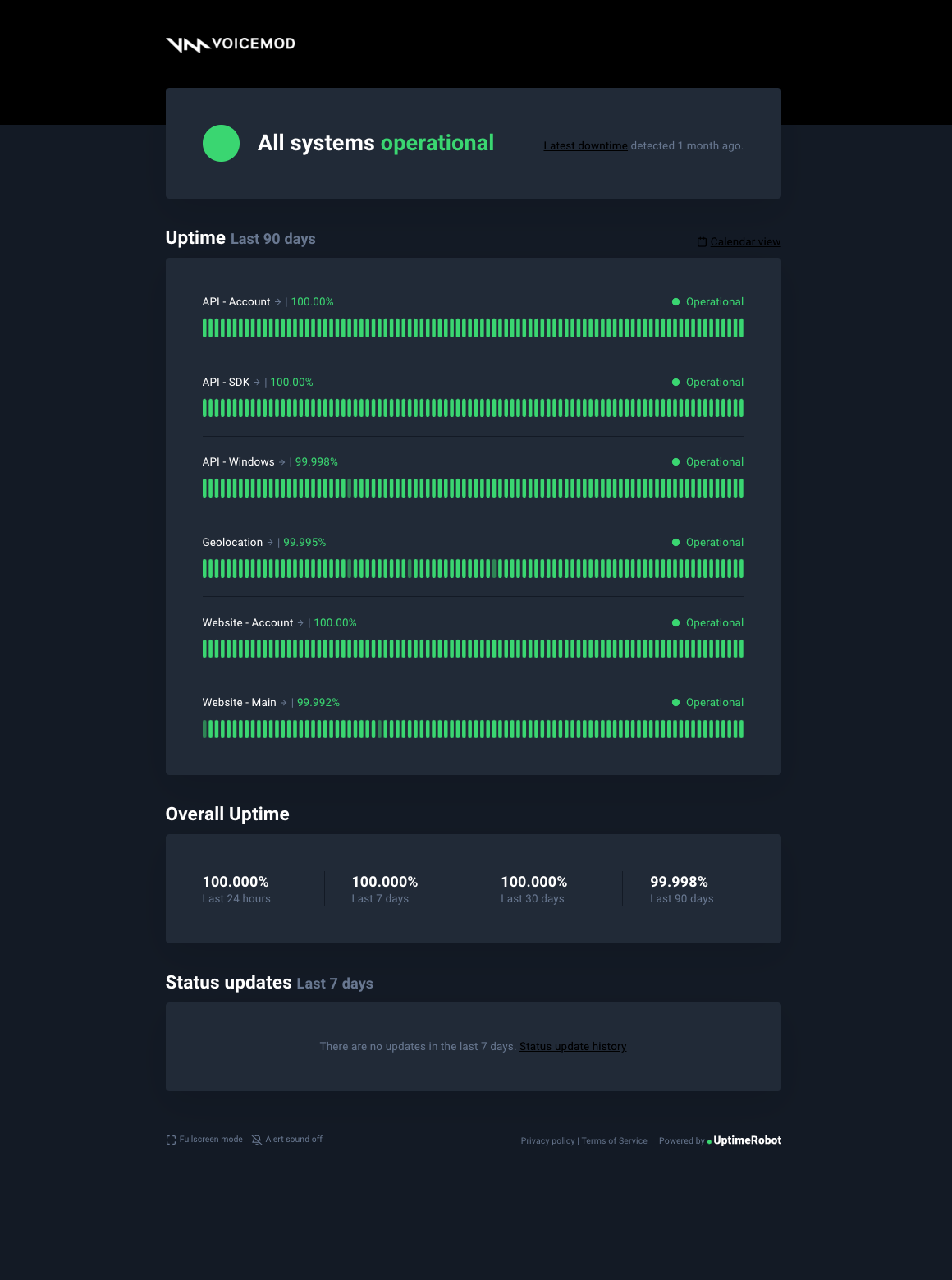 2. ShuftiPro
ShuftiPro is a real-time KYC (know your customer) identity verification tool. Their status page is customized with a nice logo and a custom header. Like the previous status page for VOICEMOD, this one is also powered by UptimeRobot, although they used the option to remove this information.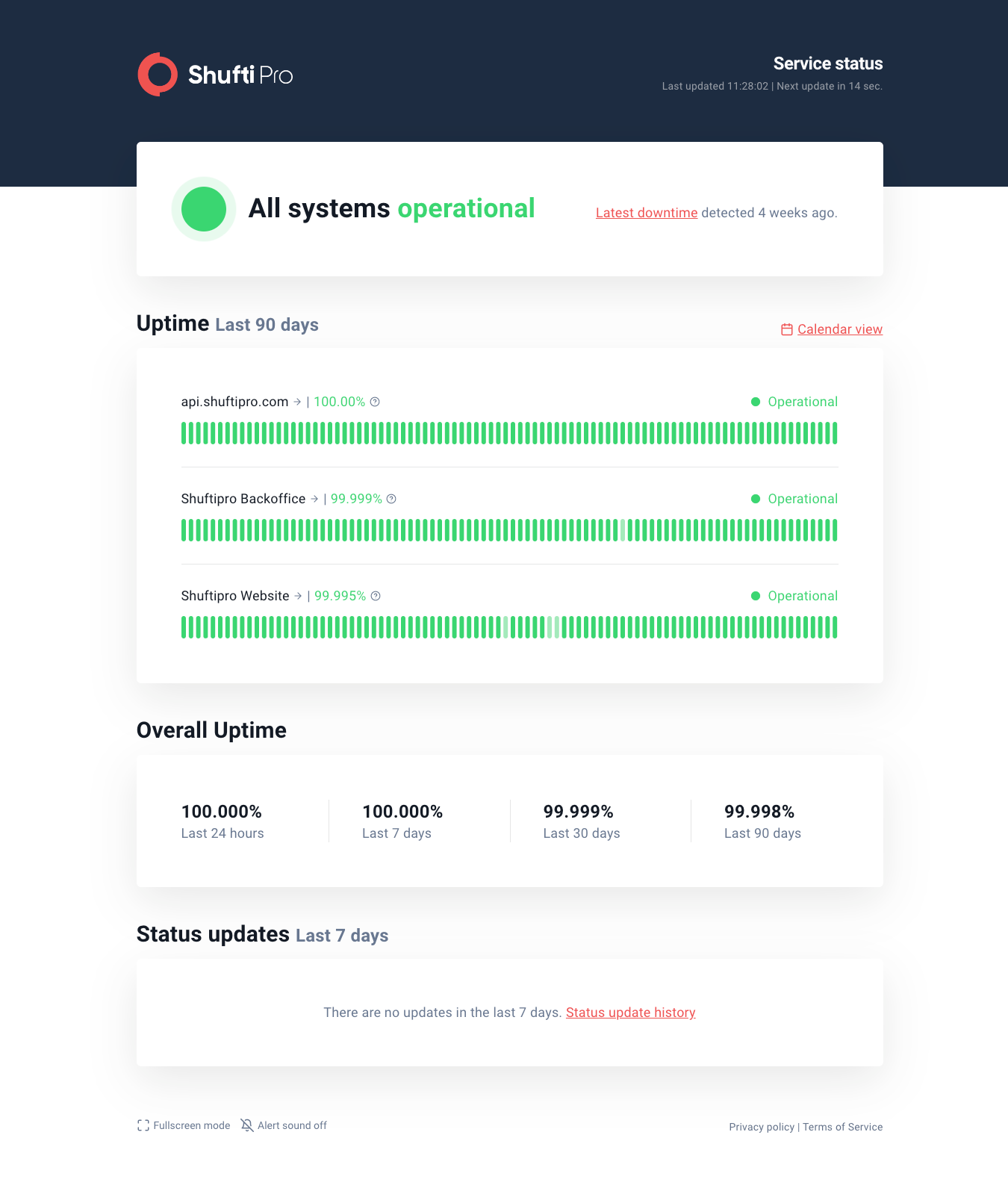 3. Kamua
Kamua is another SaaS business that understands the importance of status monitoring. Their tool allows you to resize, edit and cut videos in your browser. As presented on their customized status page, they're also proud of their 99.99% uptime.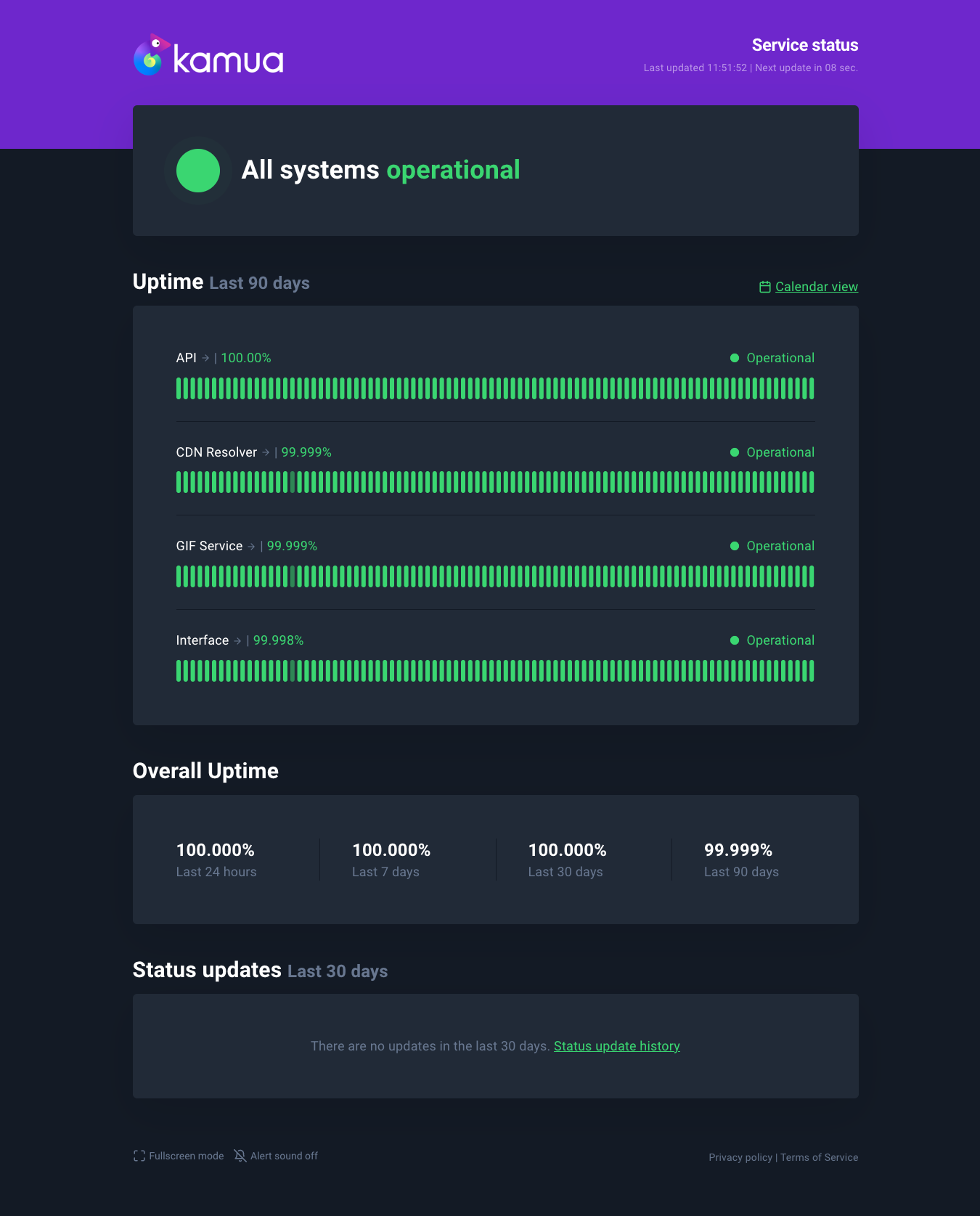 What Makes a Good Status Page?
Status pages come in many different varieties, but there are some essential components they can't lack. 
First of all, you should be able to create a status dashboard in just a few clicks. It's not rocket science and being able to start quickly is a good sign. 
A status dashboard is a real-time reflection of your monitoring. All users should be able to clearly identify the current status of your service and website. The design should be fairly minimalistic, but detailed, so you can quickly see if everything is running smoothly. A clear and transparent look is a must. 
You should be able to try a free status page with no strings attached. 
A free status page usually lacks some features and customizing options, so a full-featured status page is definitely worth the money. There are some major components that should be included.
Some of the most important features are: 
Branded design
A status page serves to showcase your uptime and inform your users about outages and maintenance. 
You should be able to customize it to your liking and add things like your company logo with a link to your website, change colors, or use your own domain. This way a status page will be a great addition to your brand communication. 
It's only a plus if you can also adjust the details of your status page. Some important details to adjust include showing or hiding bar charts and overall percentage, hiding the monitor URL and paused monitors, and sharing the latest downtime and outage updates.
Subscribe feature
What really distinguishes a great status page from an average one is the option for your users to subscribe to future announcements. 
By subscribing, customers will be informed via email in advance and prepared for any unavailability. By using an opt-in method, you'll avoid sending emails to uninterested users. 
Multiple users
Do you need to cooperate with someone on your status page? If you're not a one-man show, another great feature that is useful for running a status page is adding team members. 
In case you need to provide someone with editing access you shouldn't have to share your credentials. Just add them to your account and let them make the necessary changes. 
How to Set Up a Status Page?
Creating your own status page with UptimeRobot is quick and easy.
First, make sure to register an account for free and create your first monitor. You can do so by clicking on the green + Add New Monitor button in the upper left corner of your Dashboard and entering all the details.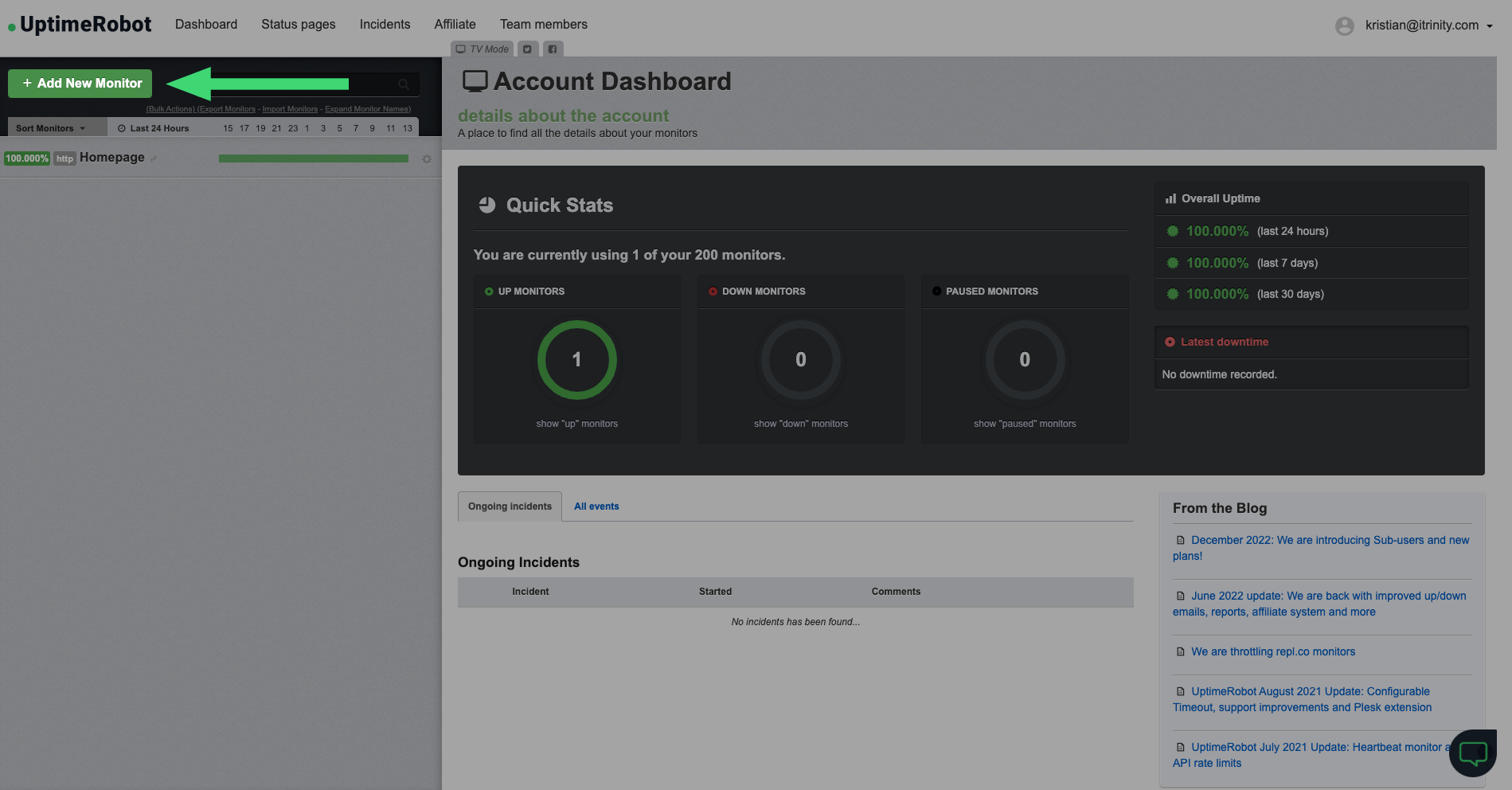 If you need any help with the setup process, we're always here to help. 
Click on the

Status pages

tab and then click on the green

+ Add Status page button

.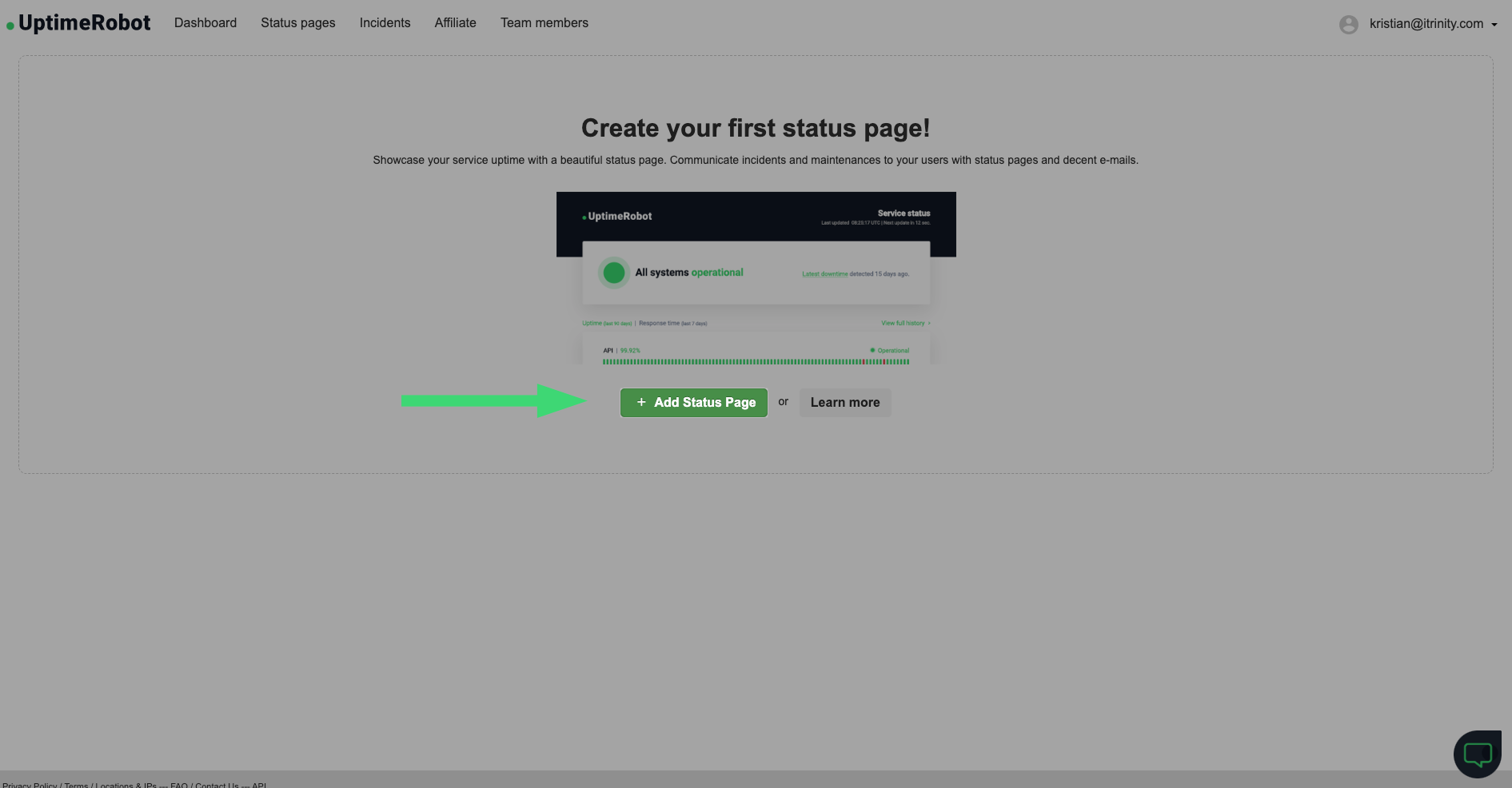 Enter a friendly name for your status page. In this step, you can also add your logo and password, elect to hide the UptimeRobot logo or hide your status page in search engines.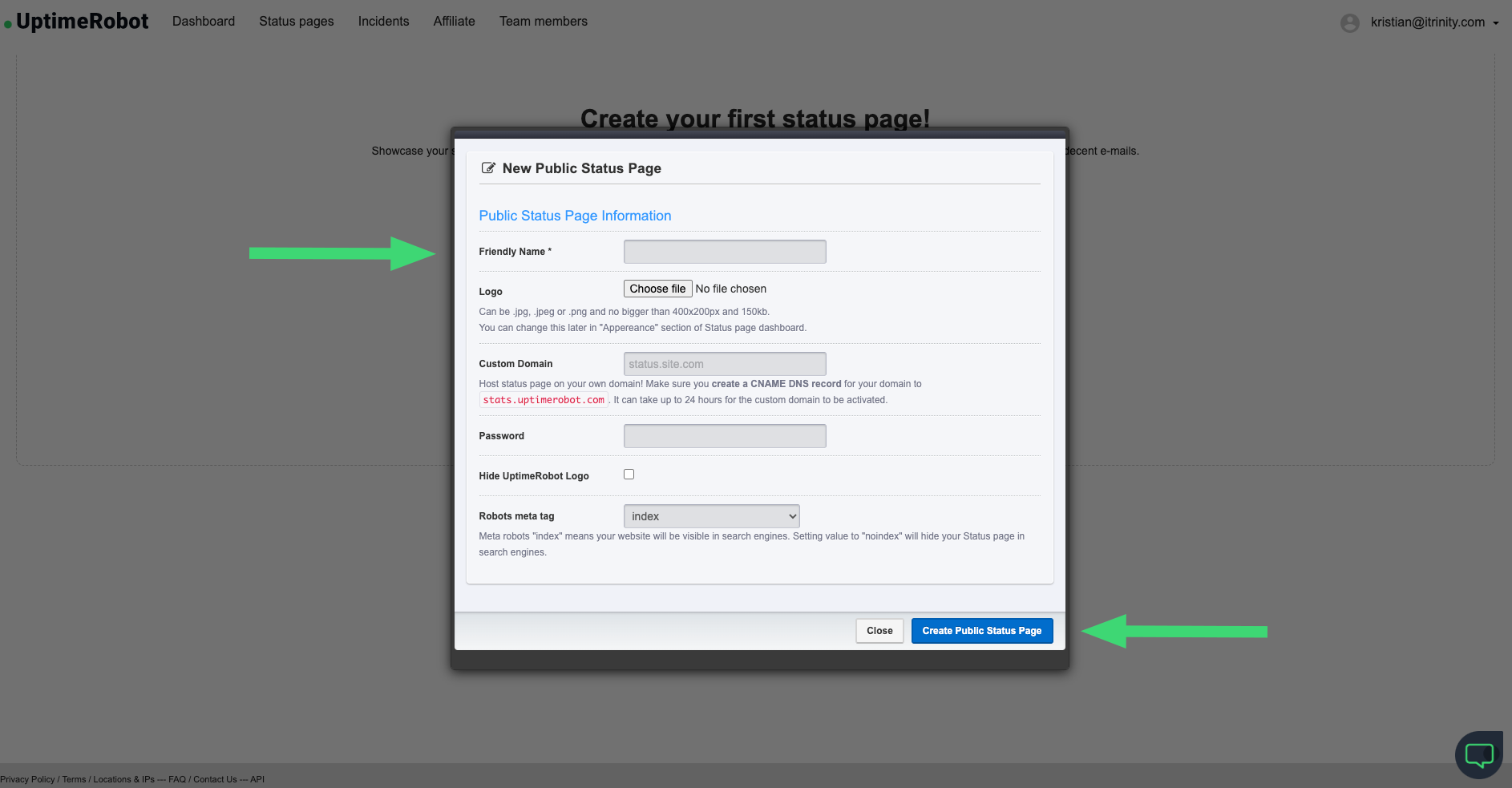 Click on the blue

Create Public Status Page

button.

Choose which monitors you want to add to your status page.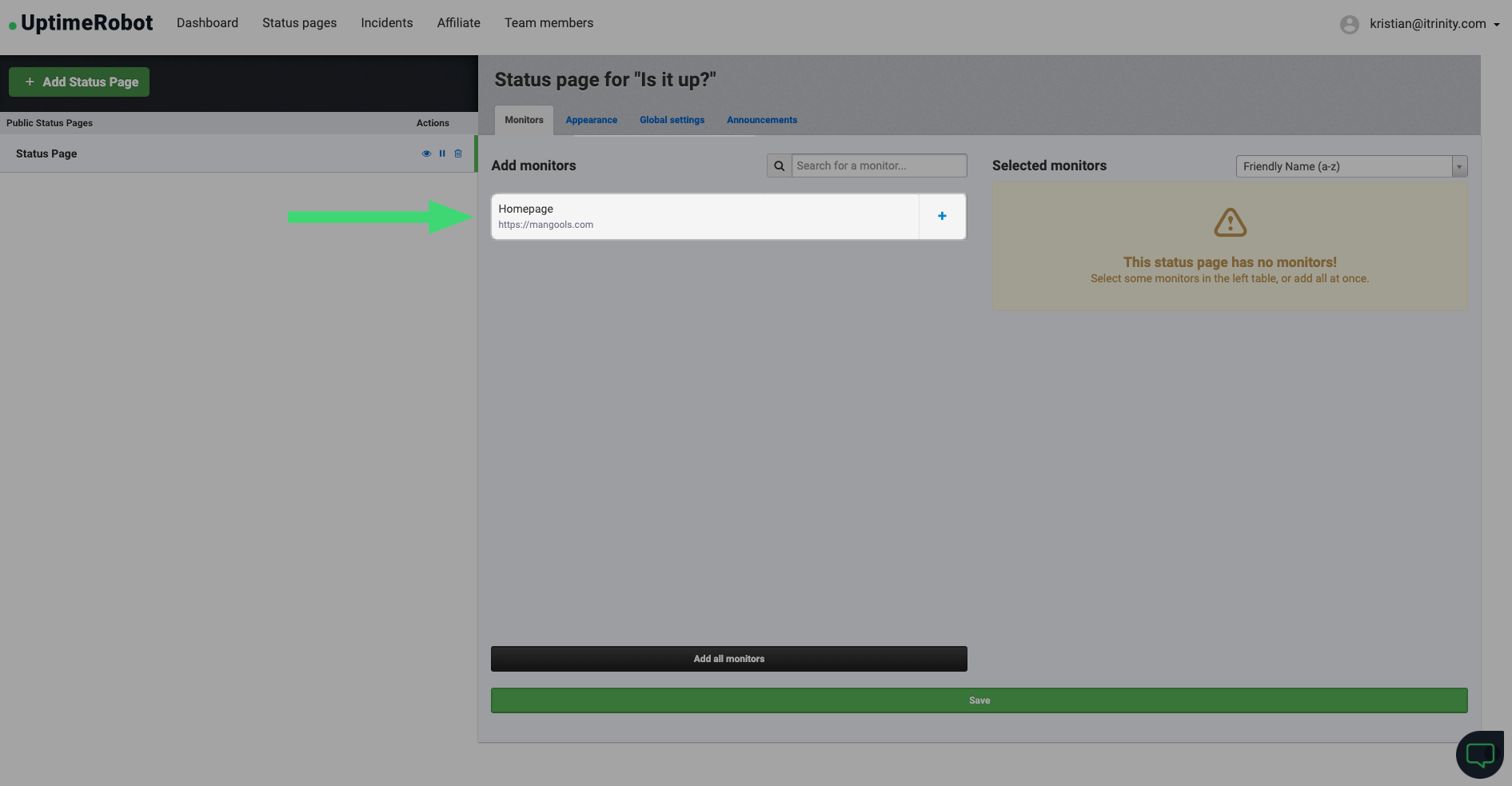 .. or add them all at once.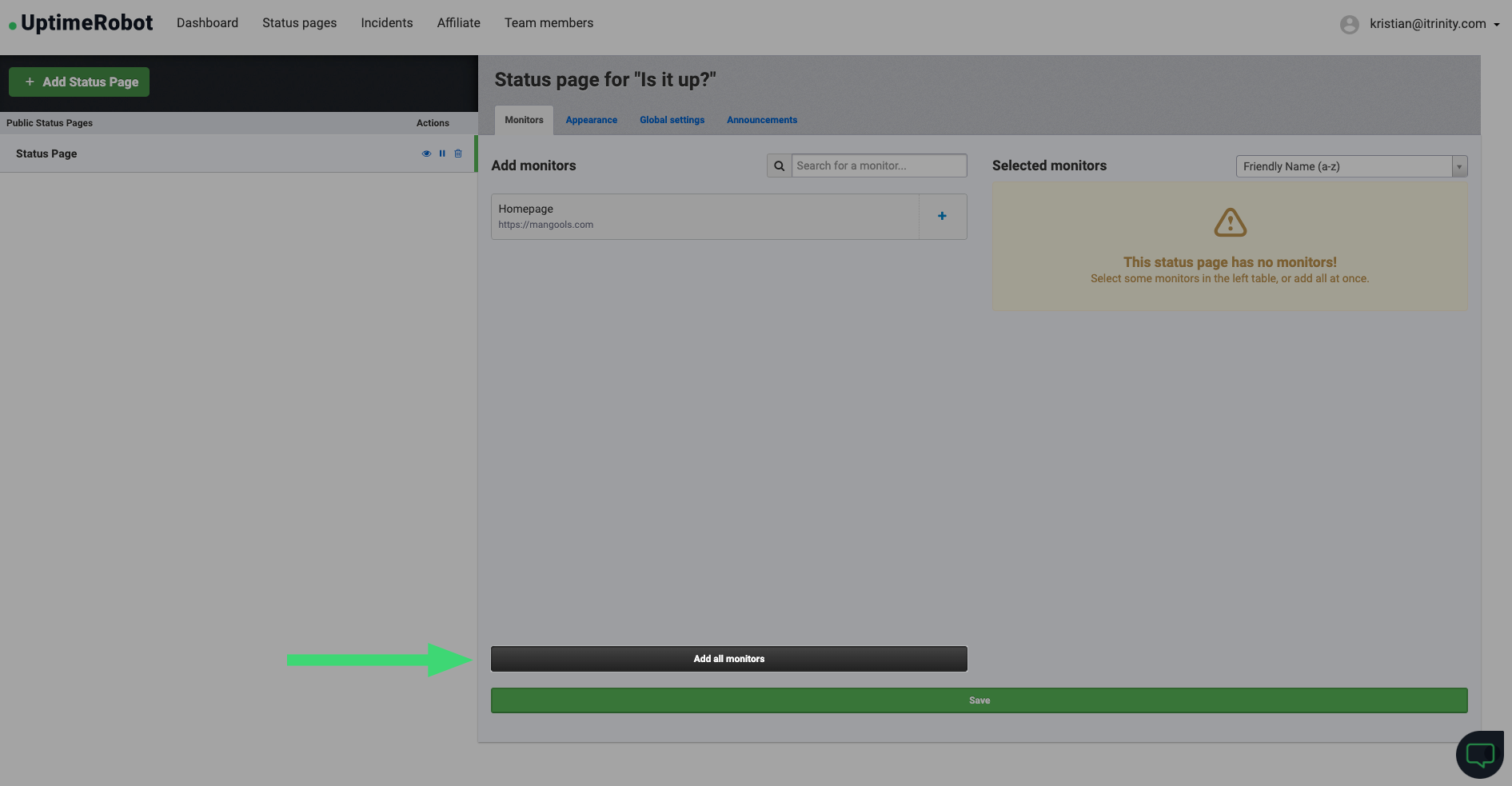 Click on the green

Save

button and that's it! You can access your new status page via a link provided by UptimeRobot, or if you set up a

custom domain

and created a CNAME DNS record, you can use that URL address (please keep in mind it can take some time for the custom domain to be activated).
Final Thoughts
As you can see, getting a status page for your services is easy and rewarding. 
A status dashboard is an essential tool for any company and can help to elevate your business. 
With the ability to provide updates in real time, you'll be able to establish trust with your users and minimize confusion during times of disruption. Having a status page is a valuable investment for anyone looking to improve their communications and customer service. 
Start with a free status page from UptimeRobot, it's really simple!