Cloudflare is an impressive service/platform for securing and speeding up websites.
If you use Cloudflare and have a "status page with a custom-domain" in Uptime Robot, "there may be a small configuration needed" to make sure things work smooth.
IMPORTANT: These settings don't work with flattened CNAMEs, disable this feature first.
Who needs the custom configuration?
If the 3 items below match your case, then the custom config is needed:
Use Cloudflare as your domain's DNS provider
Have a status page with custom domain in Uptime Robot
Have the "Crypto" setting as "Flexible" in Cloudflare
How to make the custom config?
That is so easy:
Login to your Cloudflare account
Click the domain of your status page
Click "Page Rules>Create Page Rule"
Enter *MyStatusPageCustomDomain* (like *status.mydomain.com*) into "If the URL matches" field
Click "Add Setting>SSL>Full"
Click "Save and Deploy"
That's it.
And, here is a screenshot of the setting: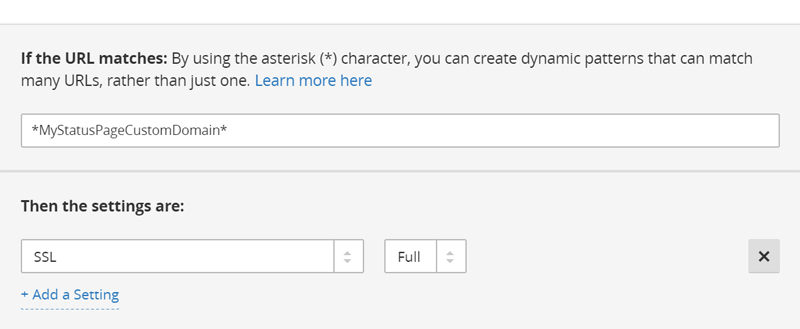 In case it's not working check the change the DNS settings to OnlyDNS (grey cloud) instead of Proxied (orange):