Uptime Robot's website and dashboard have changed completely few months ago.
It is not announced until now as we didn't think it was complete before it works on all devices. And, it is now optimized for all resolutions.
With the new dashboard, we wanted the things to be still simplistic but ease presenting other useful information.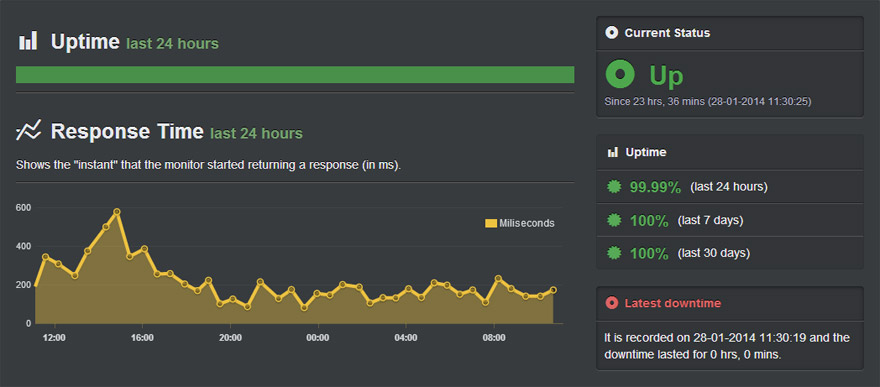 Uptime averages presented for different periods is a result of this. And so the response time data which is pretty important to analyze" if a monitor is healthy/fast even if it is not down".
With the response time monitoring, the data being kept and processed has grown hugely. We have experimented various ways of keeping them for finding the most optimized solution (may be a technical post on that later), found it 🙂 and ready to present more valuable information with them.
Another addition is "custom monitoring intervals" which helps us to define the intervals each monitor is checked.
Dedicated team
Uptime Robot had started as a side project 4 years ago. Since then, it always asked for more hours from us to get better and, for the last 12 months, we were working almost full-time on it.
And, since the start of 2014, we are officially working full-time on it.. no distractions.  So, expect things to evolve much faster as we have lots of exciting ideas to make Uptime Robot more functional.
That is it for now and please feel free to share your thoughts and suggestions that will make the service better.
Ohh, and one more thing:
Social love
Uptime Robot now has a Facebook page and, if you use the service and think that it is functional, we'd love to get your help on spreading the word about it so that any site owner uses it and minimizes downtime.
Here it is:
And, you can always follow us on Twitter too:
Have a great day everyone.