Update based on your feedback (Jan 17, 2023)
At UptimeRobot, we're continually looking for ways to enhance our products based on user feedback. That's why, since the launch of the sub-users feature and the new pricing plans that came with it, we've been paying close attention. We've heard your concerns and now want to share some good news.
Legacy users can once again add alert contacts
We've decided not to restrict legacy users. PRO legacy users can still add alert contacts and use Zapier, PagerDuty, and Webhook integrations without limitations until their current prepaid period expires. All legacy (including FREE) users can also modify personal alert contacts if necessary.
After this period it won't be possible to add these alert contacts in legacy plans, but it will be possible to use already created ones.
Introducing notifications-only sub-users
The introduction of sub-users was our most requested feature last year. However, after receiving your feedback, we realized that full-featured sub-users may not be the ideal option for everyone.
That's why next month, we're introducing a notifications-only type of sub-user for $2-$4 per seat (depending on how many you need) for use-cases when you don't want to share your account resources and monitors. Your teammates or clients will receive their own notifications and incident reports but won't have access to the dashboard or any additional information. These notifications will be sent through email, SMS, or voice call.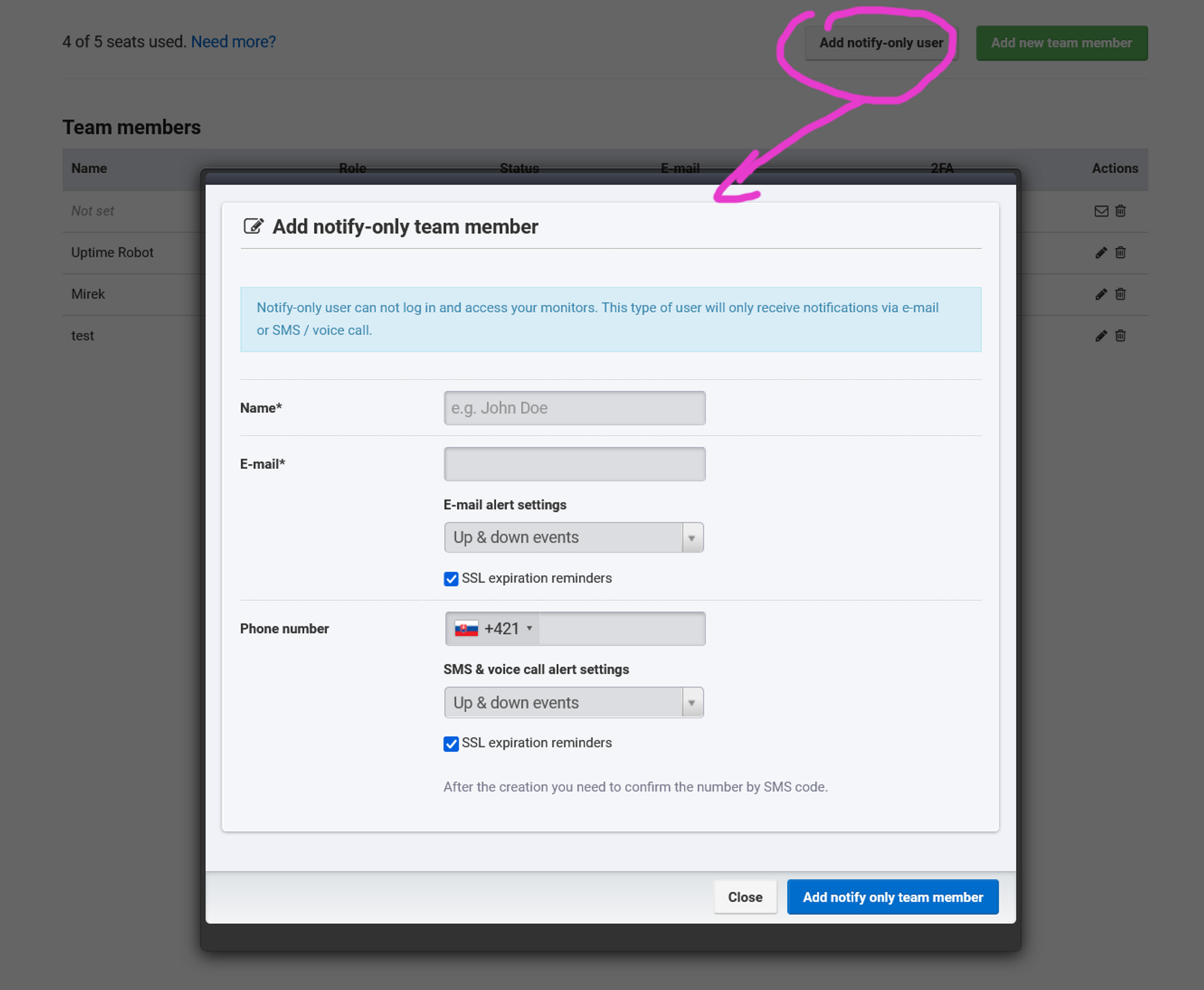 Unlike full-featured sub-users, which are only accessible in the new Team and Enterprise plans, notification-only sub-users will be available in all plans (Solo, Team, and Enterprise). Stay tuned for more information about this new feature.
Since our launch in 2010, we've always believed in providing the most affordable monitoring service, a position we intend to maintain. We value your input and we promise to continue delivering high-quality monitoring. Tell us what you think in the comment section below.
---
Original post below:
Hey there,
We're excited to announce that the highly anticipated sub-users feature has finally launched!🚀
New plans
In order to accommodate such a large change in the structure of the app, we've had to develop new plans and pricing:
Solo 10 & 50
Team 100 (3 seats included for free)
Enterprise 200, 500 & 1000 (5 seats included for free)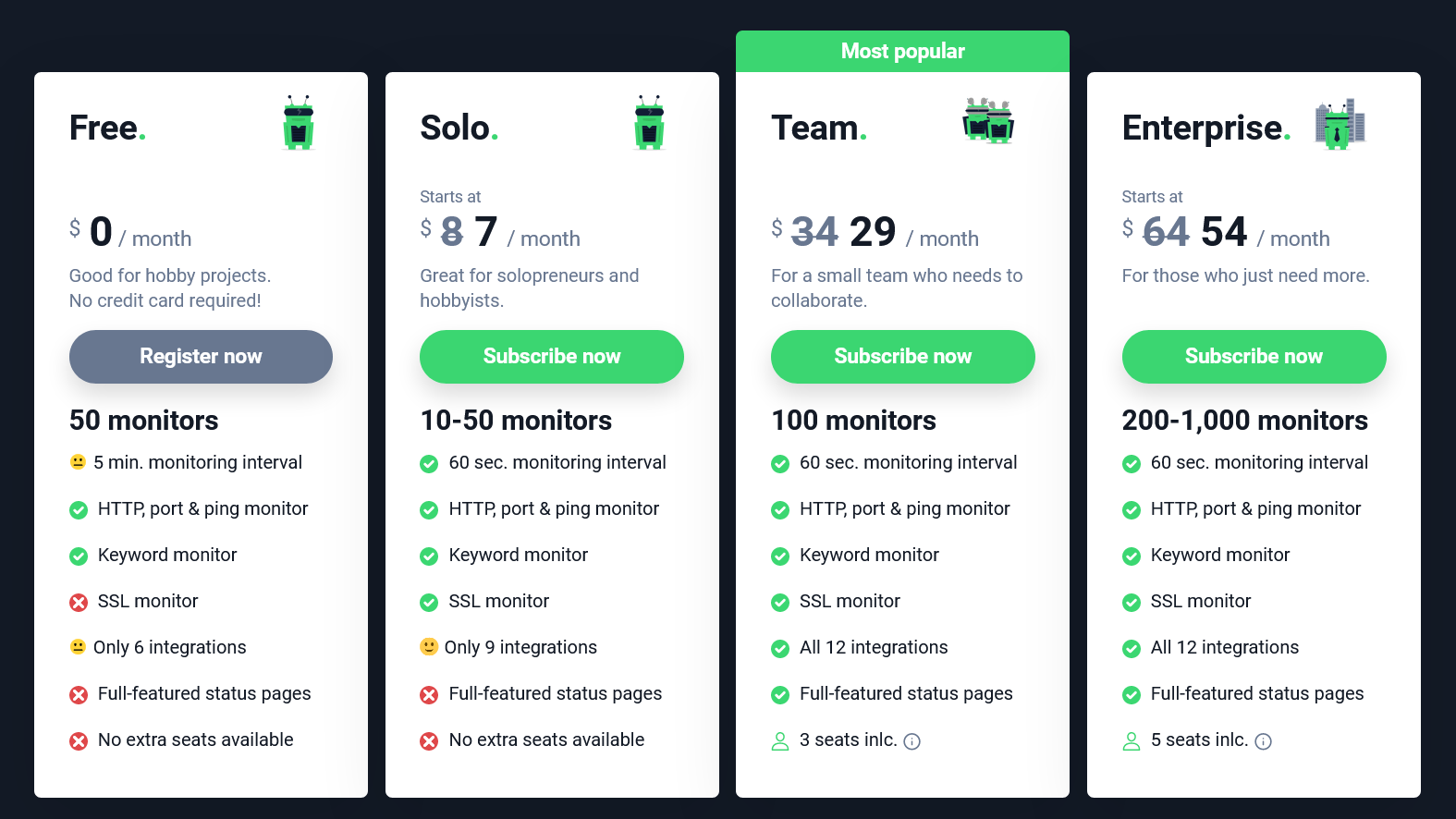 Find a detailed description of each plan and its features on our pricing page.
Extra seats
As you can see above, both the Team and Enterprise plans have free seats included. However, if you need more seats, you can purchase them separately. Please keep in mind that the sub-users feature is not available on the Solo plan.
You can find pricing for extra seats on the pricing page.
Here's how it works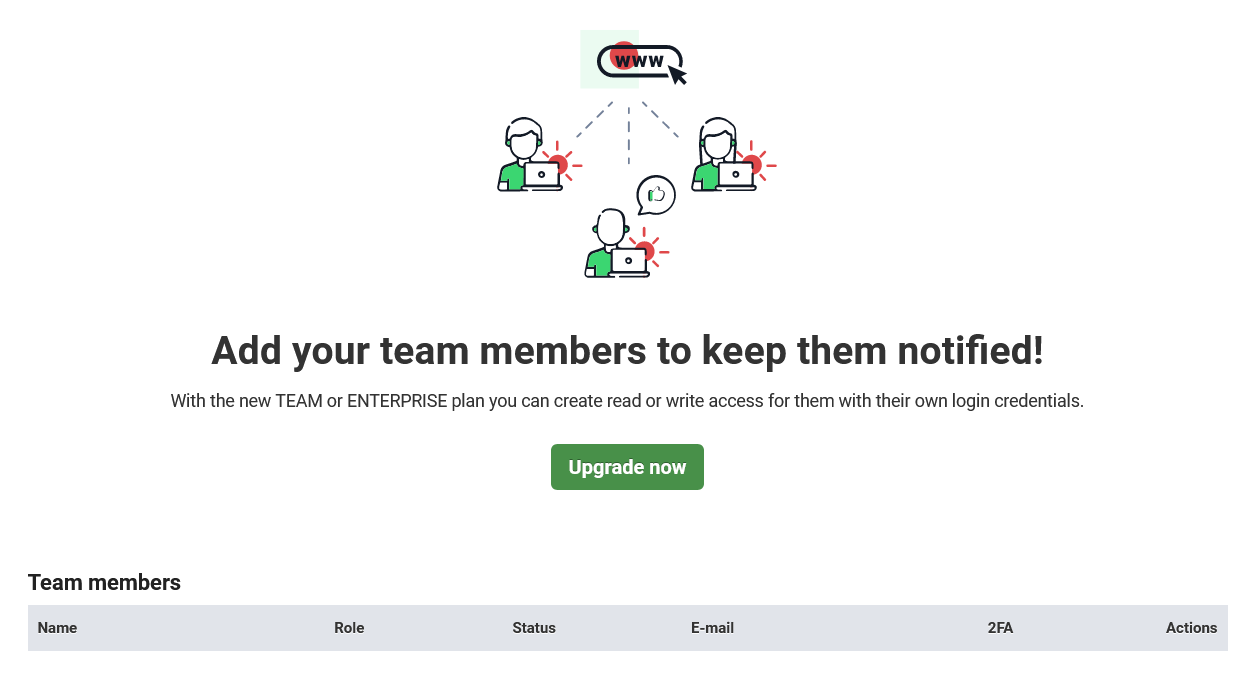 Both Team and Enterprise plans allow you to add your team members. Once added, you can share your monitors without sharing your account credentials.
Each team member has their own login credentials and can set up alerts for up, down, and SSL notifications to be delivered by email, or SMS / Voice call.
SMS / voice call team owner credits are shared with the whole team for the notifications regarding the monitors in team.
When creating a sub-user in your team, you can set up read-only or write access for each. This can be changed anytime.
You can invite currently registered users or new users. In both cases, the invited user will have access to their own monitors (their account limits apply) and team monitors. Team account limits apply when the user is switched to a particular team.
Switching between teams is possible via the current account tab in the upper-right corner of the web app.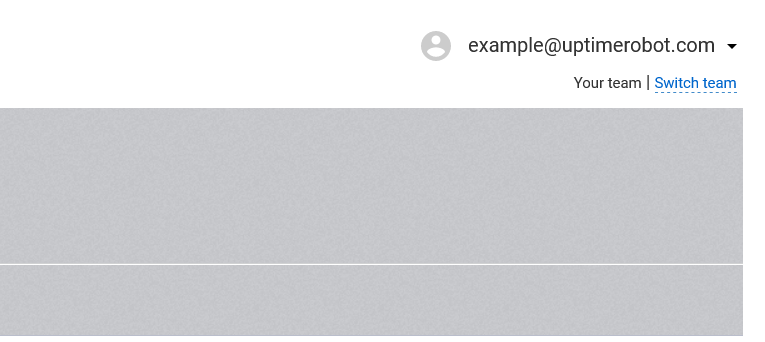 Read-only vs. Write access
Sub-users with "write access" have basically the same privileges as account owners. "Write access" users can manage your monitors, alerts, status pages and integrations. Users with "write access" can do just about everything account owners can, but they can't make purchases, manage subscriptions, or manage sub-users.
Sub-users with "read-only access" can only view monitors and incidents, and set up/down and SSL notifications for monitors. Nothing more.
What about legacy plans?
If you're on one of our legacy plans, you can continue using it just as before. All your previously created monitors, integrations, notifications, and status pages will still work.
However, should you want to add new personal alert contacts, you'll need to upgrade to one of our new plans and create a sub-user.
Other updates
Along with the new sub-users feature, we've also introduced the ability to auto-refill your SMS / Voice call credits when they drop below 25 credits. You can enable this in your settings, or when purchasing credits (currently available only for credit card subscribers).
---
We hope you like the new features. Let us know in the comment section!