It's been a few months since our February update, and we'll be sharing some exciting news with you soon. But this time, we'd love to invite you to join our brand-new Discord Group.
Embrace the Power of Community
One of the key factors contributing to UptimeRobots' success is its large and supportive community. UptimeRobot assists developers, administrators, DevOps engineers, marketers, hobby project owners, and others in monitoring their systems and ensuring uptime.
We appreciate the value our community brings and would love to give you more space to share your ideas and assist each other with various solutions. Additionally, you might even win some cool prizes!
While Twitter, Facebook, and LinkedIn remain available as communications channels, our Discord server will act as the center of conversation – and more!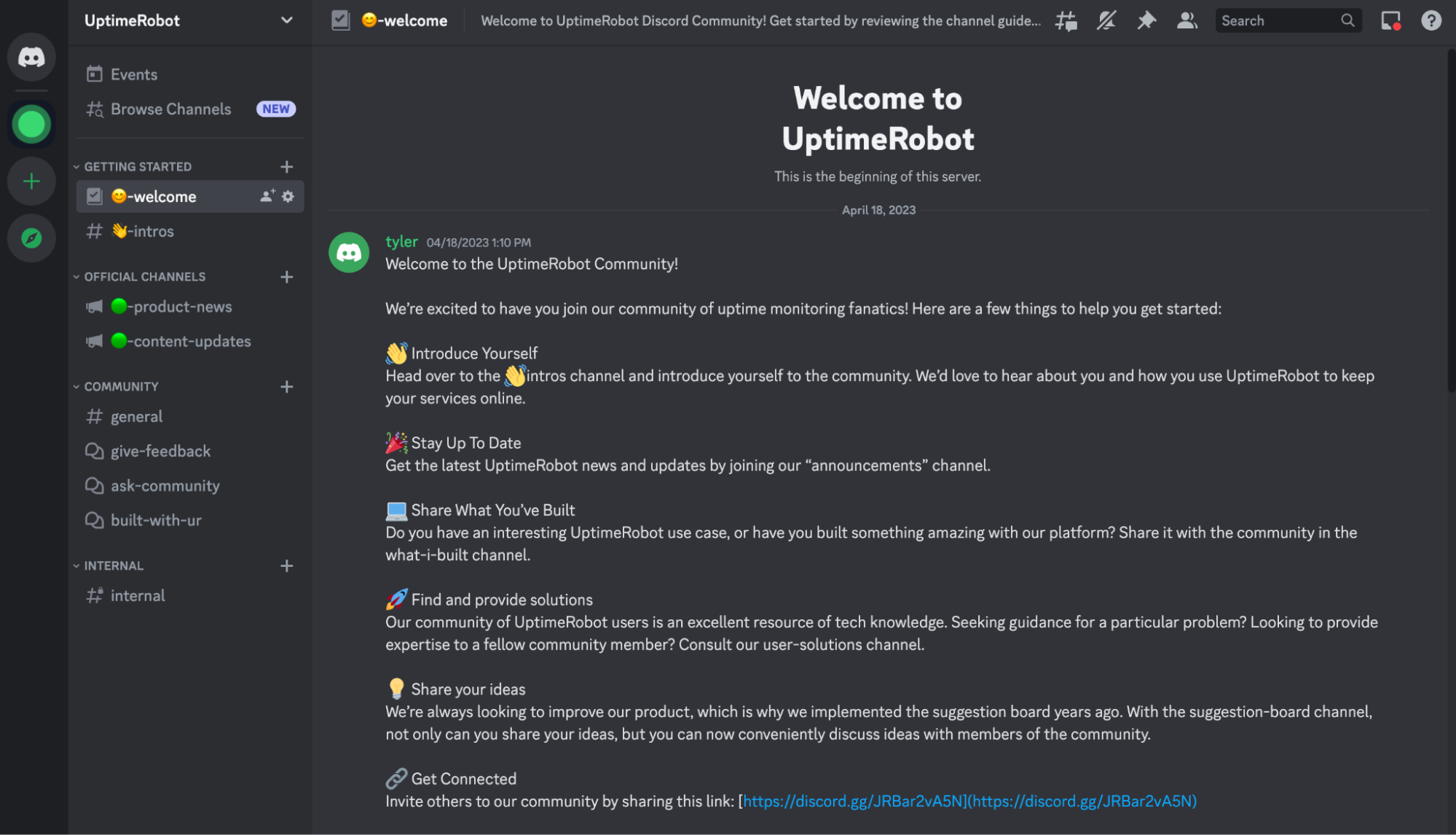 What Will You Find Inside?
We've just begun this journey, so let's see where it takes us. Rest assured, there are many engagement opportunities available for everyone.
👋 Introduce Yourself
Head over to the "👋intros" channel and introduce yourself to the community. We're excited to learn more about you and how you utilize UptimeRobot to keep your services online. Share your experiences and connect with like-minded individuals.
🎉 Stay Up To Date
Stay in the loop with the latest UptimeRobot news and updates by joining our "product-news" and "content-updates" channels. Be the first to know about new features, enhancements, and important announcements straight from the UptimeRobot team. Don't miss out on exciting developments!
💻 Share What You've Built
Have you built something amazing using UptimeRobot? Do you have an interesting UptimeRobot use case to share? We encourage you to showcase your projects, achievements, and creative solutions in the "built-with-ur" channel. You'll find tools that you can use for yourself here too.
🚀 Find and Provide Solutions
Seeking guidance for a particular problem? Looking to provide expertise to a fellow community member? Consult our "ask-community" channel. Our community of UptimeRobot users is an excellent resource for tech knowledge.
💡 Share Your Ideas
Your feedback and ideas are crucial in helping us improve our product. We highly value your input, which is why we implemented the suggestion board years ago. In the"give-feedback" channel, you can conveniently share your ideas and engage in discussions with other community members. Let's work together to shape the future of UptimeRobot!
🥳 Have Fun and Win Prizes
We want to include you in all of our social activities. The idea is still taking shape, but even during this fundamental period, we plan to organize some fun activities featuring exciting prizes. Don't hesitate to join our Discord group and share your suggestions with both our team and the UptimeRobot community!
How to Join UptimeRobot Discord Group
Everyone can join via the invite link to our Discord Group. We'd also appreciate it if you share the link with your friends and colleagues to help get the ball rolling!
If you're new to Discord, don't worry, it's really simple. We suggest installing the Discord app on your desktop or mobile phone first. All the download links are available on the Discord website.
Once you've successfully installed the app and registered for a free Discord account, click on the invitation and follow the instructions, it'll take just another click or two.
That's it! Welcome to the UptimeRobot Discord Server! We look forward to meeting you in the "👋intros" channel soon!