Hi folks! It's been a while since the last update post.
But don't worry, it's not because we were lazy. We've just been really busy preparing new, interesting things. Let's take a closer look at them.
1. Incidents with detailed root causes
Incidents are among the biggest things we have introduced in the last couple of months. The main goal is to make it easier to understand what happened to your monitor. So, instead of countless "events" (up, down, paused…), we now primarily focus on "incidents".
An incident is basically a report about why your website is/was down. In this report, you will find details about what happened, like:
"human-readable" cause: SSL certificate error, network error, the domain was not found…
what servers have detected the incident
start date and duration
HTTP code of a response
Request that was made – URL, HTTP method, and request headers.
Full response preview HTML – if we were able to get some
Response headers
Traceroute – when there is no response and for ping monitors
And that's not all. To get it to the next level, you can now leave a comment on the incident – a post-mortem to mark all the important details about what has happened.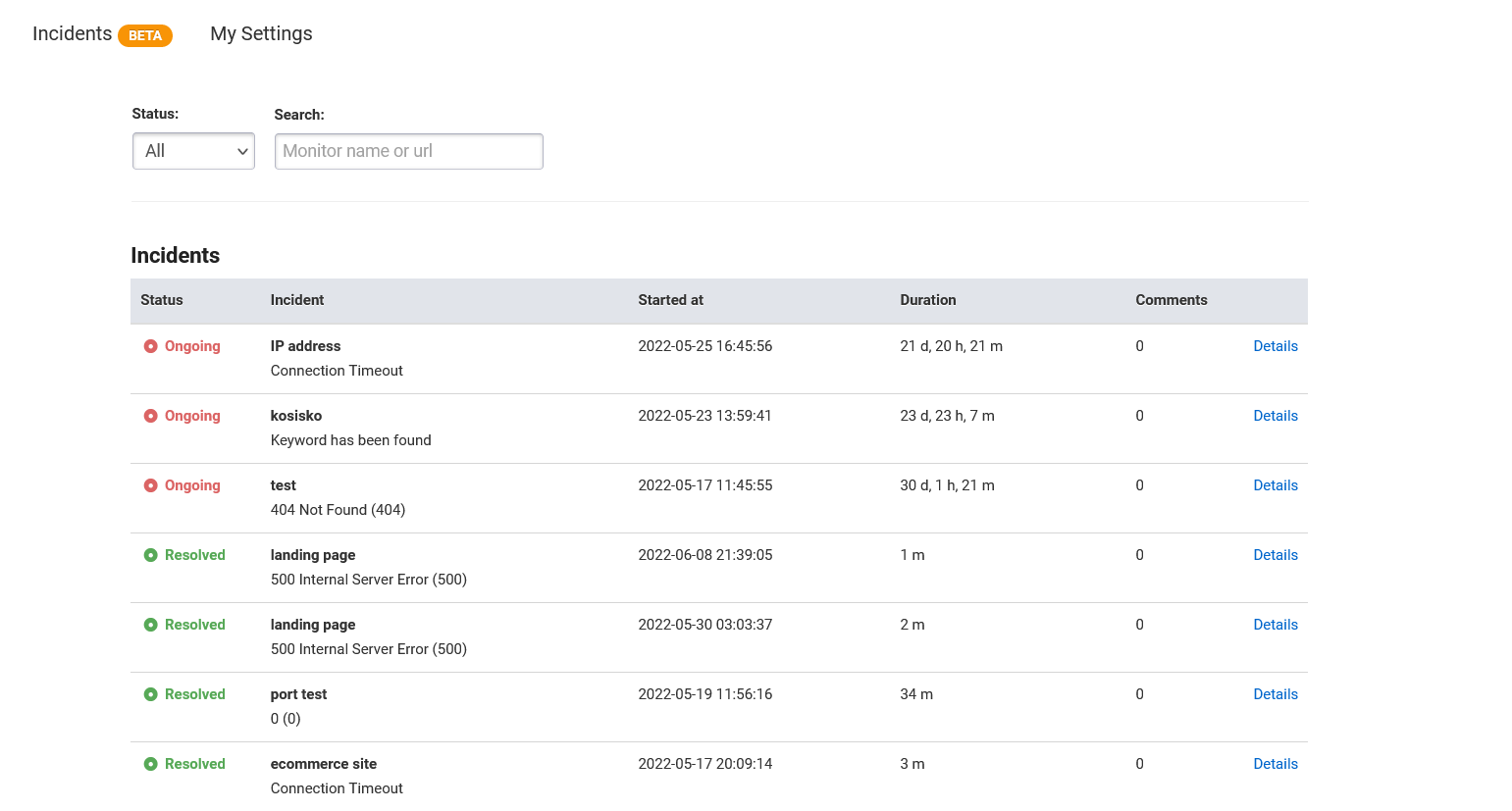 We have made incidents a primary view in dashboards, but you can still get to the "events" if you need.
2. Domain not found as an incident reason
When developing "incidents", we have added a new "down reason" – Domain not found.
You may see this incident when your domain has expired, the domain is not registered yet, or when you made a typo in the domain name. To put it simply – anytime we can't reach the website because of the wrong DNS record.
3. Optimizing our infrastructure
We've made a lot of work on our service's stability and performance in order to improve the quality of UptimeRobot.
It is something that is not as easy to spot as new features, but still an important thing.
4. Improved up / down email alerts
And now, one of the biggest things. Remember these?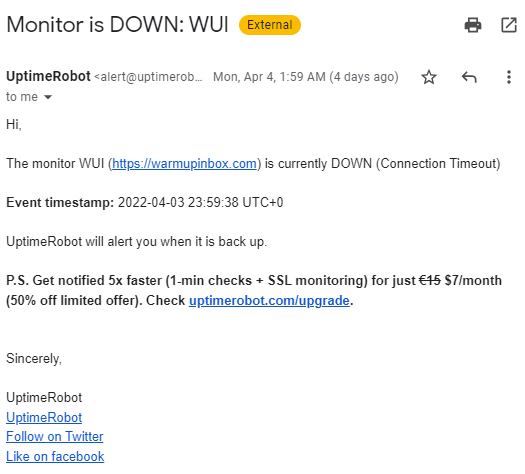 I know, they look a bit "geeky". So, we have decided to improve these emails and make them more readable with all the important information included. I hope it will help you to resolve your incidents even quicker than before.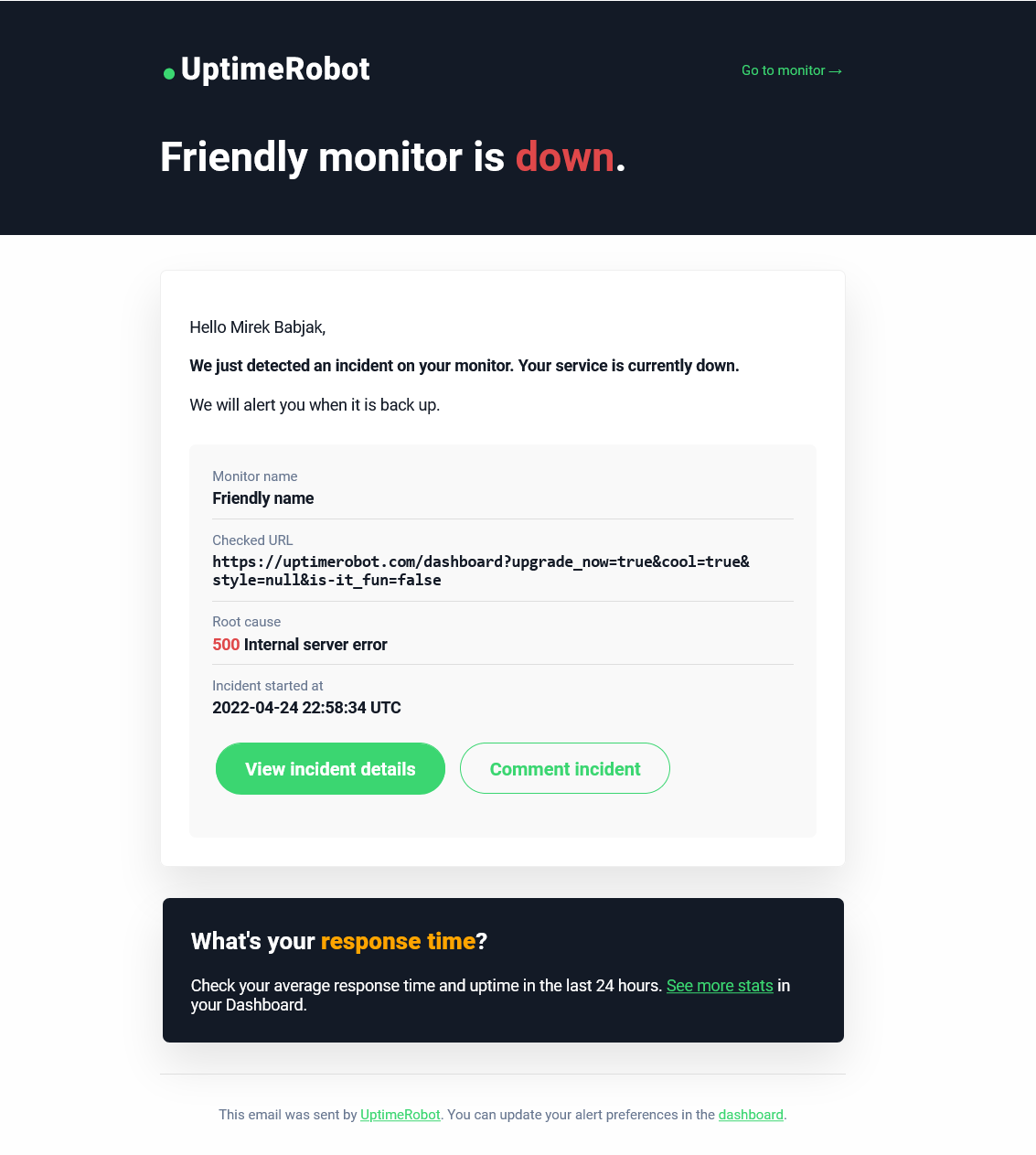 BTW, you don't have to wait for an incident to happen to see it in action. Go ahead and try the "Test notification" button in the monitor dashboard.
5. Monthly uptime email reports
Hand in hand with incidents and improved up/down email alerts, we have added new email reports.
On a monthly basis, you will get an email with a report of the overall uptime of all of your monitors and their incidents in the last month.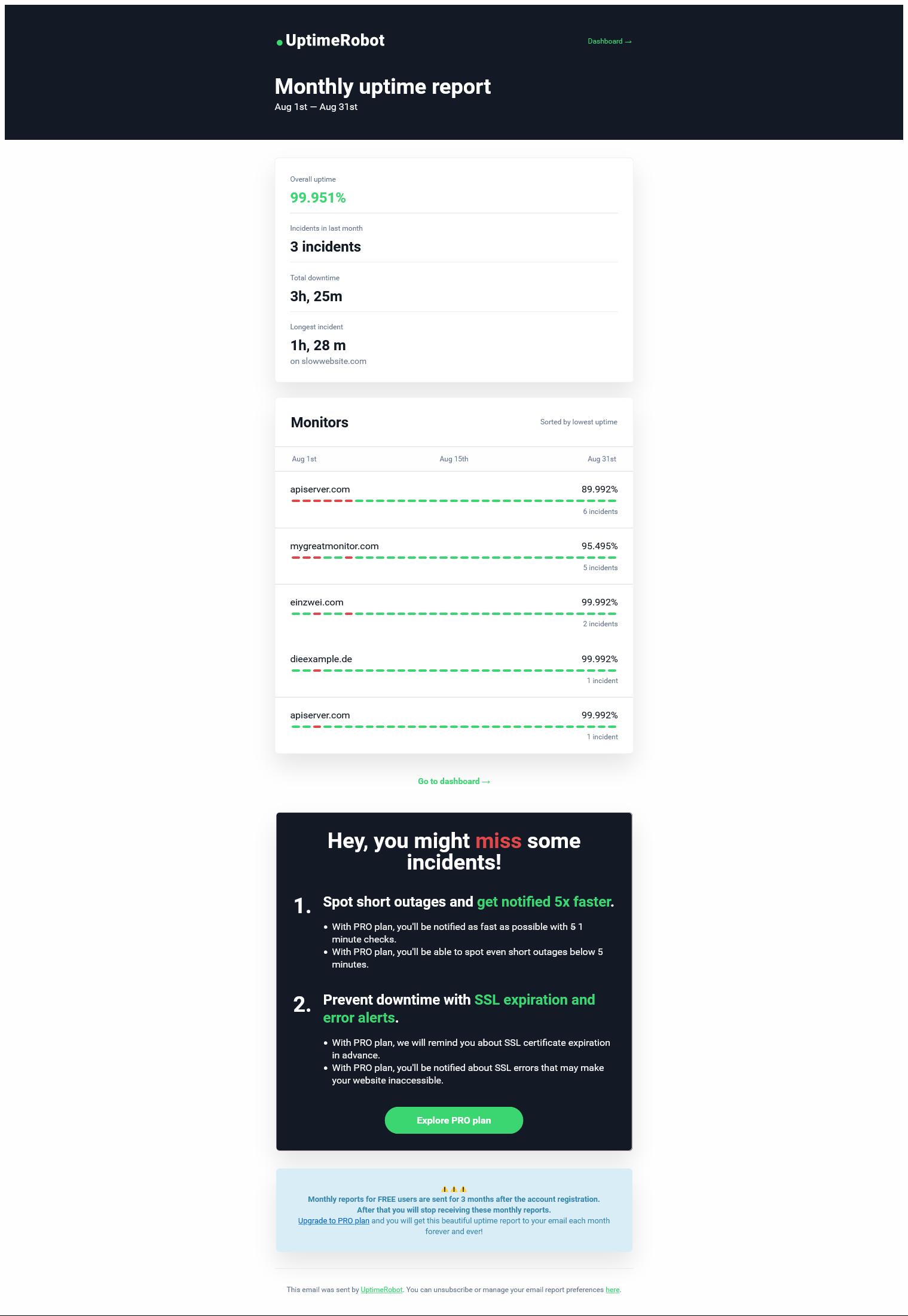 Do you like them? We are planning to improve them continuously so any feedback is appreciated.
6. Affiliate & referral program
Last but not least, we have started our own affiliate & referral program.
If you have any kind of audience, you can promote UptimeRobot and get a 20% LIFETIME commission for every subscriber you refer to us.
Or, you can simply refer us to at least 5 of your friends or colleagues and get exclusive merch only available through this referral program.
Either way, you can learn more about how it works on our Affiliate & Referral Program page.
What's next?
I believe all of these were pretty big improvements that will improve our service and offer a lot of value to our users.
However, that's not all. In the following months, we are planning other big things like:
Do you like the new stuff? Let us know in the comment section!
PS: Remember, you can always share your feature request and vote for existing ones on our feature request board.