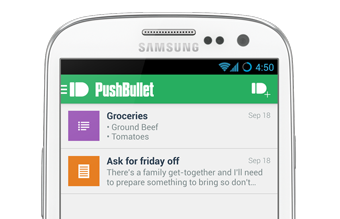 Today, we are very happy to announce the integration of Pushbullet as a new "alert contact type".
Pushbullet is an impressive and free service/app that enables users to receive notifications (and also share files) in:
With this integration, it is now possible to get the alerts on all these platforms in real-time. And totally free.
How to use Pushbullet with Uptime Robot?
Create a free account at Pushbullet
Install Pushbullet to device and/or browser you prefer
Copy the Pushbullet API Key from Pushbullet website's "Account Settings" page
Login to Uptime Robot and go to "My Settings" page
Click "Add Alert Contact" and choose Pushbullet
Enter a "Friendly Name" and the "Pushbullet API Key" and create the alert contact.
Attach this new alert contact to the monitors you prefer from the "edit monitor" dialog of each monitor.
That easy.