We've compiled a list of 9 top-notch port monitoring tools that will help you stay ahead without breaking the bank.
So strap in as we explore the world of ports through these beneficial applications and tell you about the best options on the market today!
In this guide, you'll learn…
What is port monitoring?

What to look for when choosing a port monitoring tool

The 10 best port monitoring tools on the market
Looking for more amazing monitoring tools? Check out our post about the top 7 ping monitoring tools in 2023.
What is Port Monitoring?
Port monitoring is a process that constantly checks the status of certain ports on your network, and often comes along with network monitoring software packages.
It is important for analyzing network ports, including switch port activity. 
Network and port-specific software play a large part in managing and maintaining a healthy network environment. These tools offer a range of functionalities to help you stay on top of your network's performance. Here are some key features they can provide:
Identify bandwidth usage:

Helps in monitoring the amount of data transferred over the network.

Throughput changes:

Tracks any alterations in the rate of successful message delivery over a communication channel.

Packet loss rate:

Monitors the rate at which data packets are lost in transmission.

Detecting misconfigurations:

Flags any incorrect settings that could impact network performance.

Auto-negotiation issues between devices:

Identifies issues related to automatic configuration between network devices.
If this monitoring technology isn't used properly it could lead to unauthorized access of sensitive data, malware infection, and other security concerns, such as insider threats leading to false alarms (in worst-case scenarios).
These methods are important for making sure network services run smoothly and safely through TCP ports. This is especially key when you're monitoring the network and checking the status of these ports.
The Main Benefits of Port Monitoring
Improved Security
Monitoring ports is an effective way to identify unauthorized connections that may compromise the safety of the network. This serves as a first line of defense against potential intruders and can help in taking timely action to mitigate risks.
Advanced Features
Utilizing port monitoring tools offers access to a variety of advanced network topology options. These features contribute to enhanced performance, making the network more robust and efficient.
Smart Resource Allocation
Understanding the traffic patterns on each port is key to optimizing resource allocation. A well-monitored network allows for a more balanced distribution of data, which in turn leads to improved efficiency and reduced bottlenecks.
Better Understanding of Data Patterns
Monitoring protocols through port monitoring tools provide valuable insights into the types of data that are transmitted across the network. This can be beneficial for data management and for making informed decisions related to network operations.
Long-term Reliability
Regular port monitoring contributes to the ongoing stability and security of the network. This proactive approach can preemptively identify issues, allowing for early resolution and contributing to the network's reliability over time.
What to Look for When Choosing a Port Monitoring Tool
As with any product, there are a number of things to consider when looking for the best monitoring tool that will meet your needs. Here are some things to keep in mind while you're shopping around:
Ease of use:

A user-friendly interface makes it simple to manage.

Scalability:

The tool should be able to easily monitor many ports across multiple networks.

Customizability:

The ability to fine-tune the system to meet your specific needs helps you get the most value from it.

Cost-effectiveness:

Make sure the tool fits within your budget while still meeting your needs.

Compatibility:

The tool should work well with your existing network infrastructure and software.

Technical support:

Look for a tool that offers strong customer service and technical assistance.

Reporting features:

Detailed logs and analytics can provide valuable information about your network's performance.

Update frequency:

A tool that is regularly updated will offer the latest features and security patches.
1. UptimeRobot
UptimeRobot, a well-respected and widely used port monitoring solution for administrators all around the world, is known for its affordability, reliability, and user-friendliness.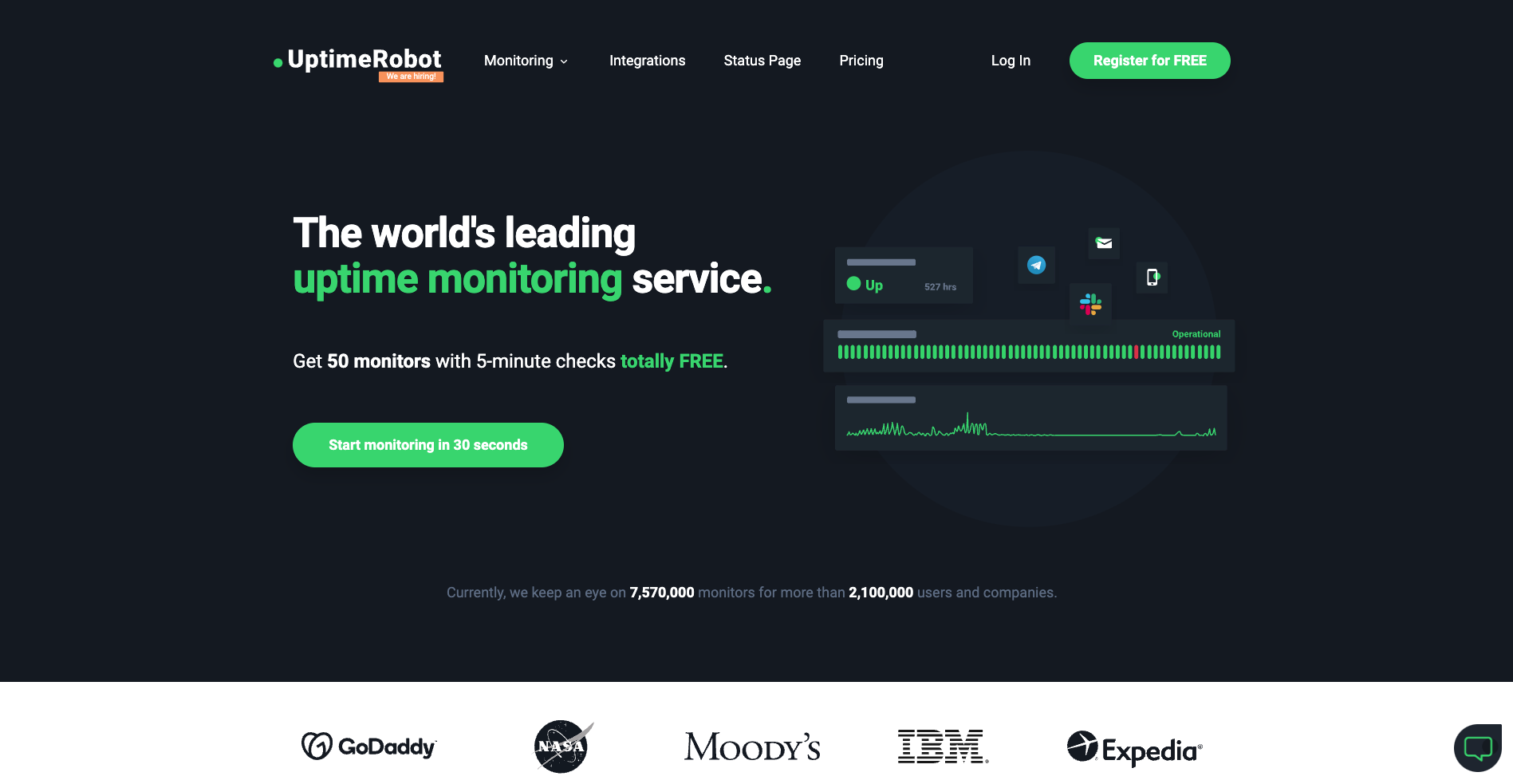 It checks the availability of certain TCP/IP ports, sending UP/DOWN notifications to inform you whether the ports are open or closed.
It can monitor IP addresses, effectively keeping an eye out on any changes that may occur, while also examining connections across multiple points in your network by filtering through TCP ports, allowing you insight into how systems are running within your entire network architecture.
Why is UptimeRobot the top choice?
When considering UptimeRobot for website monitoring, take note of these features that have earned UptimeRobot a score of 4.6 on Capterra (that was a humblebrag without the humble!):
User-friendly dashboard & mobile app
The interface is easy to navigate, simplifying the process of monitoring multiple websites. The mobile app is modern and focuses on UX, while providing the options to create and manage your monitors or alert contacts. 
Multi-location checks
All incidents are verified from multiple locations to prevent false positives.
Variety of monitoring types
Track downtime or performance issues using HTTP, keyword, and ping monitoring. The paid plans also include SSL, domain, and cron job (heartbeat) monitoring. 
Multiple notification methods
Receive alerts through personal channels like email, SMS, Voice Calls and Email2SMS, or your favorite social media and DevOps integrations like Slack, Zapier, PagerDuty, Splunk On-Call, Telegram, Webhooks, Pushbullet, MS Teams, Google Chat, and Pushover, that will keep you informed the moment any changes occur.
Comprehensive features
UptimeRobot provides all the tools needed for efficient website monitoring, keeping your sites up and running like clockwork. E. g. some observability features like comments, monthly reports, response time graphs, trace routes, and more. 
Custom status pages
Create and share public or private status pages to keep your team and customers informed about your site's availability. You can change the logo, colors, fonts, theme, URLs, and other details.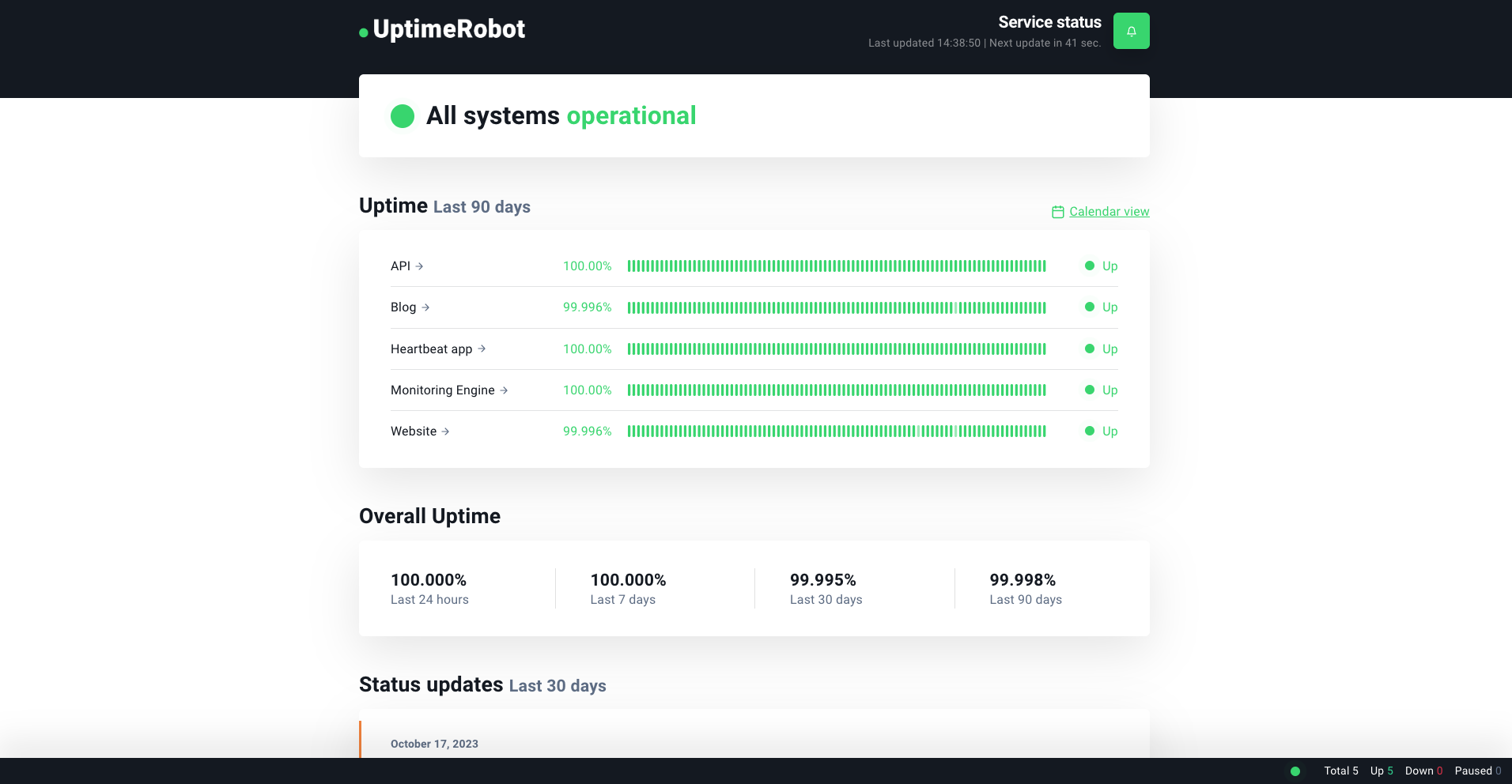 Generous free plan with 50 monitors
UptimeRobot offers a generous free plan with up to 50 monitors, which is more than enough for small to medium-sized websites or freelancers and hobbyists. 
This well-rounded feature set makes UptimeRobot a strong contender in the uptime monitoring space.
Pricing
One of the most affordable yet featureful products on the market, UptimeRobot has monitoring and price brackets for small and large operations alike.
UptimeRobot starts at $7 / per month which makes it one of the best options out there, considering how advanced it is.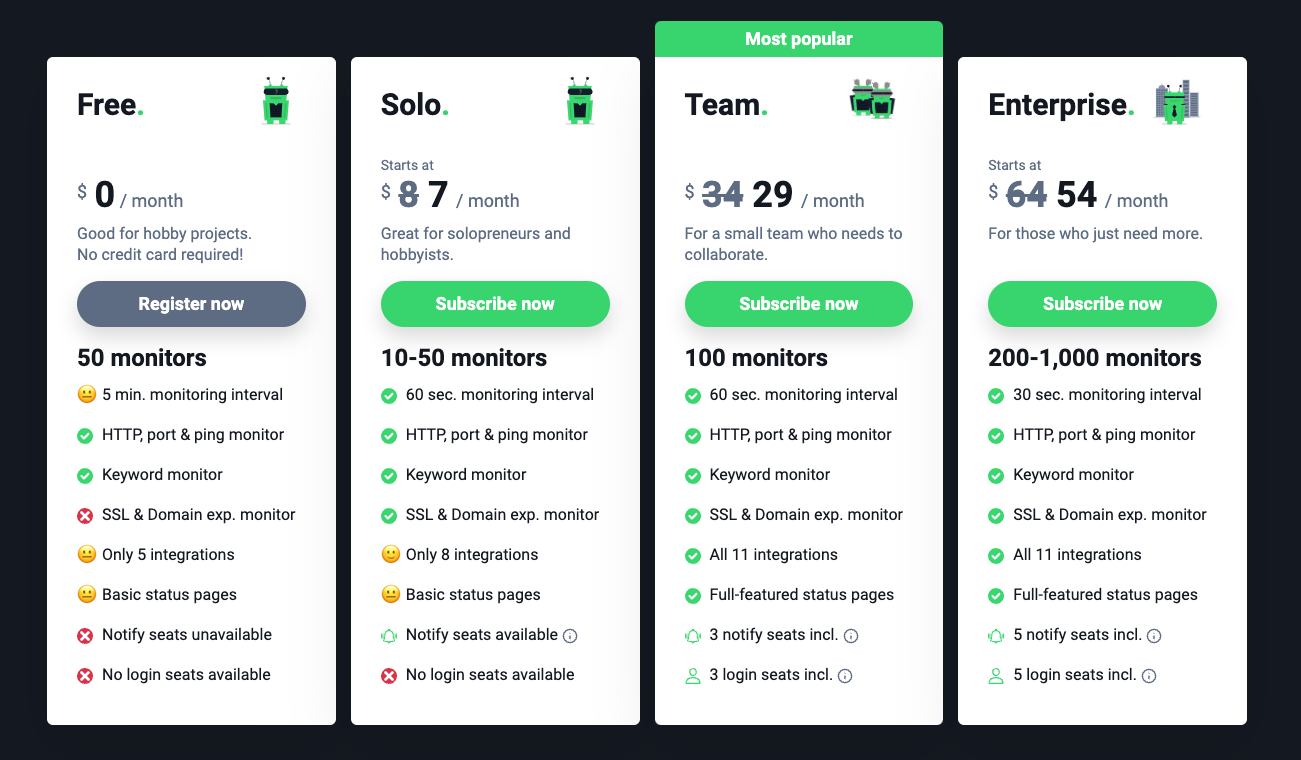 Want to start monitoring right now? Create a forever free account and get 50 monitors with just a few clicks!
2. Statuscake
Statuscake offers a user-friendly, straightforward port monitoring service. It covers essential aspects like website uptime, server health, and SSL certificate status, sending alerts for any issues.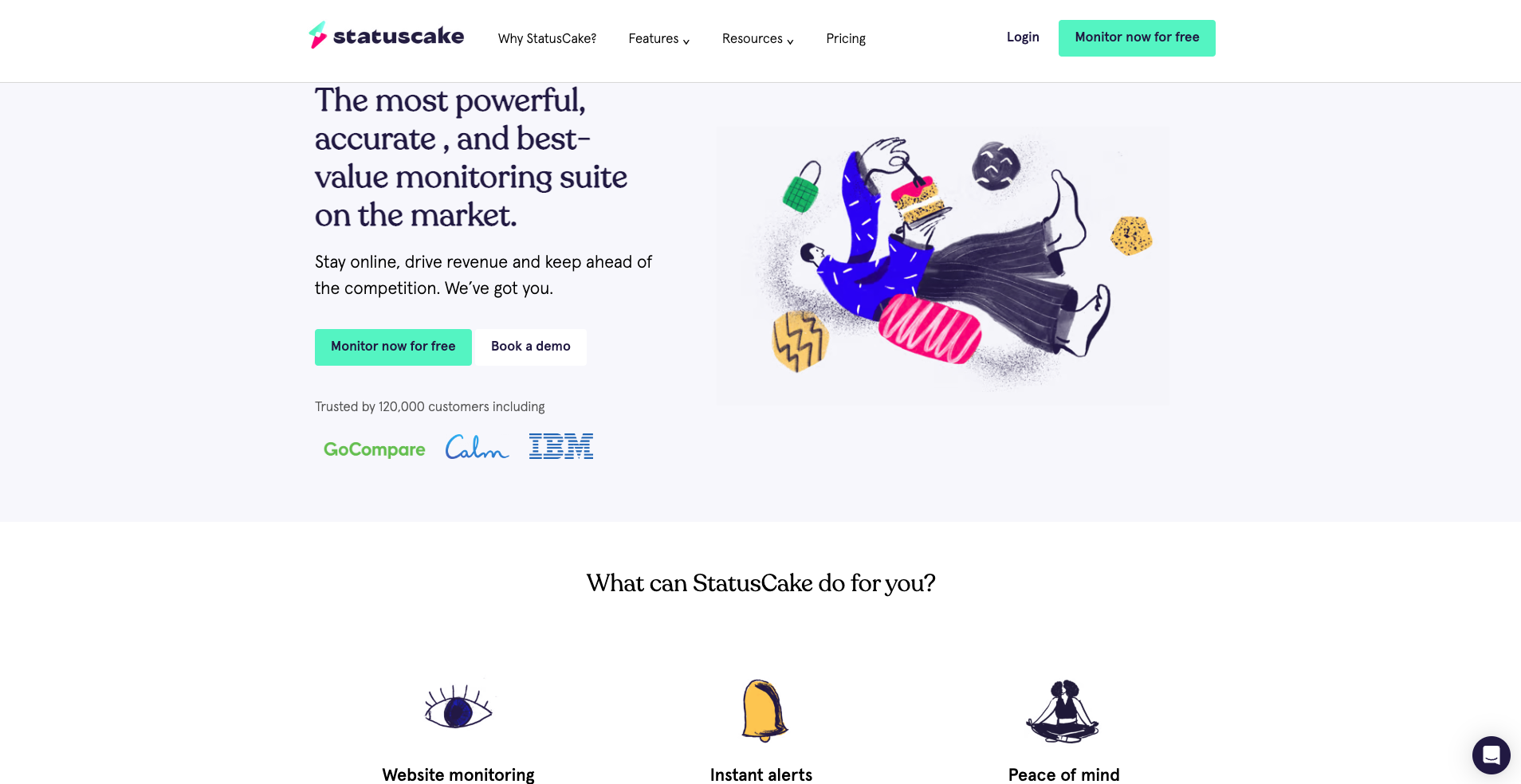 Its simplicity and reliability make it ideal for both individuals and businesses seeking hassle-free port monitoring without advanced customization options.
Key Features
StatusCake offers a variety of monitoring services aimed at helping you keep tabs on the health and performance of your websites, servers, and APIs. Its feature set includes uptime monitoring, page speed analysis, and server monitoring, among others.
Uptime monitoring

Page speed analysis

Server monitoring

SSL certificate monitoring

Domain monitoring

Virus scanning

Public reporting

Alerting and notifications
Pricing
All of Statuscake's plans come with several types of monitoring, some more than others. They include uptime, page speed, domain, SSL, and server monitoring, along with alerts and team tools.
The free plan offers only 10 monitors with very limited options.
For more features and scalability, they have the Superior plan for €16.66 / per month (billed annually).
| | |
| --- | --- |
| Pros | Cons |
| ✅User-friendly and straightforward | ❌Limited advanced port monitoring options |
| ✅Covers essential monitoring aspects | ❌May not satisfy those seeking extensive capabilities |
3. Dotcom-monitor
Dotcom-monitor offers a multitude of features and customization options for port monitoring, including real-time alerts and comprehensive diagnostics.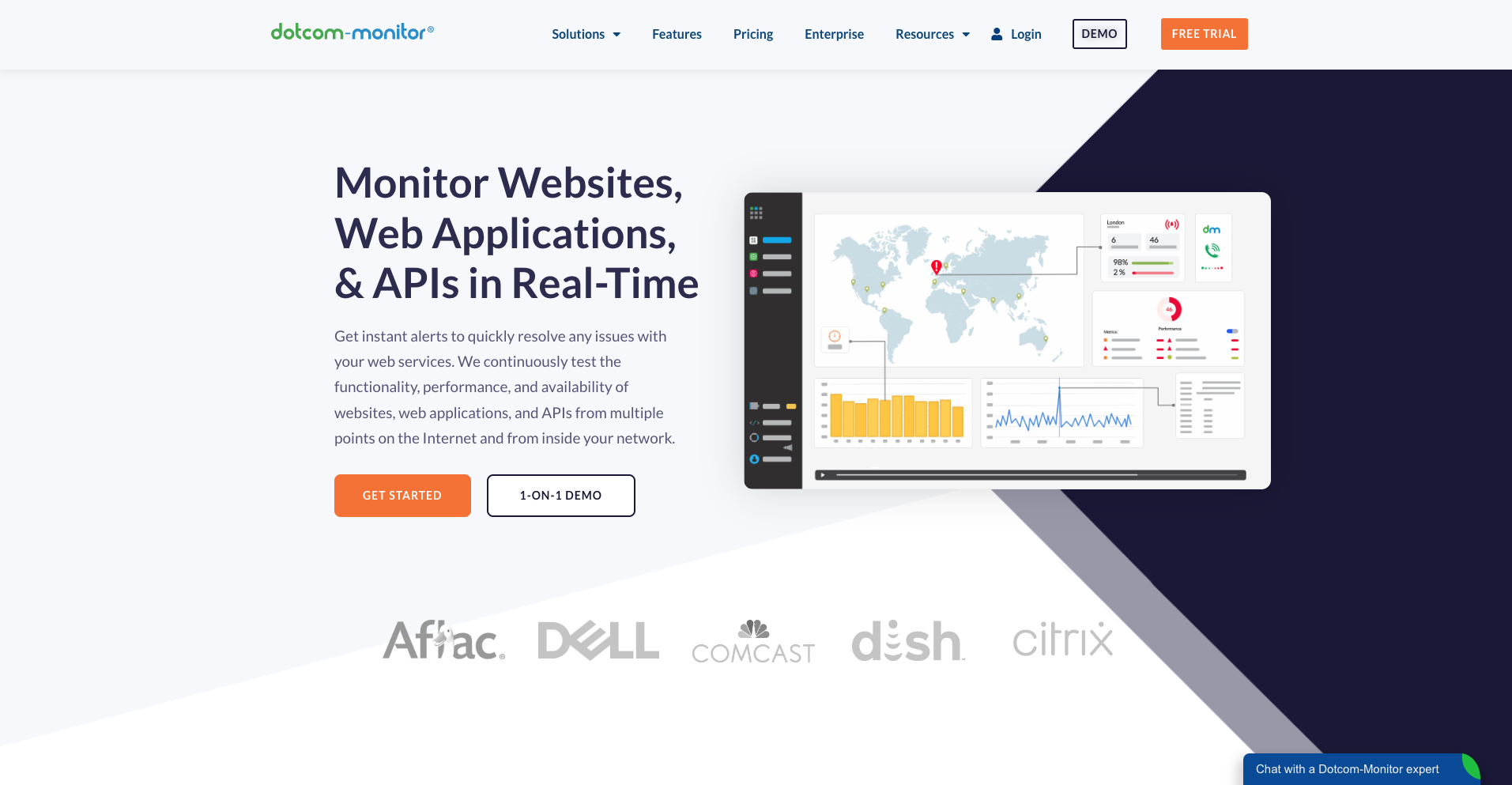 While its complexity may pose a challenge for beginners, it's ideal for those needing precise control over system functionality.
Key Features
Dotcom-Monitor offers a range of options to help you maintain a well maintained network infrastructure. While it is commonly used for monitoring from multiple locations, the user interface might feel a bit dated to some users.
Within its Web Services Monitoring package, Dotcom-Monitor features port monitoring along with other functionalities that are particularly useful.
TCP, SOAP, and GET/POST monitoring

SSL certificate monitoring

Instant alerting

WebSocket monitoring

30 monitoring locations worldwide

Web API
Pricing
At a monthly cost of $19.95, you can subscribe to the Web Services package, which comes with a 30-day free trial to help you determine if it meets your needs.
Dotcom-Monitor also indicates that discounts may be available for bulk subscriptions.
| | |
| --- | --- |
| Pros | Cons |
| ✅Advanced functionalities and customization options | ❌May be difficult for less experienced users |
| ✅Versatile and can suit any need or requirement | ❌Some users report errors or inaccuracies |
4. BetterStack
BetterStack is a go-to for developers seeking comprehensive observability tools.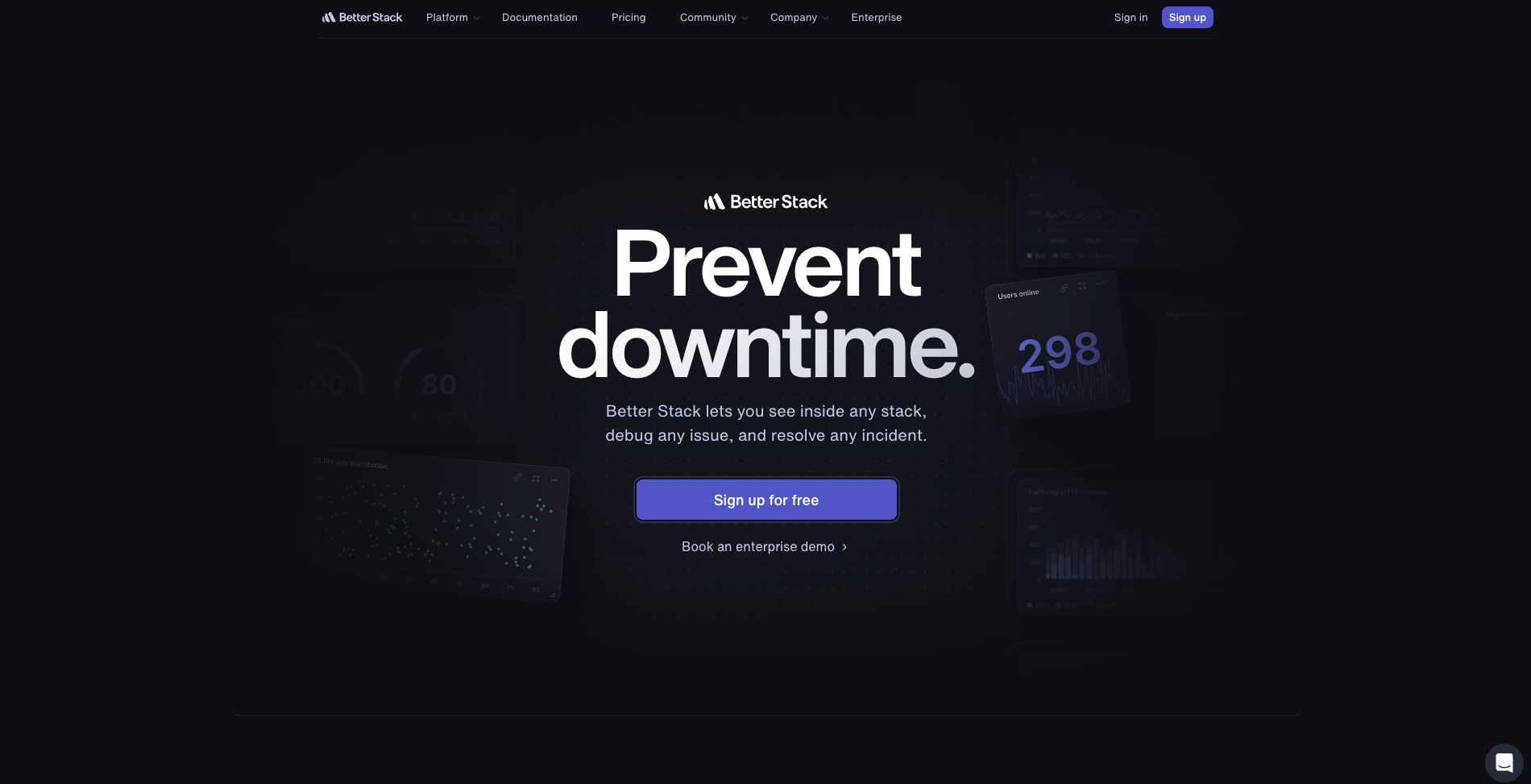 It excels in port monitoring and offers real-time alerts, automated incident resolution, and in-depth analytics. BetterStack also has many popular integration options, making it a versatile and powerful choice for monitoring your infrastructure.
Key Features
BetterStack provides a comprehensive uptime monitoring package as well as log packages. Their uptime monitoring option is feature-rich and serves as an excellent choice for those seeking an all-in-one toolset.
Unlimited voice call alerting

Port, IMAP, POP3, SMTP monitoring

Incident audit timelines

30 second multi-location checks
Pricing
BetterStack's entry-level free plan includes 3-minute checks, 10 monitors, 5 status pages, and complimentary email alerts.
Upgrading to their Freelancer plan costs $25 / per month and provides 50 monitors, 30-second checks, and 5 status pages. For more extensive needs, they offer two additional pricing tiers: Small Teams at $85 per month and Business at $170 per month.
| | |
| --- | --- |
| Pros | Cons |
| ✅Comprehensive features | ❌Challenging learning curve for beginners |
| ✅Seamless integrations  | ❌Some report problems with receiving notifications |
| ✅Suitable for those experienced in port monitoring | |
5. Uptime Kuma
Uptime Kuma is an open source, self-hosted monitoring solution, but it does come with the responsibility of managing your own server upkeep.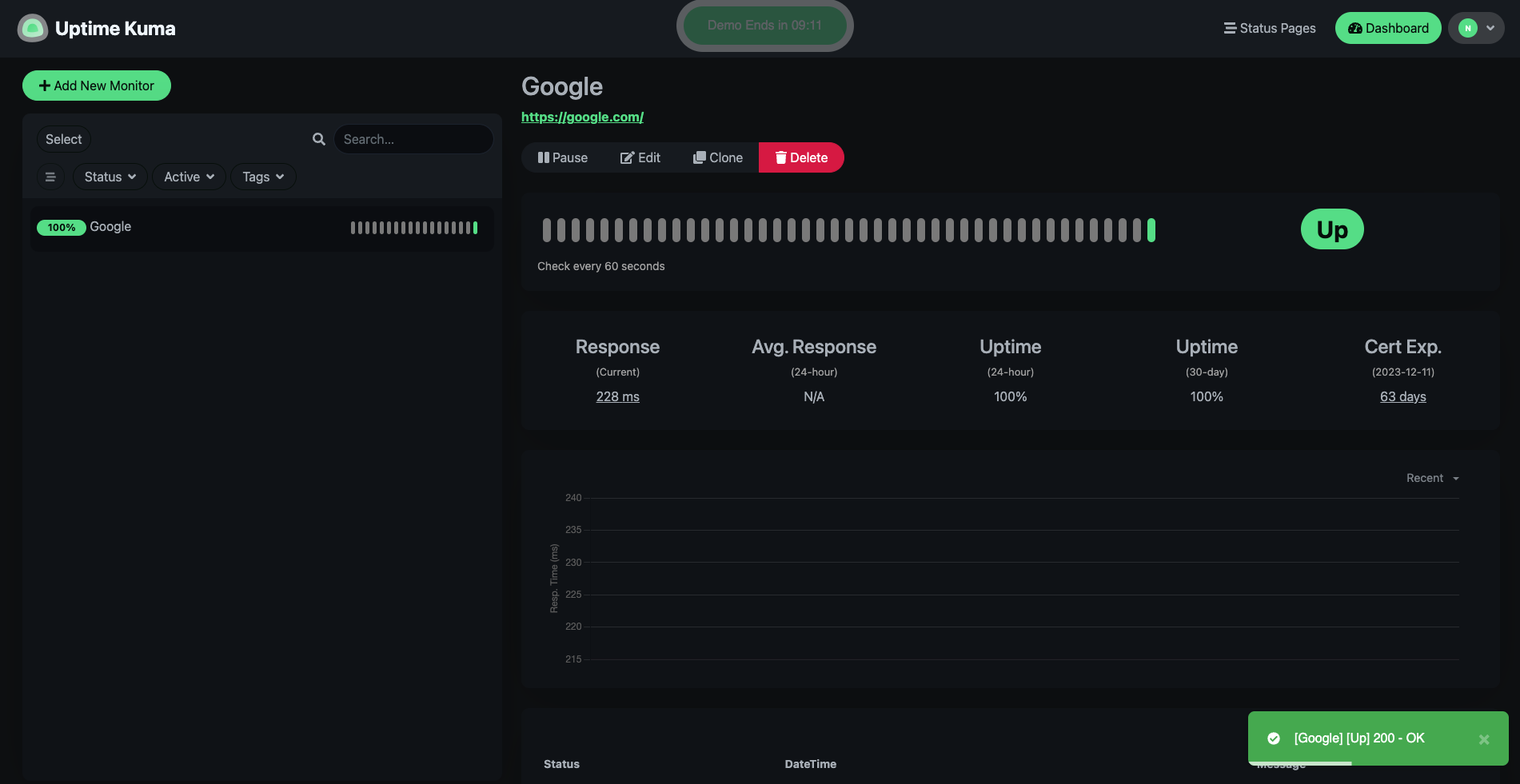 While the tool itself is free, you'll bear the expense of your own servers and be in control of your own server maintenance monitoring.
Key Features
Uptime Kuma offers a straightforward, no-nonsense approach to monitoring, making it an ideal pick for those who already have a server setup and are looking for basic, budget-friendly monitoring features.
HTTP/S, TCP, DNS uptime monitoring

Monitoring history summaries

Database optimization

Over 90 notification integrations

Customizable interface
Pricing
As mentioned earlier, Uptime Kuma is entirely free to use. However, you'll need to cover any costs associated with maintaining and operating your own servers.
| | |
| --- | --- |
| Pros | Cons |
| ✅Open source | ❌Requires technical expertise |
| ✅Monitoring options | ❌Self-hosted |
| ✅Integrations | ❌Limited community support |
6. Dynatrace
Dynatrace offers AI-driven real-time application performance monitoring and proactive issue detection.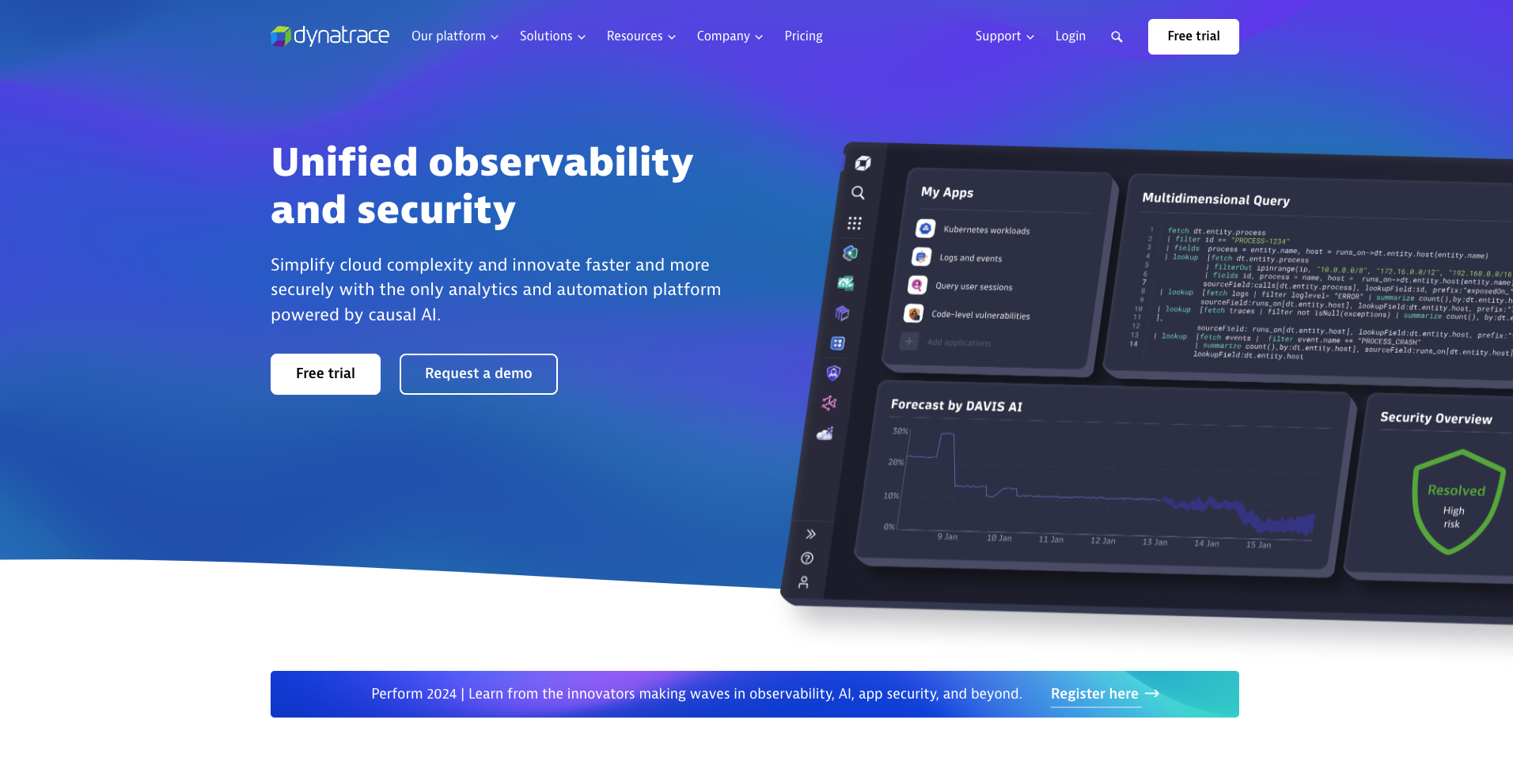 While its complexity and pricing may be hurdles for some, it remains a strong choice for high-quality port monitoring.
Key Features
Dynatrace is an advanced platform offering analytics, automation, and AI-driven insights for unified observability and security. It aims to break down team barriers and proactively address issues, facilitating innovation and efficiency in modern cloud environments.
Analytics

Performance management

Infrastructure observability

Application security

Discovery and digital experience management
Pricing
Dynatrace has several packages on offer. You can find port monitoring in their Synthetic Monitoring package, which costs $0.001 per synthetic request. There is a 15 day free trial to take advantage of as well.
| | |
| --- | --- |
| Pros | Cons |
| ✅AI-powered for swift problem detection and resolution | ❌Complex interface and usability |
| ✅Beneficial for quick issue identification | ❌Higher cost based on multiple factors |
7. SolarWinds Pingdom
Pingdom offers a user-friendly and reliable port monitoring solution, covering website uptime, page speed, and more.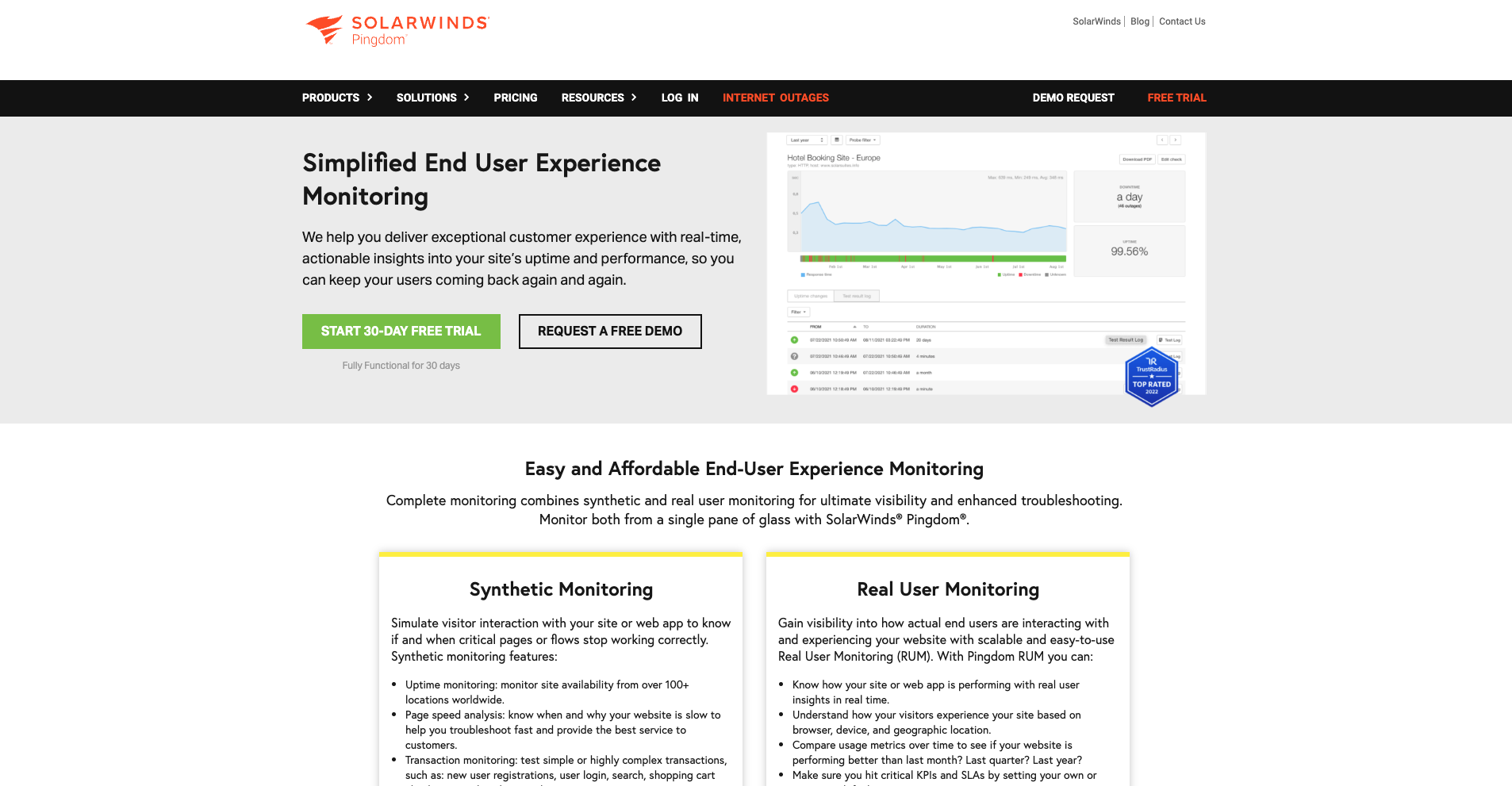 While it may lack some advanced features for port-specific monitoring, its simplicity and reliability make it a popular choice.
Want a more detailed breakdown of UptimeRobot and Pingdom? Check out our full comparison of UptimeRobot as an alternative to Pingdom.
Key Features
SolarWinds Pingdom has been a player in the monitoring field for a while, offering a wide range of features across various platforms.
This tool is just one part of a larger suite of services, but you can test it out, along with some other monitoring tools, during a free trial.
SolarWinds offers a comprehensive monitoring solution. For basic uptime and port monitoring, you'll find these under the Network category within Synthetics monitoring, which includes:
TCP Port monitoring

Ping monitoring

DNS monitoring

UDP monitoring

Domain/IP monitoring
For more advanced needs, SolarWinds also offers the Engineer's Toolset, a comprehensive package with 60 tools designed for in-depth network management. These include:
Diagnostic tools

Real-time alerting and monitoring

Network stress testing

Automated network discovery

IP address and DHCP scope monitoring
Pricing
Pingdom has a wide range of pricing options, given their extensive array of services.
Their basic uptime and port monitoring is notably more expensive compared to UptimeRobot, for instance, monitoring 100 points will cost you $77.50 / per month as opposed to UptimeRobot's $29 per month Teams package.
For the Engineer's Toolset alone, there's a 14-day free trial available, and the license can be purchased outright for €1,409.
If you're interested in adding other toolsets, you can include them in your quote to create a customized bundle.
| | |
| --- | --- |
| Pros | Cons |
| ✅Straightforward and dependable | ❌Lacks in-depth port monitoring functions |
| ✅Popular choice for basic needs | ❌May not suit those needing extensive tracking |
8. Site24x7
Site24x7 offers a feature-rich port monitoring solution with real-time notifications and integrations like Slack.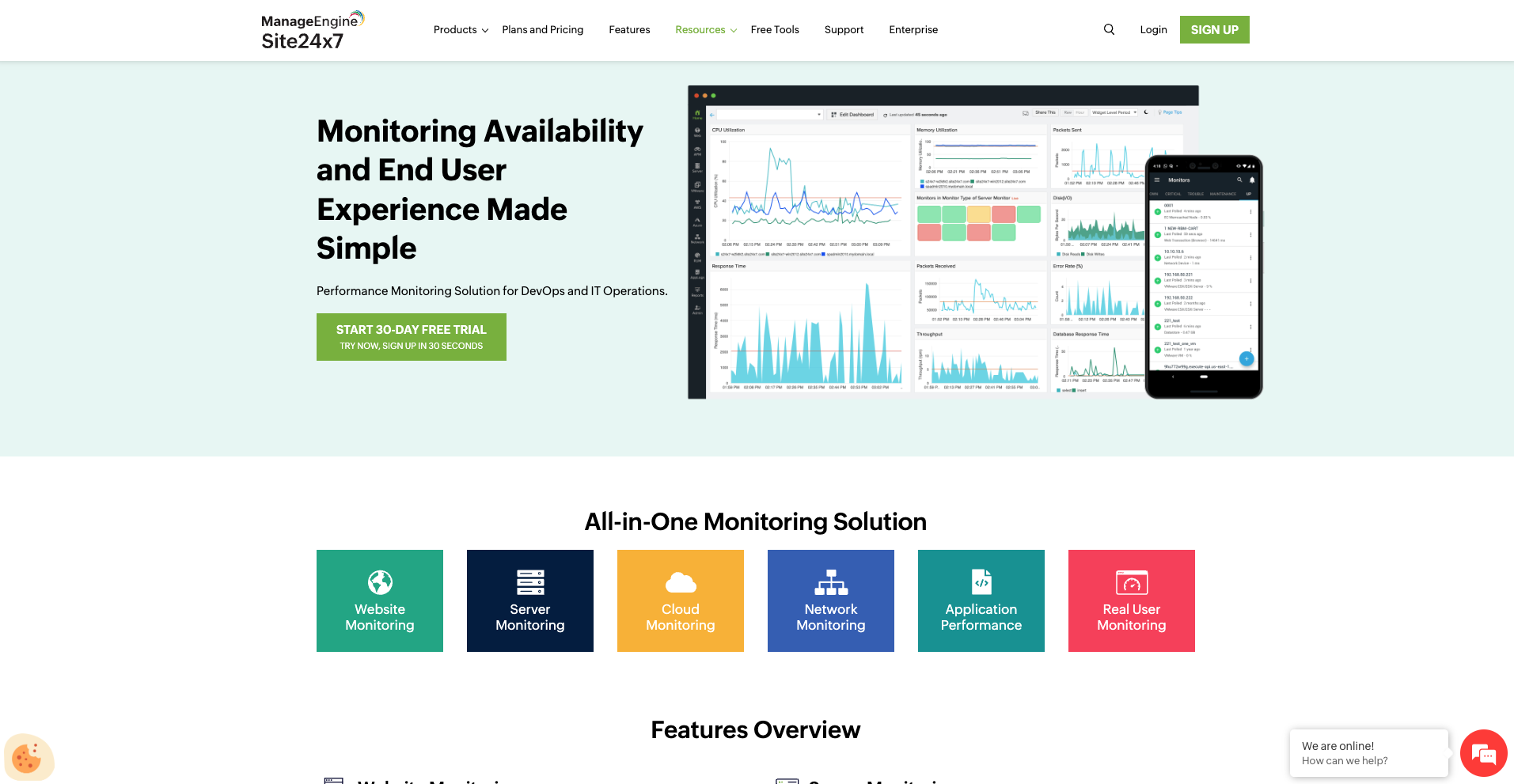 While its complexity and cost may not suit everyone, its versatility makes it a strong option for those in need of the complete suite of monitoring services.
Not sure about UptimeRobot vs. Site24x7? Get all the info on our comparison page.
Key Features
In addition to port monitoring, Site24x7 provides a variety of other monitoring options, making it a versatile choice for maintaining network health.
However, Site24x7 does fall short in some areas compared to UptimeRobot, like lacking live support chat for free users, a complimentary status page, a mobile app, and numerous integration options such as Discord, Google Chat, and Pushover.
The broad range of services in their portfolio includes:
Website monitoring

Server monitoring

Cloud monitoring

Network monitoring

Real user monitoring

Application performance
Pricing
While the pricing structure for Site24x7 might initially seem complex, you can try out the service with a 30-day free trial to see if it meets your needs.
They do offer a free plan, but be aware that the monitoring intervals are lengthy, set at 10 minutes. For more frequent checks, you'll need to invest in a paid plan.
At a starting rate of €9 / per month, the package includes:
25 basic ping monitors

500 MB logs

50 SMS/voice credits per month

Email and community support only
If you'd like to monitor more, you'll have to pay up to 3x more compared to UptimeRobot, e.g. $89 / per month for 100 monitors from Site24x7, instead of $29 / per month for 100 monitors from UptimeRobot.
| | |
| --- | --- |
| Pros | Cons |
| ✅Comprehensive features and integrations | ❌Complex interface |
| ✅Suited for a broad range of monitoring tasks | ❌Higher cost |
9. Paessler PRTG Network Monitoring
Paessler's PRTG Network Monitoring provides a thorough port tracking solution that offers visibility into IT infrastructure, traffic flow, and performance metrics.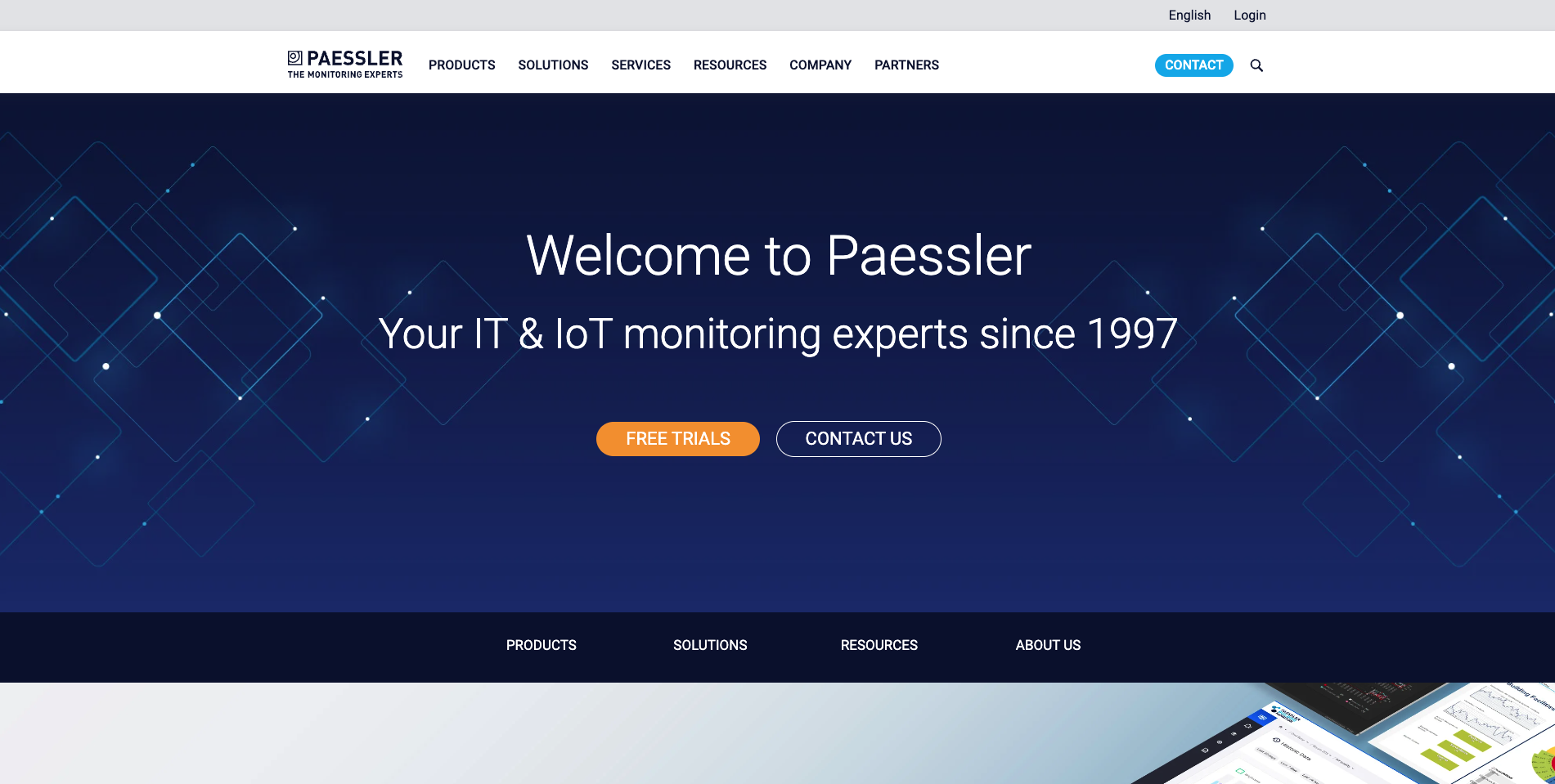 Its feature set helps identify bottlenecks and ensures reliable uptime across various components.
Key Features
PRTG offers a comprehensive network monitoring solution that goes beyond simple monitoring. When you enroll with PRTG, you'll also gain insights into the well-being and efficiency of:
Network devices (like servers, switches, and routers)

Virtual platforms

Services and websites

Operating systems and data centers

Network traffic

Resource usage
Pricing
PRTG has a mixed bag when it comes to pricing. On the positive side, they offer perpetual licenses, so it's a one-time investment with a lot of value. The downside is that it's not cheap. 
The entry-level PRTG 500 plan starts at $1,449 / per server license, while the top-tier plan climbs to $13,799 per server license.
After a 30-day free trial, your account will automatically switch to the freeware version.
| | |
| --- | --- |
| Pros | Cons |
| ✅Extensive monitoring and alert customization options | ❌Sensor-based pricing model |
| ✅Ideal for businesses with diverse port monitoring needs | ❌Requires time investment to learn all features |
| ✅Essential for safety and efficiency | |
How to Choose a Port Monitoring Tool
Armed with the knowledge of our top 10 port monitoring tool picks, how will you choose the right one? Here are some steps you can take before taking the plunge and committing:
Consider factors like network size, budget, and the features you need the most.

Find a solution that aligns with the specific needs of your devices and network without going over your budget.

Each tool has its own set of capabilities! Take the time to assess them based on your most important requirements.

Aim for a tool that is user-friendly and matches your network's prerequisites for optimal effectiveness.
Port Monitoring Tools: A Complete Comparison
| | | | |
| --- | --- | --- | --- |
| | Free Plan | Price for 100 Monitors | Mobile App |
| UptimeRobot | ✅Lifetime – 50 monitors | ✅$29 / month | ✅Included for free |
| Statuscake | ✅Available | $20.41 / month | ✅Included for free |
| Dotcom-monitor | 😐Planned | | 👍Available |
| BetterStack | ✅Available | ❌$85 / month | 😐Only for push notifications |
| PRTG | Freeware | Free up to 100 for trial | ✅Included for free |
| Uptime Kuma | 👍Open source | 👍Free | ❌Not available |
| Dynatrace | ❌Not available | | ✅Included for free |
| Pingdom | ❌Not available | ❌$77.50 / month | ❌Not available |
| Site24x7 | ❌Not available | ❌$89 / month | ❌Poor |
Conclusion
Port monitoring software is absolutely necessary for maintaining peak performance and security in your network. Taking the time to carefully evaluate our list of top 10 port monitors can guide you toward the ideal solution that fits both your resources and specific needs.
This due diligence is the first step to an investment in long-term efficiency and security for all your digital operations.
Finding the right tool tailored to your unique requirements can be a game-changer. Thank you for journeying with us through this in-depth look at the best port monitoring software available today, and happy monitoring!
Disclaimer: The information provided on this page is for informational purposes only. Our rankings and reviews are based on our own research and analysis, aimed at providing unbiased, objective, and reliable information to our readers. Despite our affiliation, we strive to maintain objectivity and factual accuracy in our content.
However, we cannot guarantee that all information presented is up-to-date or entirely accurate. We encourage you to conduct your own research and consult with professionals before making any decisions based on the information found on this page. If you detect any inaccuracies, please do not hesitate to inform us.
Frequently Asked Questions
Which is the best port monitoring tool?
Long answer: When it comes to finding the best port monitoring tool for your particular requirements, there are several things you need to take into account such as features offered, budget, and user-friendliness. There is no one-product-fits-all solution when it comes to something as complex as network monitoring.
To select the best solution out of all available options, analyze our top picks among 2023 port monitoring tools carefully according to personal preferences, and try it out! Many tools offer free trials or plans to give you a taste of what you can get by using their product.
Short answer: UptimeRobot, of course!
Is there a difference between port monitoring and switch port monitoring?
Having very similar names, it can be easy to confuse these two. Port monitoring and switch port monitoring are closely related, but there are some key differences.
Port monitoring is more broad, and refers to the process of checking the status and overall health of a port in a network to prevent failures, bottlenecks, and to make an inventory of ports and related devices.
Switch port monitoring, on the other hand, is a more specific term that refers to the process of monitoring the ports on network switches. This process gathers information about network topography and traffic flows by monitoring the ports on network switches.
In summary, while port monitoring can apply to any type of port in a network, switch port monitoring specifically applies to the ports on network switches.